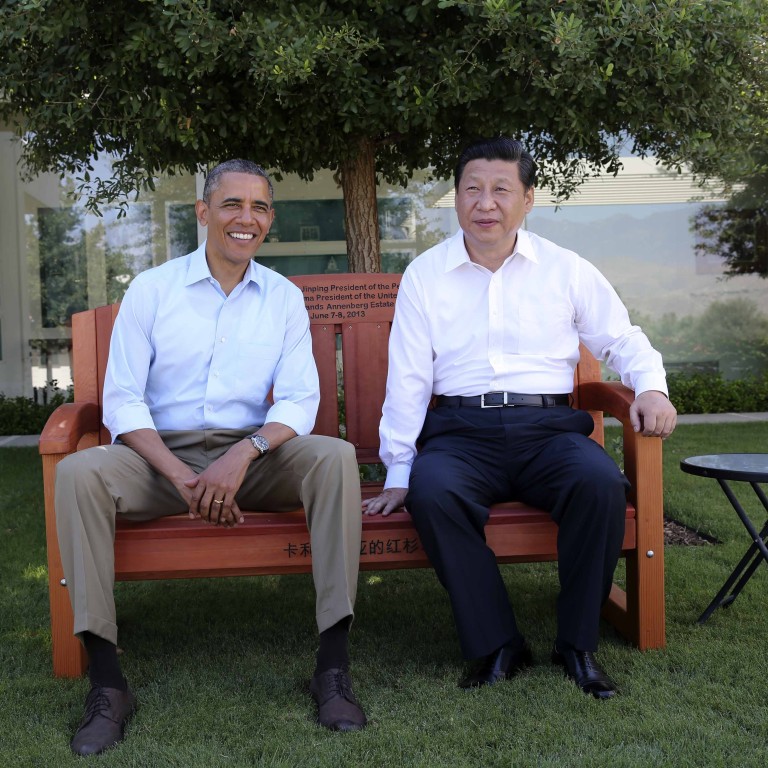 China and US vow to build a new model for ties at summit in California
At US summit, Chinese president says both sides need a new path that is different from the confrontation and conflict of the past
President Xi Jinping and his US counterpart, Barack Obama, vowed to build a "new model of major country relationships" as they opened two days of talks on a range of issues.
Hosting Xi at the Sunnylands Estate in southern California, Obama said the US welcomed the "peaceful rise of China as a world power". But he pressed Beijing on its human rights and cybersecurity, and urged it to play by common economic rules.
Xi invited his host to visit China.
The two had not been scheduled to meet until the Group of 20 summit in September, but both nations sought an earlier meeting amid rising friction between them over issues including China's alleged hacking of US computer networks and America's military pivot to the Asia-Pacific.
In remarks delivered in their first round of talks and at a news conference afterwards, Xi said the Sino-US relationship had reached a "new historical starting point" that required both sides to draw a new path that was "different from the inevitable confrontation and conflict between major powers in the past".
He said both nations needed to "think creatively and act energetically" to examine three major aspects of bilateral ties - the nature of the Sino-US relationship both nations want, how the two can co-operate for mutual benefit, and how they can join together to promote world peace and development.
"I'm confident in our joint efforts to build a new model of major country relationships. I believe success hinges on the human effort," he said.
Obama said tensions in some areas between the two nations were inevitable, but said each needed to understand the other's objectives.
He said the decision to meet earlier than scheduled showed the importance of ties between the two nations.
"I'm very much looking forward to this being a strong foundation for the kind of new model of co-operation that we can establish for years to come," he said, adding that the US wants to work with China as an equal partner to address global issues.
Obama, facing pressure from US politicians and businessmen, said he discussed cybersecurity with Xi, but the two sides avoided a direct public confrontation on the issue.
US National Security Advisor Tom Donilon said the talks were "uniquely informal," "constructive," "wide-ranging," and "positive" for a vital great power relationship which is often prickly and requires constant maintenance.
Obama and Xi agreed to work together for the denuclearisation of the Korean peninsula, following nuclear and missile tests and wild warnings of atomic warfare from North Korea, Beijing's troublesome nominal ally.
They achieved "quite a bit of alignment" on the issue, Donilon said, and praised recent steps by Beijing to quietly rebuke inexperienced North Korean leader Kim Jong-Un.
In a more tangible outcome from the talks at the Sunnylands retreat once patronised by Frank Sinatra and Richard Nixon, the White House said Obama and Xi agreed a joint effort to combat climate change, specifically the production of "super greenhouse gases."
"A global phase down of (hydroflourocarbons) could potentially reduce some 90 gigatonnes of CO2 equivalent by 2050, equal to roughly two years' worth of current global greenhouse gas emissions," a White House statement said.
The gases are used in air conditioners and refrigerators and China - by far the largest producer of HFCs - had until recently resisted efforts by the United States and other nations to scale back emissions of the gases, arguing that alternatives in appliances were not fully ready.
But it agreed in April to end HFC production by 2030 as part of a US$385 million assistance package by wealthy countries under the Montreal Protocol, which was set up to fight the depletion of the ozone layer.
Xi said a special working group on the issue would be set up under the Sino-US strategic and economic dialogue.
Both leaders skipped the usual formalities at the summit, with neither wearing a tie.
The White House said celebrity chef Bobby Flay prepared a menu for the two leaders that included lobster tamales, Porterhouse steak and cherry pie.
Observers said the initial talks suggested the leaders had made a decent start on fostering a personal relationship, but both sides still needed time to figure out their "new model" of relations.
Pang Zhongying , an international relations professor at Renmin University, said: "The remarks by Obama are not something very new, and it may be that he makes the pledges because he needs to give face to Xi."
Jin Canrong , a US affairs expert from the same university, said the "new model" was still a vague concept. "But the two leaders have established smooth communications, and this is useful for tackling thorny issues in the future," he said.
Additional reporting by Agence France-Presse
This article appeared in the South China Morning Post print edition as: Xi and Obama build 'new model' for ties