Prism
Get more with myNEWS
A personalised news feed of stories that matter to you
Learn more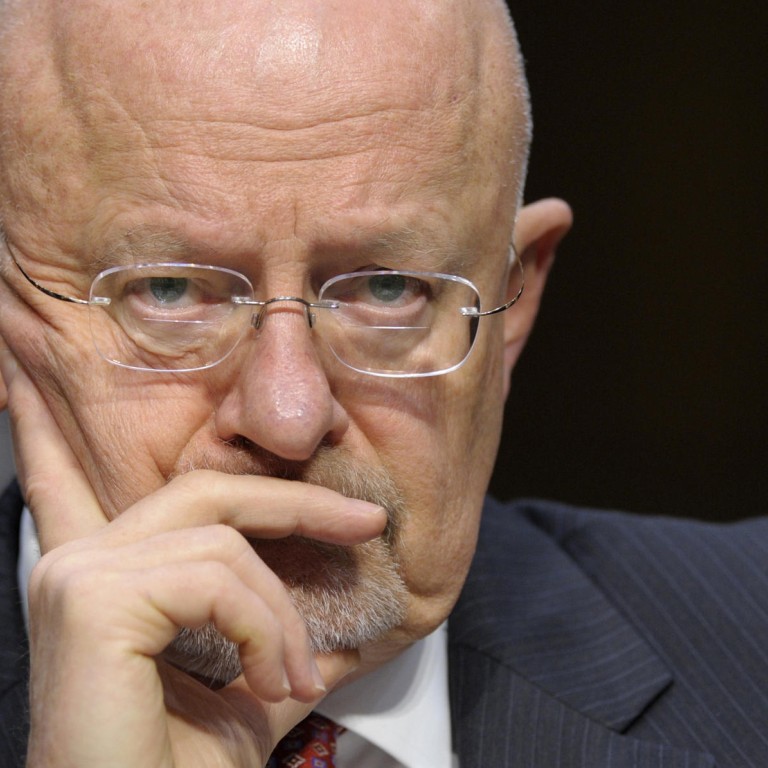 US spy agency seeks probe into leaks over Prism surveillance programme
Criminal investigation requested by secret spy service after newspapers reveal existence of US internet surveillance programme Prism
A top US intelligence agency has requested a criminal probe into the leak of highly classified information about its secret internet spy programme.
Confirmation that the National Security Agency filed a "crimes report" came a few hours after the nation's spy chief, Director of National Intelligence James Clapper, launched an aggressive defence of a secret government data collection programme which he insisted was both legal and vital to national security.
Clapper blasted what he called "reckless disclosures" of the highly classified spy agency project code-named Prism.
The report goes to the Justice Department, which will determine whether an investigation is warranted. Prosecutors do not accept all requests, but they have brought a series of high-profile leak investigations under President Barack Obama.
US officials said the NSA leaks were so astonishing they expected the Justice Department to take the case. In a statement on Saturday, Clapper acknowledged Prism's existence by name for the first time and said it had been mischaracterised by the media.
The project was legal, not aimed at US citizens and had thwarted threats against the country, he said.
"Over the last week we have seen reckless disclosures of intelligence community measures used to keep Americans safe," Clapper said.
He said the surveillance activities reported in the and Britain's newspaper were lawful and conducted under authorities approved by Congress. "Significant misimpressions" have resulted from recent articles, he said.
In an interview with NBC News, portions of which aired Sunday, he called the disclosures "literally gut-wrenching" and said they had caused "huge, grave damage" to US intelligence capabilities.
"The NSA has filed a crimes report on this already," Clapper told NBC, referring to the leaks to the Guardian and the Washington Post. 
He said he was "profoundly offended" that a disgruntled intelligence officer was a source for the leak to the Washington Post. "This is someone who for whatever reason has chosen to violate a sacred trust for this country," he said.
"And, so, I hope we're able to track down whoever's doing this, because it is extremely damaging to, and it affects the safety and security of this country."
One top US lawmaker, Pete King, chairman of the House Subcommittee on Counterterrorism and Intelligence, in a statement on Sunday called for Snowden's extradition to the United States, saying he must be prosecuted "to the fullest extent of the law."
Glenn Greenwald, the Guardian reporter who brought to light the PRISM program and a separate program the scoops up US phone records, said the public had a right to know and openly debate what the government was doing.
"Every time there's a whistle blower, someone who exposes government wrongdoing, the tactic is to demonize them as a traitor," he said on ABC's "This Week."
"What they were seen being done in secret, inside the United States government, is so alarming they simply want one thing. And that is, they want the American people to learn about this massive spying apparatus and what the capabilities are, so we can have an open, honest debate."
Clapper said he understood public concerns about the invasion of privacy and threats to civil liberties, but said "a lot of what people are seeing and reading in the media is a lot of hyperbole."
His comments were the latest development in an escalating battle over government spying and civil liberties, involving the Obama administration and news organisations that have published details of US data-mining efforts. Clapper's statement discussed in general terms what had been until Thursday an unknown and highly classified programme.
It made a rare public acknowledgement that US spy agencies obtained data from US telecommunications providers.
"The United States Government does not unilaterally obtain information from the servers of US electronic communication service providers.
"All such information is obtained with FISA Court approval and with the knowledge of the provider," said a fact sheet accompanying Clapper's statement, referring to the Foreign Intelligence Surveillance Act Court.
The reports last week said the surveillance programme involving internet firms and established under Republican president George W. Bush in 2007, had seen "exponential growth" under Obama, a Democrat.
They said the NSA increasingly relied on Prism as a source of raw material for daily intelligence reports to the president.
The news reports included PowerPoint slides showing that major internet companies such as Yahoo, Google, Facebook and a half-dozen others were involved in the programme.
Previous administration statements in the wake of leaks about the NSA programme had not mentioned that it was gathering information related to cyberthreats and weapons proliferation.
published a story on Saturday based on what it said were more leaked classified NSA documents, about what it described as an internal agency data-mining tool created to track the focus of NSA's efforts to collect "metadata" - primitive raw information about message traffic - from around the world.
said documents showed NSA collected "almost 3 billion" pieces of intelligence from US computer networks over a period ending in March 2013.
It said the new documents raised questions about what NSA had told Congress about its inability to keep close track on the extent to which it collects information about messages sent by Americans.
HOW THEY KEEP WATCH ON YOU
In the wake of the terror attacks on New York and Washington, the Patriot act of 2001 gave the federal government unprecedented access to phone and computer exchanges and expanded the government's right to wiretap. But it also dictated financial, library, travel, video rental, phone, medical, church, synagogue or mosque records held by third parties can be searched without your knowledge or consent, as long as the government says it is acting against terrorism.
Facebook, founded in 2004, has prompted hundreds of millions of people to put details of their lives on public display. The company has come under fire for making personal photos available for use in advertisements, but media reports suggest the government has scoured Facebook's servers for audio, video, contacts, e-mails and other documents.
Smartphones with built-in GPS capabilities allow users to be electronically tracked. As of this year, more than half of all American adults use smartphones, according to the Pew Research Centre's Internet & American Life Project.
Remote frequency identification, or RFID, chips. The Department of Agriculture used it to keep track of cattle being medicated, but RFID technology is now in everything from commuter passes to key cards. Tags can be linked on the internet - and read without the holder's knowledge or permission.
Loyalty or "rewards" cards. Memberships in such programmes - which offer savings, while tracking spending habits - have grown from 973 million in 2000 to nearly 2.7 billion last year in the US.
Automated teller machines, or ATMs. Most often equipped with cameras, there are an estimated 414,000 ATMs in the US, 28 per cent more since September 2001, according to Sam Ditzion, CEO of Tremont Capital.
Automatic licence plate recognition systems. Around since the 1970s, use of the technology has exploded since 9/11, allowing law enforcement to keep tabs on drivers' movements, says Jay Stanley, of the American Civil Liberties Union.
Reuters and Agence France-Presse
This article appeared in the South China Morning Post print edition as: US spy agency seeks leak probe