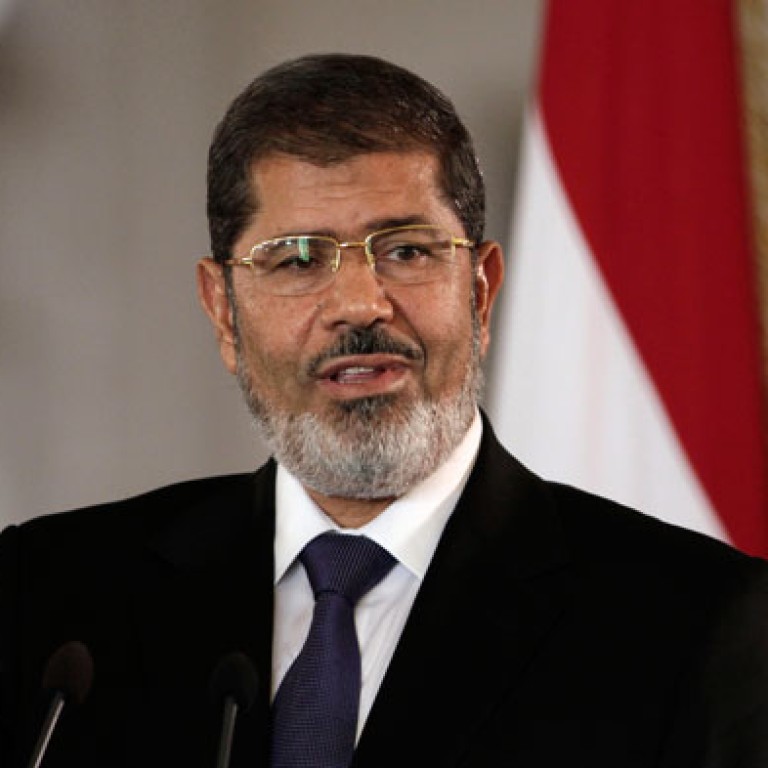 US, EU lead new effort to defuse Egyptian crisis
Crisis sparked by overthrow of Islamist president Mohamed Morsi
A fresh round of intense diplomatic efforts was underway in Egypt to broker a peaceful end to the crisis sparked by the military's overthrow of Islamist president Mohamed Morsi.
The European Union's Middle East envoy Bernardino Leon and US Deputy Secretary of State William Burns extended their stay in Cairo to hold a series of talks with Morsi supporters and members of the army-backed interim leadership that replaced him.
Leon met Prime Minister Hazem al-Beblawi on Monday after talks the day before with the number two of Morsi's Muslim Brotherhood movement, Khairat al-Shater, in prison.
A spokeswoman for the State Department in Washington said that Burns and Leon had visited Shater on Sunday, accompanied by the foreign ministers of regional US allies Qatar and the United Arab Emirates.
The spokeswoman, Marie Harf, said the visit was intended to "prevent further violence, calm tensions and facilitate an inclusive dialogue among Egyptians that can help the transition to a democratically elected civilian government".
However, Morsi's deputy gave the delegation a cold shoulder, according to Muslim Brotherhood spokesman Gehad al-Haddad.
Shater refused to discuss the situation with the envoys, saying only that the Brotherhood's position on defending Morsi's legitimacy was "unchanged".
Egypt has been rocked by sometimes deadly political violence after the military ousted Morsi, the country's first democratically elected leader, on July 3.
Morsi supporters see his overthrow as a violation of democracy and insist on nothing short of his reinstatement.
They have staged protest sit-ins that have paralysed parts of the capital and further polarised an already deeply divided country.
The interim leaders, however, say there is no turning back on the army-drafted roadmap announced after Morsi's removal, which provides for new elections next year.
Authorities have promised demonstrators a safe exit and said an end to their protests would allow the Muslim Brotherhood to return to political life.
But backers of the ousted leader have steadfastly refused to bow to official pressure and several hundred marched to the High Court in Cairo, demanding Morsi's release and reinstatement.
More than 250 people have been killed since Morsi's ouster.
Morsi himself has been formally remanded in custody on suspicion of offences committed when he escaped from prison during the 2011 revolt that toppled former president Hosni Mubarak.
State department spokeswoman Harf said that "as of now", Burns had no plans to meet Morsi.
In a renewed push to find a solution to the crisis, US senators John McCain and Lindsay Graham were expected to begin a fresh round of shuttle diplomacy in Cairo on Tuesday.
In recent days, EU foreign policy supremo Catherine Ashton, Arab diplomats, an African delegation and German Foreign Minister Guido Westerwelle have all travelled to Cairo in a bid to defuse the crisis.
The two opposing sides have also held direct talks, with army chief Abdel Fattah al-Sisi meeting Islamist leaders on Sunday.
Among those attending the talks were influential Salafist clerics Sheikh Mohammed Hassan and Mohammed Abdel Salam, who just days before had addressed pro-Morsi supporters at a rally.
"The Islamists who met Sisi, while not members of the Muslim Brotherhood, have been supporting them at the Rabaa al-Adawiya sit-in. Hopefully, the Brotherhood will listen to what they have to say to find a way out of the crisis," a source close to the talks said.
But Yasser Ali, a spokesman for the pro-Morsi demonstrators, said the clerics had met Sisi "without having been mandated".
Sisi, who also met Burns during the envoy's visit, has urged Washington to use its "leverage" with the Muslim Brotherhood to bring about an end to the protests.
He insists that the police, not the military, would be charged with dispersing the demonstrations.
Foreign Minister Nabil Fahmy has stressed that authorities have "no desire to use force if there is any other avenue that has not been exhausted".
But the violence continued on Monday, with a soldier shot dead and two others wounded in two separate attacks in the Sinai Peninsula.
Gunmen shot at an army checkpoint outside a military building in the north Sinai town of El-Arish, killing one soldier, security officials said.
The two other servicemen were wounded when gunmen attacked another checkpoint outside a bank.
Security in Sinai has deteriorated since Morsi's overthrow and the latest death brings to 32 the number of security forces killed in the area.