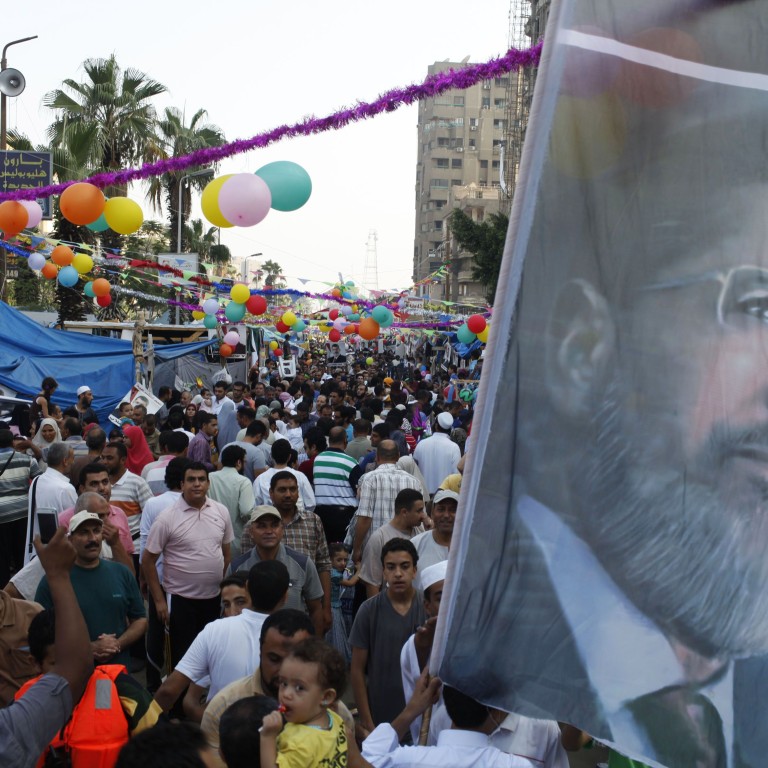 Mursi loyalists in Egypt call for new rallies
Islamist supporters of Egypt's deposed leader Mohammed Mursi planned new rallies on Friday as the interim premier suggested a crackdown on their protest camps was imminent.
Mursi supporters called for marches to begin after the Muslim Friday prayers at noon as the nation rested on the second day of the Eid ul-Fitr holiday.
The government had said it held off from breaking up the protest camps in Cairo out of respect for the holy month of Ramadan, which ended on Wednesday night, and to give foreign mediators a chance to end the deadlock peacefully.
But Prime Minister Hazem al-Beblawi warned late on Thursday "that the situation is approaching the moment we would rather avoid".
"The government wants to give the protesters, especially the reasonable ones among them, a chance to reconcile and heed the voice of reason," he said in a television interview quoted in a cabinet statement.
Pro-Mursi protesters set up two protest camps in Cairo days before his overthrow on July 3 in a popularly backed military coup.
They insist they will disperse only when Mursi, who ruled for just a year after the first democratic presidential election in the Arab world's most populous nation, is reinstated.
Beblawi's comments on Thursday were the latest warning from the army-installed government of a crackdown on the protest camps.
However, the protesters remain defiant, even after more than 100 people, mostly Mrsi loyalists, were killed in previous confrontations with police and soldiers.
"The Egyptian people are continuing, and the days will only increase their determination to persist in their peaceful struggle until the country returns to the democratic path, until the coup is completely ended," the Anti-Coup Alliance said in a statement on Friday.
The pro-Mursi group called for the marches to set off from different Cairo mosques.