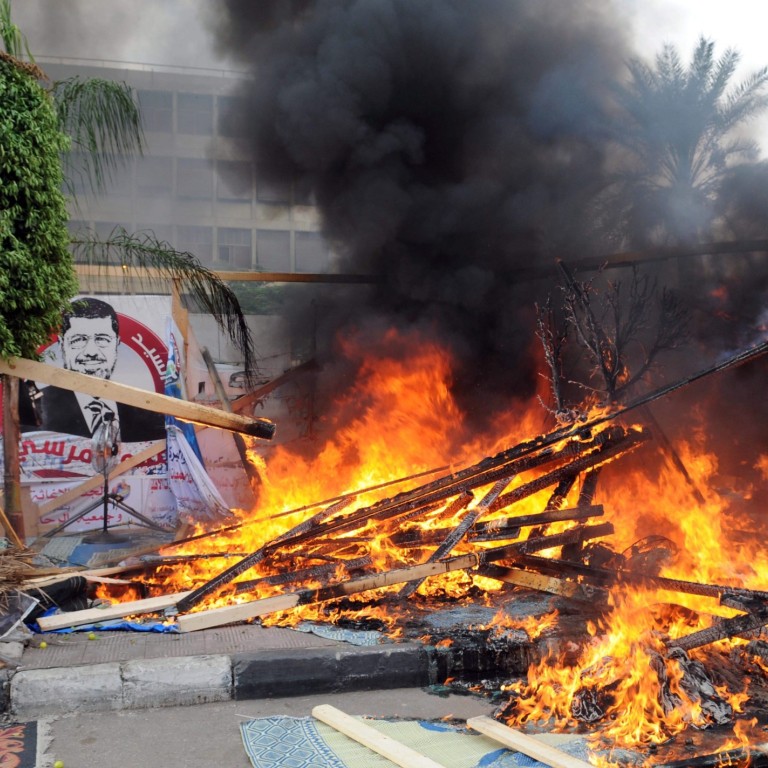 Egyptian troops move against pro-Morsi sit-ins
Egyptian security forces, backed by armoured cars and bulldozers, moved on Wednesday to clear two sit-in camps by supporters of the country's ousted President Mohammed Morsi, showering protesters with tear gas as the sound of gunfire rang out at both sites, state television and security officials said.
The Anti-Coup Alliance, an umbrella of pro-Morsi supporters, said in a statement that 25 were killed and dozens injured in the attack on the larger of the two protest camps in the eastern district of Nasr City.
There was no official word on casualties among the protesters in either camp, but state television said two policemen were killed and several others were injured. The Interior Ministry, which is in charge of police, warned in a statement that the forces would deal firmly with protesters acting "irresponsibly" and said it would guarantee safe passage to those who want to leave the sites.
An Associated Press television video journalist at the scene of the larger of the two camps said he could hear the screams of women as a cloud of white smoke hung over the site in the eastern Cairo suburb of Nasr City. He said a bulldozer was removing mounds of sand bags and brick walls built by the protesters as a defence line in their camp. Army troops, however, were not taking part in the operation.
The simultaneous actions by the Egyptian forces - at the pro-Morsi encampment in Nasr City and at the site outside the main campus of Cairo University on the other side of the Egyptian capital - began shortly after 7am.
Helicopters hovered over the two sites as plumes of smoke rose over the city skyline.
Regional television networks were showing images of collapsed tents and burning tires at both sites, with ambulances on standby at the scene. They were also showing protesters being arrested and led away by the troops.
At one point, state television showed footage of some dozen protesters, mostly bearded, cuffed and sitting on a sidewalk under guard outside the Cairo University campus.
A television feed by a pro-Morsi station showed thousands of protesters gathered at the centre of the Nasr City site, with many covering their faces to fend off the tear gas. It said most of the protesters at the other camp fled to the nearby Orman botanical gardens and inside the sprawling university campus.
At least 250 people have died in clashes in Egypt following Morsi's ouster in a military coup that followed days of mass protests by millions of Egyptians calling for his removal.
Supporters of the Islamist president want him reinstated.
"The world cannot sit back and watch while innocent men, women and children are being indiscriminately slaughtered. The world must stand up to the military junta's crime before it is too late," said a statement by the Muslim Brotherhood, the Islamist group from which Morsi hails.