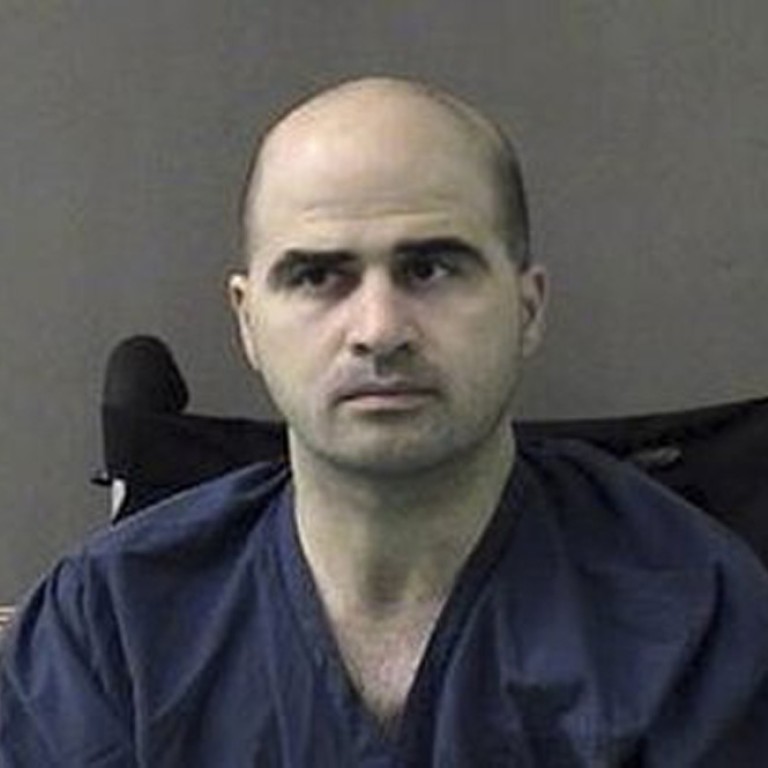 Fort Hood victims shot while lying down, court hears
At least four people killed during a gunman's rampage at Fort Hood in 2009 were likely shot while lying on the floor inside a building at the Texas military base, experts testified on Wednesday during the accused shooter's trial.
Pathologists who conducted several autopsies of the victims described the wounds caused by an FN 5.7 semi-automatic pistol while testifying at the military trial of Major Nidal Hasan. He is accused of killing 13 people and wounding more than 30 others during the attack.
Michael Grant Cahill, a physician's assistant who tried to stop Hasan that day, was shot six times, including once through his neck, according to pathologist Captain Edward Reedy. Reedy told jurors that some of Cahill's wounds suggest he was shot while lying down.
Witnesses said Cahill was armed only with a chair when he charged Hasan as the Army psychiatrist opened fire. Cahill was the lone civilian who died in the rampage, which remains the worst mass shooting ever on a US military installation.
Reedy told jurors that another victim, Pfc Kham Xiong, was shot three times including twice in the head. When asked by prosecutors whether the married father of three may have been standing when shot, Reedy said Xiong's wounds were "more consistent with lying on the ground."
Similar fatal injuries were inflicted on Lieutenant-Colonel Juanita Warman, a 55-year-old military physician assistant, whom another pathologist said suffered four bullet wounds that were consistent with someone laying on their stomach or side when they were shot.
And the fatal gunshot wound suffered by 22-year-old Spc. Jason Dean Hunt, who was shot three times, also could be consistent with someone shot while lying down, said Dr. Edward Mazuchowski II, who was the director of operations at Dover Air Force Base's mortuary at the time of the attacks.
All of the victims' bodies were taken to the Delaware base following the Nov. 5, 2009, shootings. Pathologists have so far detailed their findings about seven of the victims, and more testimony from medical examiners was set for Thursday.
Before testimony began Wednesday, Hasan told the judge he had authorised the release of a report showing that he told military mental health experts after the attack that he "would still be a martyr" if he were convicted and executed by the government.
Hasan's civilian lawyer had released the document to the New York Times, which published contents of the report Tuesday. The newspaper also posted the report online.
Hasan told the judge that he wasn't forced to disclose the report and knew that releasing it could make it available to prosecutors.
Prosecutors said they hadn't yet seen the report, and the judge later told them not to read it or use it in their case.
Hanan's standby military defence lawyers, who have been ordered to help Hasan during the trial, said they were concerned about the report's release. They have accused Hasan of trying to convince jurors to convict him and sentence him to death, though Hasan disputes those claims.
If convicted, Hasan could face the death penalty.
<