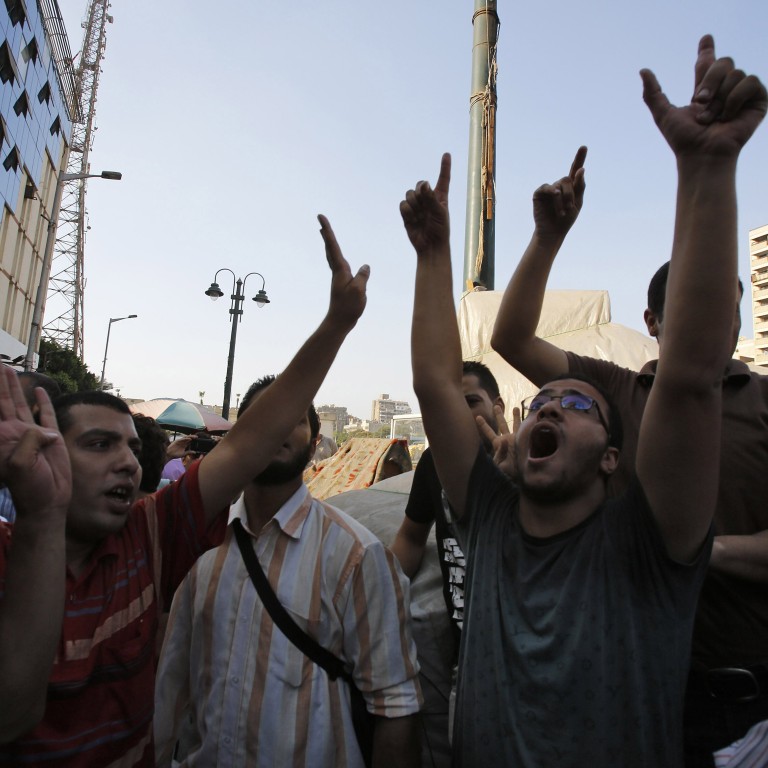 Egypt arrests two more top Islamist figures
Latest in crackdown on Muslim Brotherhood by authorities
Egyptian authorities on Wednesday arrested two more Islamist figures: a top ally of the Muslim Brotherhood as he reportedly tried to flee to neighbouring Libya disguised as a woman, and a spokesman for the Islamist group on his way to catch a flight out of the country.
The arrests are the latest in a crackdown by Egypt's new military-backed leaders against the Muslim Brotherhood group, from which ousted President Mohammed Mursi hails.
They came just a day after authorities detained the Brotherhood's supreme leader and spiritual guide, Mohammed Badie, dealing a serious blow to the embattled movement that is now struggling to keep up street protests against the military's overthrow of Mursi.
Badie was arrested in an apartment in the Cairo district of Nasr City, close to the site of a sit-in encampment that was forcibly cleared by security forces last week, triggering violence that killed hundreds of people.
Hundreds, including the group's former lawmakers, politicians, and field operatives are already in custody.
Mursi and his top aides have been held at an unknown location, incommunicado since the July 3 military coup. The ouster of Mursi, Egypt's first democratically elected president, came after four days of mass protests in Cairo and elsewhere demanding he step down for abusing power.
On Wednesday, cleric Safwat Hegazy, a fiery Salafi preacher and top Brotherhood ally, was captured at a checkpoint near the Siwa Oasis in eastern Egypt and close to the border with Libya, according to the state-run MENA news agency. The cleric is wanted on charges of instigating violence.
According to the website of the state-run Al-Ahram daily, Hegazy had shaved off most of his beard, dyed his hair and covered his face with a niqab, a head-to-toe woman's dress that leaves only a slit for the eyes uncovered. Egyptian state TV aired a photo showing him sitting next to army soldiers, dressed in white robe with the new shaven look.
MENA said Hegazy, who joined ranks with the Muslim Brotherhood in campaigning for Mursi's presidential bid, showed no resistance during his arrest and was flown to a detention centre in Cairo.
Hegazy was a key speaker at the main pro-Mursi sit-in that was dispersed by security troops last Wednesday in Cairo's Nasr City suburb. He told protesters to hold their ground and promised to deal blows to the military. He is wanted on charges of instigating deadly clashes last month with security forces outside a Republican Guard building that killed 54 people, most of them Mursi supporters.
Also, an Egyptian security official said Mourad Ali, a spokesman for the Brotherhood's political party, was detained at the Cairo airport, trying to catch a flight to Italy. The official spoke on condition of anonymity because he was not authorised to speak to the media.
The Brotherhood arrests are aimed at crippling the group and weakening its ability to continue street pressure.
Over the past three days, the group's near-daily protests since Mursi's ouster have diminished, with scattered demonstrations in Cairo and elsewhere attracting mere hundreds, or even dozens, of protesters.
On Tuesday, several hundred Mursi supporters staged protests in Helwan, an industrial suburb south of Cairo, and in Ein Shams, a residential district on the opposite end of the city, shortly before the 11-hour curfew went into effect at 7pm.
Key Brotherhood figures who are still on the run and wanted in various charges are Mohammed el-Beltagy, a former lawmaker and a member of the constituent assembly, which last year drafted the now suspended constitution, and Essam el-Erian, deputy leader of the Freedom and Justice party, the political arm of the group.