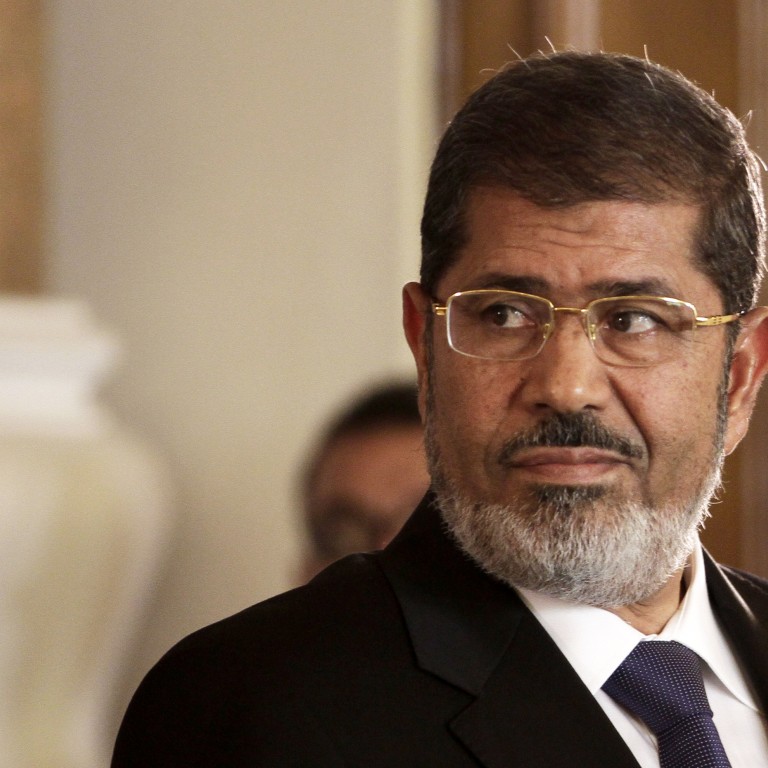 Mursi to go on trial as Egypt struggles for democracy
Toppled president face charges of inciting violence
Egypt's first freely elected president, Mohammed Mursi, goes on trial on Monday under a security crackdown that has devastated his Muslim Brotherhood movement and raised concerns that the army-backed government is reimposing a police state.
A popular uprising that toppled autocrat Hosni Mubarak in 2011 raised hopes that Egyptians would break the military establishment's longstanding grip on power.
But the world's most populous Arab nation has faltered in its political transition, and the generals are back in charge, to the dismay of Cairo's Western allies who were hoping Egypt's experiment with democracy would be smooth.
Mursi, who was ousted by the army on July 3 after mass protests against his rule, is due to appear in court along with 14 other senior Muslim Brotherhood figures on charges of inciting violence.
He and the other defendants could face a life sentence or death penalty if found guilty. That would likely further inflame tensions between the Brotherhood and the army-backed government and deepen the political instability that has decimated investment and tourism in a country where a quarter of people live under the poverty line.
When the military ousted Mursi, it promised a political roadmap would lead to free and fair elections.
What followed was one of the harshest clampdowns ever mounted against the Brotherhood, which is now struggling to survive after enduring state repression for decades.
In August, riot police backed by army snipers crushed Cairo protest camps demanding the reinstatement of Mursi, a US-trained engineer.
Security officials accuse Brotherhood leaders of inciting violence and terrorism. Hundreds of the movement's members have been killed and many of its leaders jailed.
The Brotherhood denies any links with violent activity.
Mursi has been held in an undisclosed location since his removal. The trial is expected to be held at a police institute near Cairo's Tora prison.
The charges of inciting violence relate to the deaths of about a dozen people in clashes outside the presidential palace in December after Mursi enraged his opponents with a decree expanding his powers.
"What concerns me about this trial is that the justice system has been extremely selective and there has been almost near impunity for security services for the killing of hundreds of protesters," said Heba Morayef, Egypt director for Human Rights Watch.
"And in that kind of environment of politicised prosecutions, the likelihood for real justice is compromised."
PATH TO DEMOCRACY
There are indications that the authorities are growing less tolerant of freedom of expression.
Egypt's top television satirist was pulled off the airwaves a week after he poked fun at army chief Abdel Fattah al-Sisi.
Egyptian officials admit the path to democracy has been rocky. But they caution that a proper democratic transformation will take time.
"It can't be judged on what we do today and what we do tomorrow. I promise you we will succeed in doing this, but I am sure we will stumble on the way," Foreign Minister Nabil Fahmy said in an interview.
Islamist militants based in the Sinai Peninsula have stepped up attacks on security forces since Mursi's ouster.
Egyptian security officials accuse Hamas, which is an offshoot of the Brotherhood and runs the Gaza Strip, of supplying Sinai Islamists with arms, an accusation the Palestinian militant group denies.
Asked of there is direct link between Hamas and the Brotherhood, Fahmy said: "Are there indications that (there are) foreign sources of support for what is happening in Sinai? Yes. But I am not going to get into who is doing what. I leave that to the courts."
Brotherhood officials say they are still determined to fight for Mursi's reinstatement, even though far fewer Islamists seem ready to protest in the face of the onslaught by security forces.
"If Mursi is convicted there will be a major escalation through peaceful protests and without the use of force," said a senior Brotherhood official, who added that other Islamists may take up arms against the state.
The Brotherhood accused the army of staging a coup and reversing the democratic gains made since the fall of Mubarak, who ruled with an iron fist for three decades.
But many Egyptians, who grew disillusioned with Mursi's rule, do not share their view.
"The Brotherhood will continue to protest everywhere to spread chaos. These protests will not bring back Mursi or the Brotherhood to power," said Fathi Awadallah, a 50-year-old businessman in Mansoura, a city in the Nile Delta.
The military says it was responding to the will of the people.
POPULAR ARMY GENERAL
Sisi, the man who toppled Mursi, has become wildly popular. Few doubt the general, who was head of military intelligence under Mubarak, would win if he runs for president.
Many liken him to Gamal Abdel Nasser, the colonel who led a coup against the monarchy in 1952, set up an army-led autocracy and rounded up thousands of Muslim Brotherhood members.
The resurgence of the military raises questions about the prospects for democracy in Egypt, which has a peace treaty with Israel and controls the Suez Canal, a global trade route.
Relatives of Brotherhood detainees complain they are being held in cramped conditions and mistreated.
"This Mursi trial is a farce. Who should be put on trial? Those who had power stolen from them or those who did the stealing?" asked Abdullah Mustafa who said his brother, a Brotherhood member, died shortly after being held in prison.