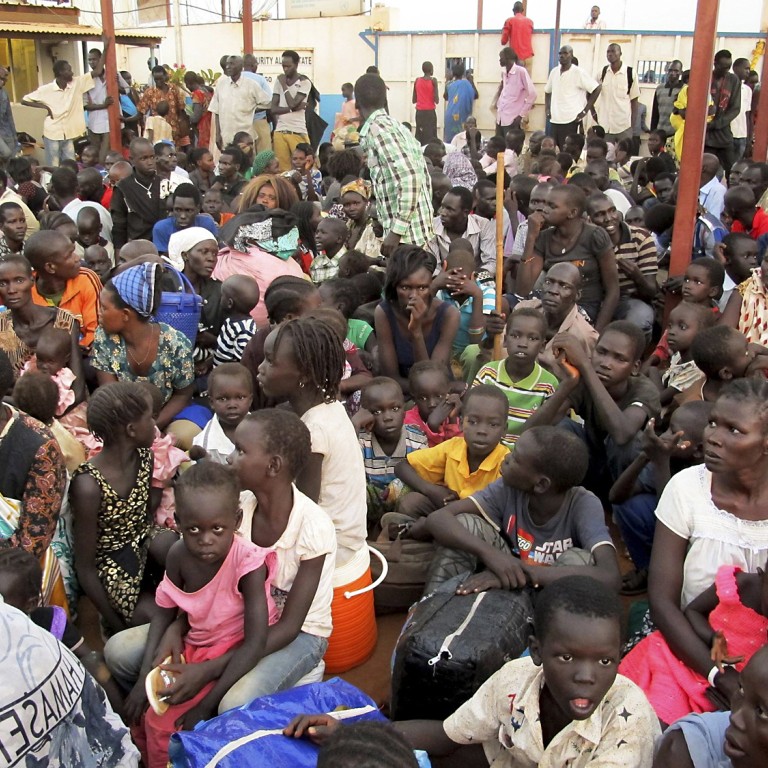 South Sudan death toll up to 500, diplomats say, after 'foiled coup'
Diplomats report heavy toll in South Sudan, where ex-vice-president accused of failed coup
Hundreds of people have died and up to 20,000 others have fled to UN bases in days of fierce fighting in South Sudan's army after an alleged coup bid, officials said.
The United States ordered non-essential embassy staff out of the country, the world's youngest nation and awash with guns after decades of war, amid fears of a descent into wider ethnic violence.
In the capital Juba, gunfire still rang out into the early hours of Wednesday morning, a reporter said.
Video: Thousands flee as rival troops battle in South Sudan
"There are people walking in the city this morning, but it would be premature to say things are back to normal," he said.
The government ordered Juba airport to re-open, although regional airlines said they were waiting for security guaranties before allowing flights bound for Juba to take off.
"We are waiting for confirmation that the airport is safe," a Kenya Airways official said. "For the moment it is 50-50".
Many of Juba's residents have spent the past two days barricaded in their homes, too afraid to move. Others used lulls in the sporadic and often intense battles to grab what belongings they could and flee to safer areas, including UN bases.
President Salva Kiir on Monday accused soldiers loyal to his arch-rival, former vice president Riek Machar who was sacked in July, of staging a coup attempt in the oil-rich but deeply impoverished nation, which has struggled with instability since becoming independent in 2011.
Machar, in comments published Wednesday, denied any attempt to topple the president, and instead accused Kiir of using the violence to as a pretext to purge any challengers.
"What took place in Juba was a misunderstanding between presidential guards within their division, it was not a coup attempt," he told the Paris-based Sudan Tribune website, in his first public remarks since the fighting started.
"Kiir wanted to use the alleged coup attempt in order to get rid of us."
The government said 10 key figures, many of them former ministers, have been arrested in the crackdown, and that others, including Machar, were on the run.
UN peacekeeping chief Herve Ladsous told the Security Council that between 400-500 bodies had been taken to hospitals in Juba, while another 800 people had been wounded.
Ladsous told the council it appeared the clashes that erupted in the "extremely tense" capital late Sunday were on ethnic lines.
President Kiir and his rival Machar hail from different ethnic groups and fought on different sides during Sudan's civil war.
The International Committee of the Red Cross (ICRC) said medical teams in Juba's two main hospitals were having trouble coping.
"Staff in both hospitals have been working around the clock, but they are struggling because of the sheer volume of patients and the severity of the injuries," said Felicity Gapes, an ICRC delegate leading the medical response on the ground.
Security Council president Gerard Araud, France's UN ambassador, would not confirm the toll after the talks at the UN. "There is a heavy toll, it is obvious," Araud told reporters, while adding that precise figures were not yet available.
"There are dozens and scores of casualties," he said. Araud added that fighting had also been reported outside of the capital, in Jonglei state which has a history of clashes between rival ethnic groups.
There were also reports of fighting outside Juba, including in the already-tense Jonglei state -- where the UN Mission in South Sudan (UNMISS) said hundreds of civilians had also sought refuge at two of their bases.
Ladsous told the Security Council that between 15,000 and 20,000 people had sought UN protection in Juba. The special representative of the UN secretary-general, Hilde Johnson, said it was "paramount" that the conflict did not assume ethnic dimensions.
The US State Department issued a statement saying all non-emergency US government personnel have been ordered to leave South Sudan "because of ongoing political and social unrest" and also urged all Americans to get out of the country "immediately".