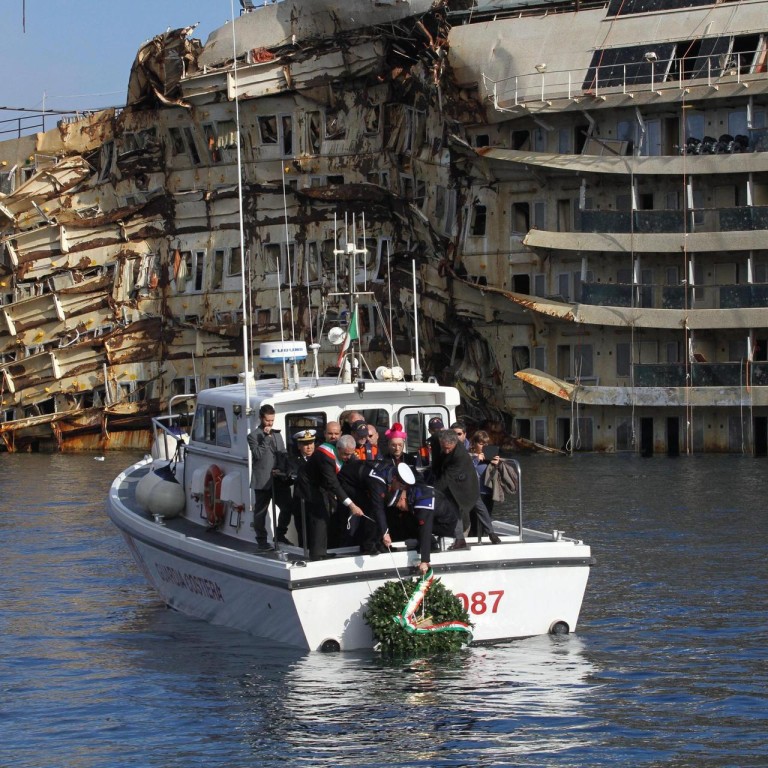 Survivors of Costa Concordia shipwreck rally as trial begins
Protesters want cruise ship's owner to share blame with the captain
Survivors of the Costa Concordia shipwreck staged a protest yesterday on the second anniversary of the tragedy outside the trial of the luxury liner's captain, saying more blame should be put on the ship's owner, Costa Crociere, Italian media reported.
A few dozen protesters rallied in Grosseto in Tuscany, near the courtroom where Francesco Schettino is on trial for manslaughter and allegedly abandoning the ship before all the passengers had been evacuated.
"There is a lack of security on these ships. This trial is showing that the emergency systems that should have guaranteed passenger safety did not work," Massimiliano Gabrielli, a lawyer representing some of the survivors, was quoted by the ANSA news agency as saying.
Schettino, who was not present at yesterday's hearing in Grosseto, said in a written message that he felt "an indelible pain" over the disaster and was in a state of "profound mourning".
The captain is the only person on trial for the wreck.
Five others - four crew members and Roberto Ferrarini, the head of Costa Crociere's crisis unit - have negotiated plea bargains of up to 34 months in prison.
The judges and survivors alike stood in silence inside the court in Grosseto to remember the victims. Passengers came from as far away as Russia and Britain to attend the hearing, but it was adjourned almost immediately after starting because of a lawyers' strike.
Relatives of the dead also threw a wreath into the sea and attended a Mass at the island's church, which had welcomed hundreds of passengers on January 13, 2012 when the Concordia hit a reef and capsized.
"I am here for my sister," said Madeleine Soria Molina of Peru, whose sister Erika Fani Soria Molina was among the crew members killed. "It is a way to be with her again, because the death of a member of your family - of a brother or sister - it is hard to get over it."
Residents of Giglio, meanwhile, are finally seeing the end of their ordeal, with June set as the date to remove the wreck from the island's port. They received a boost in spirits in September when salvage crews pulled off an unprecedented engineering feat to right the 115-tonne, 300-metre liner in preparation for it to be towed away.
"Definitely [this anniversary] is something that takes us back to that terrible night, even if today we are looking at this anniversary ... with a light that is a little bit different," Giglio Mayor Sergio Ortelli said. "Today we are looking forward optimistically to what will be the final operation."
In the coming months, a total of 30 giant tanks will be affixed to both sides of the Concordia to float it off the false seabed where it is resting, so it can be towed to a port to be dismantled for scrap. Five Italian ports as well as ones in Turkey, France and even China are vying for the contract.
"Two years means that, let's not say we've got used to it, but almost," said resident Giuseppe Modeste. "But eventually this wreck will be taken away."
This article appeared in the South China Morning Post print edition as: Concordia survivors rally on anniversary of disaster