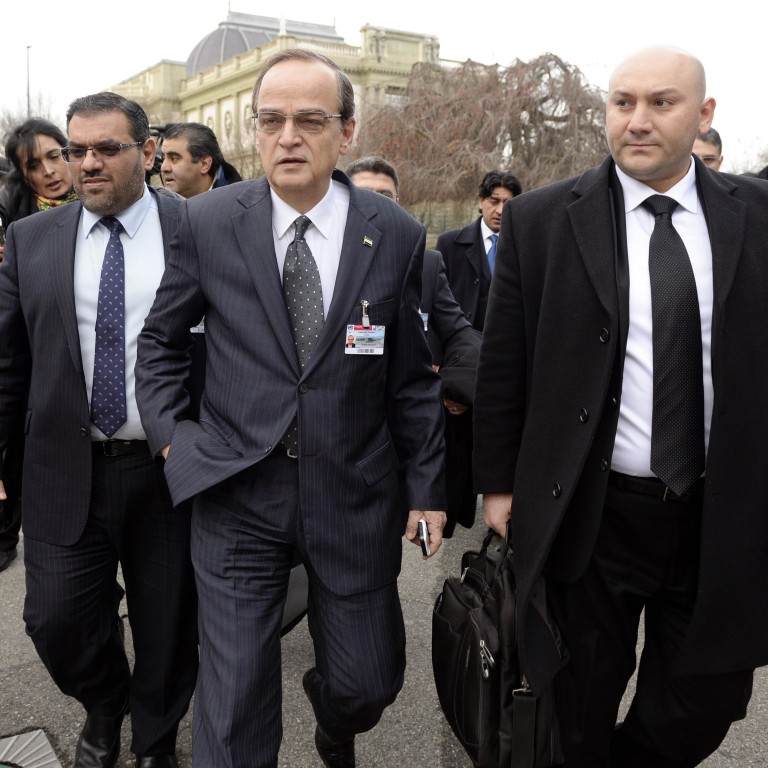 Breaking

|
Syrian civil war foes meet face to face in UN mediator's presence at Geneva summit
Syria's civil war foes held their first meeting in the same room in the presence of international mediator Lakhdar Brahimi on Saturday after a day's delay and fierce recriminations.
The talks in Geneva aimed to launch political negotiations on ending Syria's nearly three-year conflict, which has killed 130,000 people, displaced over a third of Syria's 22 million population and destabilised the wider region.
"The first session has ended – Brahimi spoke for 30 minutes and none of the delegates said anything," opposition delegate Anas al-Abdah told reporters after the meeting.
The two sides entered and left the room through separate doors, Abdah added, and were due to meet again at 4pm local time for discussions on humanitarian matters.
He said Brahimi told them the first two days of the talks would focus on negotiations to lift sieges of civilians including in the central city of Homs, as well as local ceasefires and humanitarian access, but the core of the negotiations should be about resolving the conflict.
"He [Brahimi] told us this is a political conference ... based on Geneva 1," Abdah said, referring to a June 2012 communique which called for the establishment of a transitional governing body – a goal the Damascus government rejects.
The peace conference almost collapsed on Friday, the day face-to-face talks were meant to start, and was only saved after UN mediator Brahimi persuaded the two sides to focus on smaller issues on which agreement might emerge.
"We do expect some bumps on the road," Brahimi told a news conference on Friday after separate meetings with the parties.
With international divisions over how to end the conflict putting an overall political solution out of reach for now, the two sides will focus on small, confidence-building steps with no certainty negotiations will even last the week.
"Both parties will be here tomorrow ... they will not leave on Saturday or Sunday," Brahimi said.
One diplomatic source, noting the caustic verbal attacks that marked the opening of the conference in the Swiss city of Montreux on Wednesday, said on Friday he had become cautious.
"Compared to 10 days ago, we've had Montreux with both delegations, this start in Geneva with an extra day's delay, tomorrow 30 minutes with the two delegations and then maybe a subject they can agree on. Small steps, but small steps are better than no steps."
"It's clear there will be hysterical episodes each day."
Humanitarian access for Homs, where rebels are surrounded in central districts by forces loyal to President Bashar al-Assad, could be agreed quickly.
"The practical aspects have been worked on. Things are ready and if the government doesn't put a block on it then it could happen quickly," a diplomatic source said.
But profound mutual mistrust and the absence from Geneva of powerful Islamist opposition groups as well as Assad's ally Iran make any substantial progress very difficult.
The opposition said early on Friday it would not meet the government side unless it first agreed to publicly endorse a 2012 statement by world powers calling for a transitional government in Syria.
The government rejected the demand and said its negotiators would leave Geneva unless serious talks began within a day.
After talking to both sides, Brahimi indicated on Friday afternoon that their argument, which centres on whether Assad would have to step down, had been put to one side.
Diplomats played down hopes of progress. "Expectations are so low we'll see how things develop day by day," one said.
Brahimi had already indicated that his aim was to start by seeking practical steps, such as local ceasefires, prisoner releases and access for international aid deliveries, before embarking on the tougher political negotiations.
"I think an immediate political solution is unrealistic, unfortunately," French Foreign Minister Laurent Fabius told France 24 television.
Syria's civil war has made half of the population dependent on aid, including hundreds of thousands cut off by fighting.
Among the obstacles to progress, the Islamist militants who control most rebel-held territory are boycotting the talks and say that anyone attending negotiations that fail to bring down Assad would be traitors.