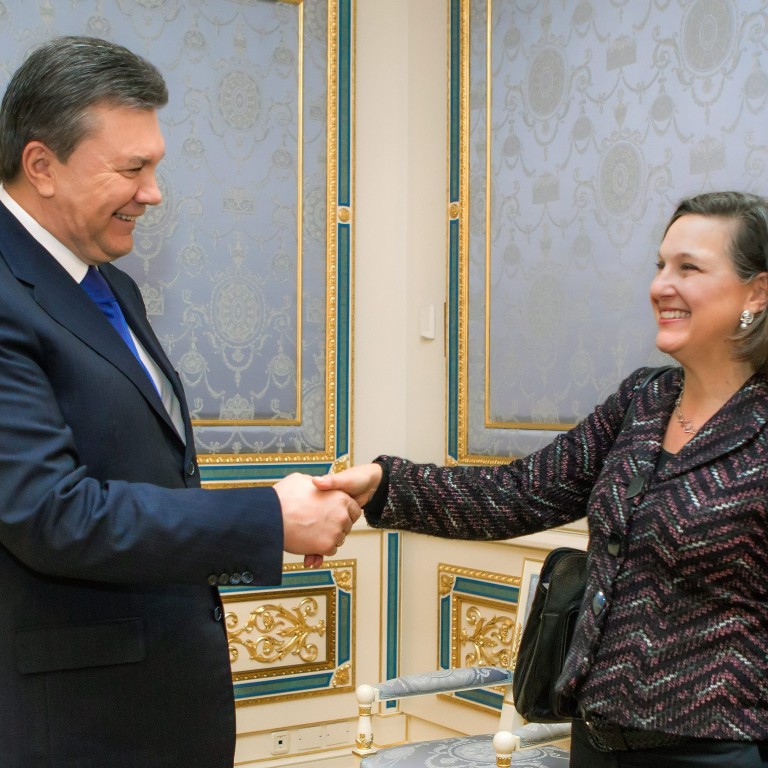 New
Merkel condemns US diplomats' comments on Ukraine
US officials discuss shaping a new government and express exasperation at EU's plodding in exchange likely to embarrass US and fuel Russian suspicions of American meddling
German Chancellor Angela Merkel finds the disparaging remarks of US diplomats about the European Union's role in the Ukrainian crisis "totally unacceptable", a spokeswoman said on Friday.
In a leaked conversation posted on YouTube, State Department official Victoria Nuland tells the US ambassador to Ukraine in a discussion about the strategy for political transition "fuck the EU". She has apologised to EU officials.
German spokeswoman Christiane Wirtz said Merkel appreciated the work of EU foreign policy chief Catherine Ashton, who has led the bloc's efforts to mediate between President Viktor Yanukovich and his opponents who have taken to the streets.
"The chancellor finds these remarks totally unacceptable and wants to emphasise that Mrs Ashton is doing an outstanding job," Wirtz told a news conference.
The leaked conversation between a State Department official and the US ambassador to Ukraine seemed designed to bolster charges from Russia, among others, that the Ukrainian opposition is being manipulated by Washington, which US President Barack Obama's administration strenuously disputes.
US accusations that Russia helped publicise the taped conversation also threatened Washington's already tense relationship with Moscow.
Apparently dating from just before January 27, when opposition leader Arseny Yatsenyuk turned down Yanukovych's offer to be prime minister, the recording of Assistant Secretary of State Victoria Nuland and ambassador Geoffrey Pyatt included them agreeing that another opposition figure, former boxing champion Vitaly Klitschko, should not be in the cabinet.
Listen: Recorded conversation between Asst. Sec. of State Victoria Nuland and Amb. Jeffery Pyatt
"I don't think Klitsch should go into the government," Nuland said in the recording, which carried subtitles in Russian. "I don't think it's a good idea."
She also discussed the prospect of a UN envoy endorsing a new government: "That would be great … to have the UN help glue it and you know … f*** the EU."
Pyatt responded: "Exactly. And I think we've got to do something to make it stick together because you can be pretty sure that if it does start to gain altitude, the Russians will be working behind the scenes to try to torpedo it."
The first clip was titled "Puppets of Maidan", referring to the main protest camp in the Ukraine.
The furore over the leaks raised questions over security standards among diplomatic missions in Kiev and over possible Russian or Ukrainian bugging of diplomatic lines.
Separately on Thursday, a senior Kremlin aide accused the United States of arming Ukrainian "rebels" and warned Russia could intervene to maintain the security of its neighbour.
US officials, while declining to confirm the recording's contents, did not dispute its authenticity. "I did not say it was not authentic," State Department spokeswoman Jen Psaki said at a news briefing.
Psaki also criticised Russian officials' publicising of the tape as "a new low in Russian tradecraft" and denied Washington was trying to meddle or engineer a particular outcome in Kiev.
"Absolutely not," she said. "It should be no surprise that US officials talk about issues around the world. Of course we do. That's what diplomats do."
Still, Psaki said Nuland had apologised to her EU counterparts for the reported comments.
The audio clip was first posted on Twitter by Dmitry Loskutov, an aide to Russian Deputy Prime Minister Dmitry Rogozin, a diplomatic source said.
The US diplomats went on further with their strategising.
"I think [opposition leader Arseny Yatsenyuk] is the guy who's got the economic experience, the governing experience. What he needs is [Klitschko] and [Oleh Tyahnybok, another opposition leader] on the outside. He needs to be talking to them four times a week," Nuland said in the recording.
Pyatt suggested Nuland contact Klitschko personally to play to his "top dog" sensibilities.
"I think you reaching out directly to him helps with the personality management among the three and it gives you also a chance to move fast on all this stuff and put us behind it before they all sit down and he explains why he doesn't like it," he said.
The second recording, purporting to be a conversation between two EU officials, was posted on the same day from the same YouTube account, which has previously carried video showing protesters in a poor light.
In it, Helga Schmid, deputy to EU foreign policy chief Catherine Ashton, is heard complaining about US criticism that the Europeans were not supporting sanctions on Ukrainian individuals in response to violence against anti-government protests.
"It's very annoying that the Americans are going around criticising the EU and saying we are too soft," Schmid tells Jan Tombinski, the EU ambassador to Ukraine.
EU officials said they would not comment on a "leaked alleged" call posted on the same anti-opposition website featuring a senior aide to EU diplomacy chief Catherine Ashton complaining about US criticism that the European Union was being "too soft" in its approach to imposing sanctions on Yanukovych.
As Russian President Vladimir Putin prepared to open the Winter Olympics at Sochi, the first Games in Russia since the Soviet Union hosted the 1980 summer edition, the showdown over Ukraine produced chilly cold war rhetoric, with a Kremlin aide, Sergey Glazyev, warning Moscow might act to block US "interference" in Kiev.
US-Russian relations have long been far from warm and there seems little chance yet of conflict going much beyond verbal sparring, but the ferocity of the exchanges was a mark of the importance of Ukraine, a sprawling former Soviet state of 46 million people that Putin wants to keep in Moscow's economic orbit.
He is likely to meet the Ukrainian president in Sochi, possibly to discuss Yanukovych's plans for a new prime minister – plans on which billions in Russian aid depend. He may also raise concerns, voiced by the Kremlin's point man on Ukraine, that Yanukovych needs to crack down on protesters who have been on the streets for over two months, demanding he quit.
Yanukovych triggered mass protests in November when he yielded to Russian pressure and backed out of a free trade pact with the EU.
Moscow has frozen aid it granted after the EU debacle until it knows who Yanukovych names in place of the pro-Russian prime minister removed last week in a bid to appease opponents.
Since the opposition's Yatsenyuk turned down the job, some opposition figures speculate that Yanukovych may now name one of his own hardline allies in an effort to please Moscow.
In a stark reminder of his dilemma of competing choices, before heading for Sochi, Yanukovych met Nuland just before flying out. He assured her, according a statement from his office, that he wanted talks not violence: "Only by dialogue and compromise can we get out of this crisis," he said.
The United States and European Union have urged Yanukovych to form a consensus government involving the opposition and to embark on constitutional and economic reforms that would bring Western financial and other aid to the nation of 46 million.
Alarmed by violence in which at least six people were killed and dozens of others have been wounded or gone missing, Washington and Brussels have also brandished threats of sanctions, particularly travel bans and asset freezes targeted at officials and others involved in repressing dissent.