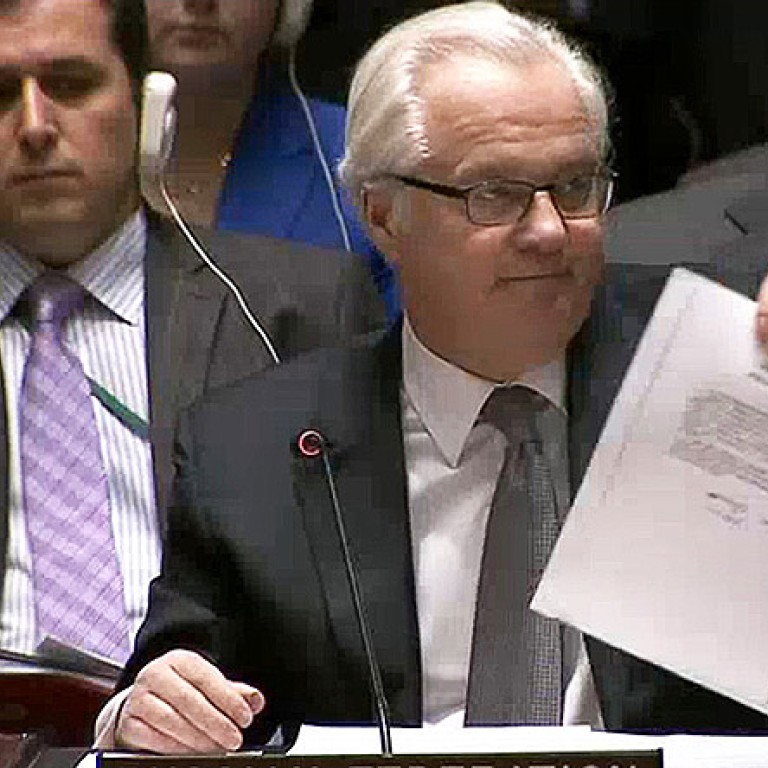 Russia says Yanukovych asked Putin to use force to save Ukraine, as US mulls sanctions
Russia's UN representative says former Ukraine leader requested intervention in Crimea, a charge Western powers reject as US ponders sanctions if Europe follows suit
Ukraine's ousted leader Viktor Yanukovych has sent a letter to Russian President Vladimir Putin requesting that he use Russia's military to restore law and order in Ukraine, Moscow's UN envoy told a stormy meeting of the Security Council on Monday.
"The country has plunged into chaos and anarchy," Russian Ambassador Vitaly Churkin read from an unofficial translation of the letter while speaking to reporters after an emergency meeting of the UN Security Council. "The country is in the grip of outright terror and violence driven by the West."
"People are persecuted on political and language grounds," he read. "In this context, I appeal to the President of Russia Vladimir V Putin to use the armed forces of the Russian Federation to re-establish the rule of law, peace, order, stability and to protect the people of Ukraine."
Churkin held up a copy of the letter for council members to see during a heated council session in which Western envoys and the Russian ambassador hurled allegations at each other for two and a half hours. He said the letter was dated March 1.
After the Russian ambassador spoke, US Ambassador Samantha Power dismissed Russian claims that Russian-speaking Ukrainians were under threat in the eastern regions of the former Soviet republic.
"There is no evidence that ethnic Russians are in danger," she told the 15-nation council, which is holding its third emergency session on Ukraine in four days, this time at the request of Russia.
Power said there was "no legal basis" for Russia to justify its military deployments in Ukraine through an invitation from the regional prime minister of the Crimea, adding only Ukraine's parliament could do that.
"Russia has every right to wish that events in Ukraine had turned out differently," she said. "But it does not have the right to express that unhappiness by using military force or by trying to convince the world community that up is down and black is white."
Churkin rejected Power's denials and said she appeared to have gotten all her information about Ukraine "from US TV". He repeated Moscow's view that Yanukovich is Ukraine's legitimate leader, not interim President Oleksandr Turchynov.
British Ambassador Mark Lyall Grant also rejected Russian allegations of acts of terrorism and threats against ethnic Russians in Ukraine. "It is clear that these claims have simply been fabricated to justify Russian military action," he said.
He dismissed Yanukovych's letter to Putin as meaningless.
"We are talking about a former leader who abandoned his office, his capital and his country, whose corrupt governance brought his country to the brink of economic ruin, who suppressed protests against his government, leading to over 80 deaths," Lyall Grant said.
He added that he would not rule out introducing a resolution on the Ukraine crisis in the coming days.
Despite the sharp exchanges reminiscent of the cold war, there was no formal outcome of Monday's meeting. Russia is a veto-wielding permanent member of the security council and, therefore, can block any actions proposed by its members.
Most council members took the floor to condemn Russia's actions in Ukraine. China was careful to not rebuke its ally Moscow, which it has supported on issues involving Syria and Iran, but the Chinese envoy did voice support for the idea of non-interference in the internal affairs of countries.
Kiev's UN envoy Yuriy Sergeyev told the council Russia had deployed roughly 16,000 troops from Russian territory to Ukraine's autonomous region of the Crimea since February 24, which he said was an illegal invasion. He made clear this was in addition to troops Russia had already deployed to service its Black Sea fleet in the Crimea under an arrangement with Kiev.
Ignoring warnings from US President Barack Obama and other Western leaders, Putin won permission from his parliament on Saturday to use military force in Ukraine. The stated purpose was to protect ethnic Russians after the ouster of Ukraine's Russian-backed president a week ago.
Putin got the green light from parliament after Russian forces had already gained control of Crimea, an isolated Black Sea peninsula with an ethnic Russian majority and where Moscow has long had a naval base.
French Ambassador Gerard Araud compared Russia's intervention in Ukraine to the Soviet-led invasion of Czechoslovakia in 1968 when Warsaw Pact forces crushed attempts by Prague to relax censorship and implement more lenient policies than previous communist governments there.
"We are hearing the voice of the past," Araud said. "I was 15 years old when Soviet forces entered Czechoslovakia. It was the same justification."
The council met on Friday and Saturday to discuss the crisis in eastern Ukraine but took no decisions, as expected. Both meetings highlighted the deep divisions between the United States and other Western nations and Russia, which has a major Black Sea naval base in the Crimea region.
At Friday's session, Ukraine accused Russia of illegal military incursions onto Ukrainian territory, while US and European delegations warned Moscow to withdraw any new military forces deployed in neighbouring Ukraine.
Russia, however, said any military movements by Russian forces there were in compliance with its agreement with Kiev on maintaining its naval base there. On Saturday, the United States called for international observers to be deployed to Ukraine.
Power and other Western envoys reiterated the call for monitors at Monday's session. Churkin responded by saying he did not necessarily reject the idea of international observers being deployed to Ukraine, though he did not explicitly support the proposal either.
Support and sanctions
US lawmakers on Monday expressed support for aid for Ukraine's new government, as well as for sanctions to punish Russia for its military incursion, but want European nations to step up their involvement in the crisis.
Senators are looking at options such as imposing sanctions on Russia's banks and freezing assets of Russian public institutions and private investors, Senator Chris Murphy, chairman of the Senate's Europe subcommittee, told reporters.
But he said in a telephone interview that European governments also needed to act.
"Unilateral US sanctions against Russia are not going to have much of an effect if Europe remains a haven for Russian banks and Russian oligarchs to stash and invest their money," the Connecticut Democrat said.
Senate Majority Leader Harry Reid said he was "deeply concerned" about what is happening in Ukraine. Noting that President Barack Obama has said he wanted to provide economic aid to Kiev, Reid said he was "happy to help in any way".
But the Nevada Democrat told reporters at the US capital: "I'm going to recommend that anything that we do be in conjunction with our allies."
Democrats and Republicans on the Senate Foreign Relations Committee are preparing legislation – supported by members of both parties – to provide at least US$1 billion in loan guarantees to provide structural support to Ukraine's economy.
The measure would also authorise technical assistance for energy reforms, support elections, strengthen civil society, combat corruption and help Ukraine recover stolen assets, Democratic Senator Robert Menendez, the committee's chairman, said in a statement.
The committee is also consulting with the Obama administration on possible actions against individual Russians – and Ukrainians who co-operated with them – ranging from visa bans and asset freezes to suspending military co-operation and sales, as well as economic sanctions.
Republican US Congressman Ed Royce, chairman of the House of Representatives Foreign Affairs Committee, also said Washington needed to act with the Europeans to pressure Moscow via its state-run banks or through trade.
"The Achilles heel for Russia is their economy, the rouble," Royce said on CNN.
European Union ministers held talks on the Ukraine crisis on Monday, but agreed on no deadlines or details about any punitive measures that could be put in place against Russia.
Republican Senator John McCain, one of his party's leading foreign policy voices, said he felt German Chancellor Angela Merkel in particular had been too timid.
Merkel and her three-month-old coalition government have gone out of their way to avoid antagonising Russian President Vladimir Putin, remaining measured even as Washington and other capitals ratcheted up the rhetoric. Germany is heavily dependent on Russian natural gas and is closer to Moscow than any other leading Western nation.
"I was very disappointed in her comments," McCain said of Merkel. "And, by the way, maybe Putin also, who knows Angela Merkel, thinks that he can get away with this."