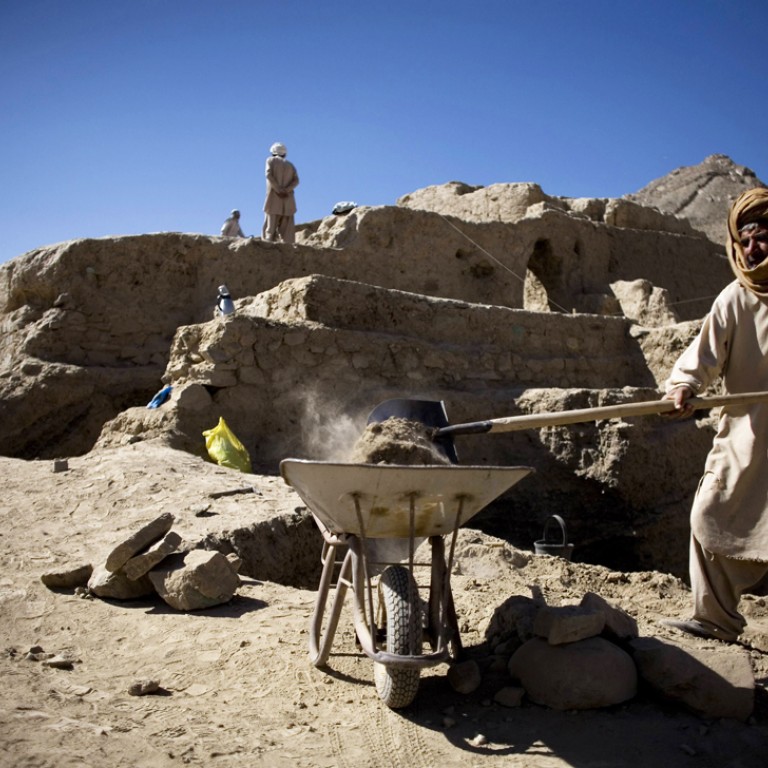 China's MCC turns back on US$3b Mes Aynak Afghanistan mine deal
State-owned giant trying to renegotiate the terms of US$3b contract it signed in 2007 to mine copper deposit and build infrastructure
Chinese state-owned mining giant MCC has been renegotiating a huge copper contract with the Afghan government to reduce its exposure to the war-torn country in a move that threatens Kabul's plans to use revenue generated by its mineral resources to bankroll development.
MCC has a US$3 billion deal to mine and process copper south of Kabul. With copper prices falling and the Chinese economy slowing, and security in Afghanistan deteriorating, the company has yet to begin production on the site and, according to mining industry and other sources, no longer wants to abide by the terms of the contract it signed in 2007.
The company wanted to renege on building a railway, power plant and processing factory, as stipulated in its deal to mine at Mes Aynak, site of one of the world's biggest copper deposits, the sources said.
MCC also wanted to renege on paying the remainder of a bonus worth US$808 million to the Kabul government, having already paid US$133 million, one source close to Kabul's ministry of mines said. It also wanted to cut the royalty payments, currently set at 19.5 per cent, about double the worldwide average.
Neither the ministry nor MCC responded to requests for comment. Mining industry executives and sources close to the Afghan government said that MCC was in a position to dictate terms, having secured a 30-year lease on the mine, which contains 5.5 million tonnes of high-grade copper ore.
Copper is currently trading at less than US$6.60/kg, compared to highs in 2011 of more than US$9.90. China is estimated to have more than 700,000 tonnes of bonded copper stocks.
"The Chinese have the mine, they can hold it for as long as they want," said Javed Noorani of think tank Integrity Watch Afghanistan. "As long as it is not viable, or the security situation is not favourable, they see no point in doing anything there."
A delegation from MCC recently met with villagers in Aynak who will be relocated before mining begins. According to people who were at the meeting, MCC said it would not proceed with the processing plant because it could not source phosphate locally. Phosphate is essential to the refining process. Instead, MCC said it wanted to recruit locals to build roads so the ore could be trucked overland to China for processing.
One elder, Malek Sharbat Khan from Zaidabad village, about three kilometres from the mine, told Global Witness, a mining standards advocacy group, that MCC officials said security remained a concern.
"The Chinese told me that there were four or five attacks in the past and that police had been killed," Khan told a Global Witness researcher. "They said we want your help so the Taliban does not attack with bombs and rockets, and does not attack the police."
As MCC seeks to shelve much of the Mes Aynak deal, it also threatens a US$10.8 billion deal with an India-backed consortium to mine iron ore in the central highlands of Bamiyan province. Indian officials have said that the Steel Authority of India-led deal, which also includes infrastructure, included provisions for access to the same railway, to be used to move ore to customers in Pakistan. The contract has not yet been signed because SAIL is waiting for a new mining law to be approved by the Afghan parliament.
Afghanistan's Western supporters including the US and Britain have touted substantial reserves of minerals and hydrocarbons - such as copper, iron ore, gold, oil and gas worth an estimated US$3 trillion - as the central pillar of post-2014 Afghan sovereignty. Attracting foreign investment to the sector has been the best hope for replacing the tens of billions in military and aid funding that has kept the country afloat for the past decade.
Afghanistan is due to hold a presidential election on April 5 that will usher in unprecedented change in political leadership. The Taliban, who have been waging war since being pushed from power in 2001, have vowed to disrupt the vote.
Foreign combat troops are due to withdraw from Afghanistan on December 31, after more than a decade of keeping the insurgency at bay and shoring up the government of President Hamid Karzai, who cannot stand for another term.
Amid the electioneering, government had ground to a halt, senior officials said. Negotiations on the Aynak deal are expected to resume later this year, once a new administration has taken office and MCC has completed a feasibility study requested by the ministry of mines, sources said. The mining law is not expected to pass until 2015.
In the meantime, government plans to fund development projects with mining revenues are crumbling, with no alternative legitimate source of income.
"This is not a good year for this to happen. Election, lack of security, uncertainty with change to government, no security agreement with the US [on a residual military force], the probable withdrawal of international combat troops, a new president, the Taliban in the background, a cut in aid inflows; not a good year," said Noorani of Integrity Watch.
This article appeared in the South China Morning Post print edition as: Chinese firm turns back on Afghan mine deal