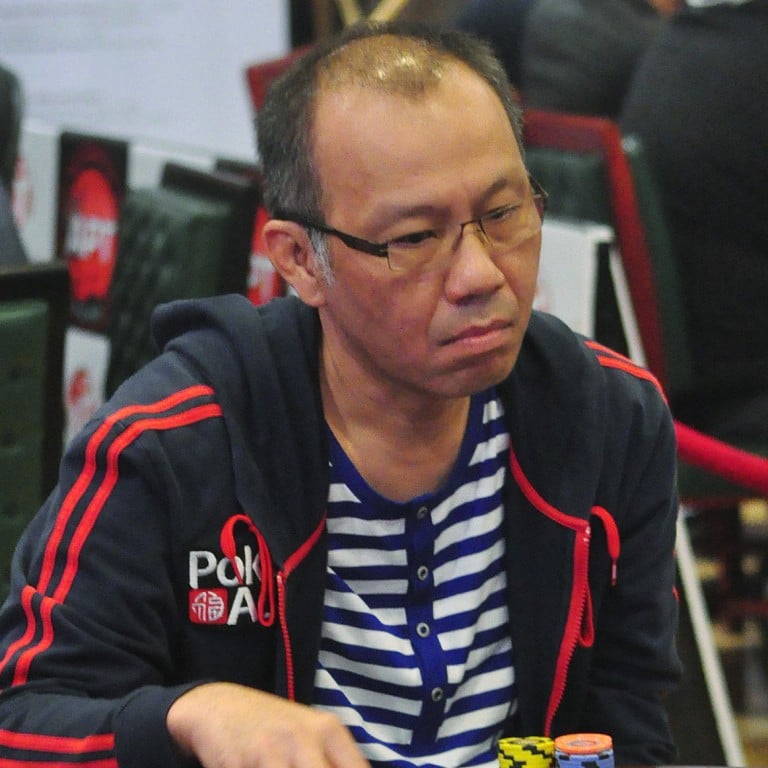 Online gambling guru and '14K triad member' Paul Phua snared in Las Vegas arrest
Paul Phua was arrested in Las Vegas for running illegal soccer betting ring
A private jet sits on the runway at McCarran International Airport in Las Vegas. For its owner, Paul Phua Wei-seng, the US$48 million plane with the registration number N888XS, may not be as lucky as its number sounds.
The 50-year old Malaysian is one of eight people, three from Hong Kong, who are accused of operating an illegal soccer gambling ring in Las Vegas hotel suites that United States prosecutors allege netted billions of Hong Kong dollars during the World Cup.
Legal documents seen by the show Phua played a central role in what is probably the world's largest sports gambling agency - IBCBet.
"IBC is probably the biggest sports gambling operation in the world. It's of interest to all legal, licensed operations when a guy who is claimed to be the owner is arrested in Las Vegas by FBI agents," said Patrick Jay, director of trading at the Hong Kong Jockey Club.
Raising the stakes even further, legal documents filed in US courts allege that Phua is a high-ranking member of the 14K triad society, one of Hong Kong's oldest and largest.
Phua "adamantly denies the allegations and will … not dignify gossip and rumour with comment," his lawyers David Chesnoff and Richard Schonfeld told the via email.
Online gambling has taken on unprecedented proportions in recent years.
Wagers worth between HK$2.1 trillion and HK$5.2 trillion are made each year around the world, giving the industry revenues exceeding Hong Kong's annual gross domestic product.
More than 80 per cent of those wagers are illegal, according to a study by the Qatar-based International Centre For Sport Security and the Sorbonne University in Paris released before this year's World Cup.
Phua, whose roots are in a small beach town in the Malaysian state of Sarawak, was one of the first in the gambling scene to recognise the potential of the internet and to catch the wave at precisely the right moment.
He first appeared on the radar of international gambling watchers in 2005, when his company, Sat Ieng Sociedade Unipessoal, began running junkets for Las Vegas casino magnate Sheldon Adelson soon after his Sands conglomerate entered Macau a decade ago.
Phua was responsible for hauling in big-spending VIPs, a task at which he clearly excelled. In the first year, he raked in turnover of about HK$36.5 billion.
His staff of 100 brought in high-rollers from across Southeast Asia, as well as Hong Kong and the mainland, the Post reported in 2006. By the time he sold his stake in the company in the same year, he had become the Sands' top VIP agent, hauling in 36 per cent of its VIP turnover in a business where high-spenders account for the vast majority of yields.
In 2009, reports emerged that Charles Heung Wah-keung, the Hong Kong-actor, served as guarantor for Sat Ieng, in case clients were unable to pay gambling debts. Heung has staunchly denied having links to organised crime.
Following the sale of Sat Ieng in 2006, Phua faded into relative obscurity. He was later found to hold shares in another junket operator, Star 888.
The Malaysian returned to the spotlight in 2012 as a player in what was then the largest poker game in history, the World Series of Poker. Phua paid US$1 million to participate, but failed to take home the US$18.3 million prize.
The World Series of Poker has since deleted details of Phua's profile, although the man once known in poker circles as "The Shot" can still be seen in video footage from the events.
Another participant in the historic "nosebleed" game was Malaysian businessman Richard Yong Seng-chen, now awaiting trial alongside Phua in Nevada.
Yong has long been involved with the gambling industry and has regularly appeared alongside Phua at poker tournaments over the past two years.
In 2012, Phua beat Yong in a £1 million (HK$13.1 million) tournament at the private gambling club Aspinall's in Mayfair, London, online industry website Pokernews reported at the time.
They were also both known clients at the Poker King Club in the Galaxy World casino in Macau, according to industry media reports and a regular player at the club.
In April this year, Phua ranked 6th in a high-stakes poker game in Monte Carlo.
But last month his luck appeared to run out.
He was arrested by Macau police in a suite at the Wynn hotel hours after he flew into the territory from the US on his private jet, sources in the gaming industry told the .
The Malaysian high-roller was charged with promoting illegal gambling and criminal association following the raid, in which around HK$5 billion in illegal bets were seized, police said.
Wynn Macau declined to comment on Phua's arrest.
"Mr Phua has never been an employee nor a junket operator at Wynn," Wynn Resorts spokesman Michael Weaver said by email.
Phua posted bail and departed Asia's gambling hub for Las Vegas on June 23. His lawyer and Macau police declined to say whether the high-roller violated the terms of his bail when he left the former Portuguese enclave.
He returned to one of three villas rented at the Caesars Palace hotel on the Las Vegas Strip he last visited earlier in the month.
The exclusive and expansive residences can cost north of US$40,000 a night, according to press reports.
Casino security soon reported to police that they suspected Phua and his associates were running an illegal betting operation from their villas, because they had computers with multiple screens showing World Cup soccer games, court records show.
Posing as technicians, FBI special agents inspected their operations, documenting what they allege to be illegal online gambling activities.
On July 9, the FBI and the Nevada Gaming Board Control executed search warrants for the three villas. In Villa 8881, they found Yong, who said he gambled through SBOBet, an online betting platform registered on the Isle of Man, according to an FBI statement. SBOBet denied having any links to Phua.
In Villa 8882, police found the Malaysian gambler himself, along with his son, Darren, and another associate. Phua told police that he had wagered between HK$200 million and HK$300 million in bets since he checked into the villa on June 23.
But an online message found on his computer put the stakes in another league: from the start of the World Cup until July 5, the bets reached a "grand total" of HK$2.7 billion, the message read, according to court documents.
Questioned voluntarily by FBI agents, Darren Phua said he knew his father "owned" the IBCBet website that the men were using at the time of the raid.
The Manila-based company operates in the global gambling "grey" market. Although unlawful for Philippine nationals to use, the site is legally allowed by the Philippine government to process online betting from abroad.
The group handles more than US$2 billion in wagers every week, Chris Eaton, the executive director for integrity with the International Centre for Sport Security estimated in an interview with the Post. An industry source described its premises in Manila as a "madhouse."
Phua told FBI agents he invested US$200 million in the IBCBet website, court documents showed. The German weekly news magazine reported in 2011 that he was a majority shareholder.
During a court appearance in Las Vegas on July 14, a judge granted Phua's request for bail on the condition his Bombardier jet was impounded and he wore a GPS tracking anklet at all times.
Two professional poker players, Andrew Robl and Phillip Ivey, also posted a further US$2 million bail to secure his release.
Following news of his arrest, MGM China asked the Macau government to cancel the licence of Phua's Star 888 junket.
Asia's gambling kingpin is now staying with gynaecologist and poker enthusiast Craig Hartman pending a preliminary hearing on August 4.
This article appeared in the South China Morning Post print edition as: Big fish of online gambling snared