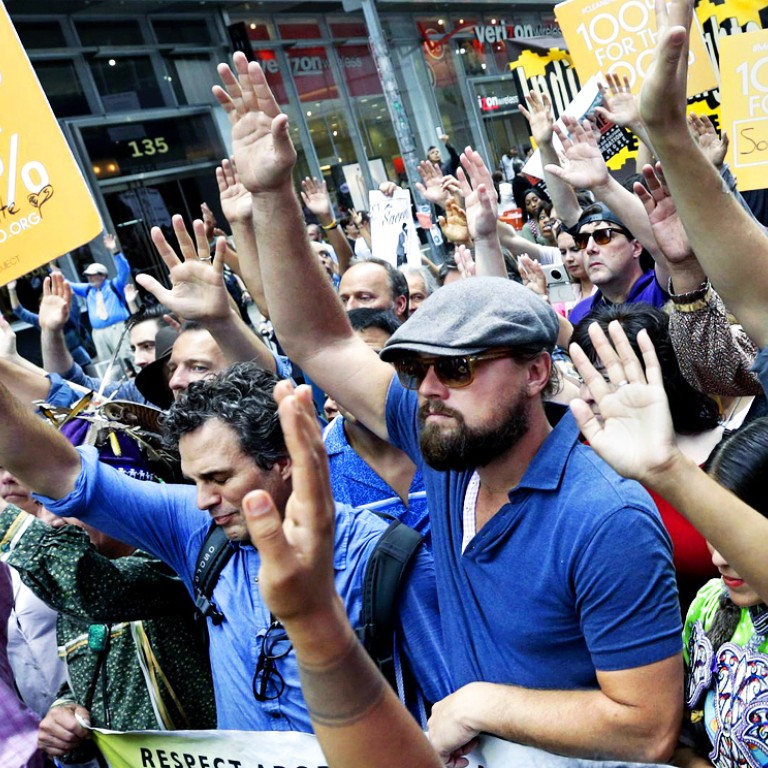 Update
China's carbon emissions more than US and EU combined, data shows
China's carbon emissions have soared to eclipse those of the United States and European Union combined, according to a study released on Sunday.
China's carbon emissions have soared to eclipse those of the United States and European Union combined, according to a study released on Sunday, ahead of an announcement expected today from Vice-Premier Zhang Gaoli at a UN summit in New York on the country's new initiatives to curb greenhouse gas emissions.
The Global Carbon Project report, by leading research institutes, found that global greenhouse gas emissions would hit a record high this year, driven mainly by China's growth. That output will keep the world far off track from the deep cuts needed to limit climate change.
China's carbon emissions were set to rise 4.5 per cent this year to 10.4 billion tonnes, more than the 5.2 billion tonnes emitted by the US and the EU's 3.4 billion tonnes. US emissions would fall by 0.9 per cent this year and those from the EU would fall by 1.1 per cent.
The report projected that world emissions could reach 43.2 billion tonnes in 2019, with 12.7 billion from China alone.
"China is taking the lead, but this is a global problem," Corinne Le Quere, director of the Tyndall Centre at the University of East Anglia in Britain and a lead contributor to the report, said.
The report puts 2014 world carbon emissions 65 per cent above levels in 1990, despite repeated promises of curbs and a shift to renewable energies such as wind and solar power as part of policies to avert more floods, heatwaves and rising sea levels.
As a result, the global temperature has already risen by 0.85 degrees Celsius since the Industrial Revolution, though countries have agreed to limit the rise to a maximum of two degrees.
The report was released ahead of a United Nations climate summit today that more than 120 world leaders are expected to attend and which aims to galvanise political will to agree a global climate treaty for the post-2020 period by the end of next year.
Hundreds of thousands of activists marched in New York on Sunday, warning that climate change was destroying the earth and urging quick action.
Organisers said up to 310,000 people joined the march through Manhattan alone in the largest climate-related event ever.
Zhang, President Xi Jinping's special envoy to the summit, would "announce China's position on the new agreement", and explain "some positive actions" the country would take after 2020, according to China's top climate change official, Xie Zhenhua .
Dismissing reports that Xi's absence would undercut the event, a source briefed about the announcement said Zhang's speech might surprise policy watchers with the "geopolitical impacts" it could have.
"China is the biggest carbon emitter, so how its carbon emissions will grow in the future will influence global negotiations for a new climate treaty," the source said, asking not to be named because he was discussing a speech not yet delivered.
A Tsinghua University research group, led by a senior government adviser on climate change issues, has also been lobbying the central government to set 2030 as the deadline for China's carbon emissions to peak, citing energy security and air pollution risks.
Xie, who is also a deputy chief of the National Development and Reform Commission, said China was debating how and when to cap energy consumption as the country sought to decouple carbon emission growth from economic development.
Dr Yang Fuqiang , a senior adviser with the Nature Resources Defence Council's China programme, said the government was becoming increasingly aggressive in setting caps for coal consumption, a major source of China's carbon emissions.
"Environmental groups used to be more aggressive [than the government] in setting the limit on coal consumption, but nowadays, it's the other way around," said Yang.
The country consumed 3.7 billion tonnes of coal last year, and is expected to use 4.1 billion tonnes in 2015.
This article appeared in the South China Morning Post print edition as: China carbon emissions 'more than US plus EU'