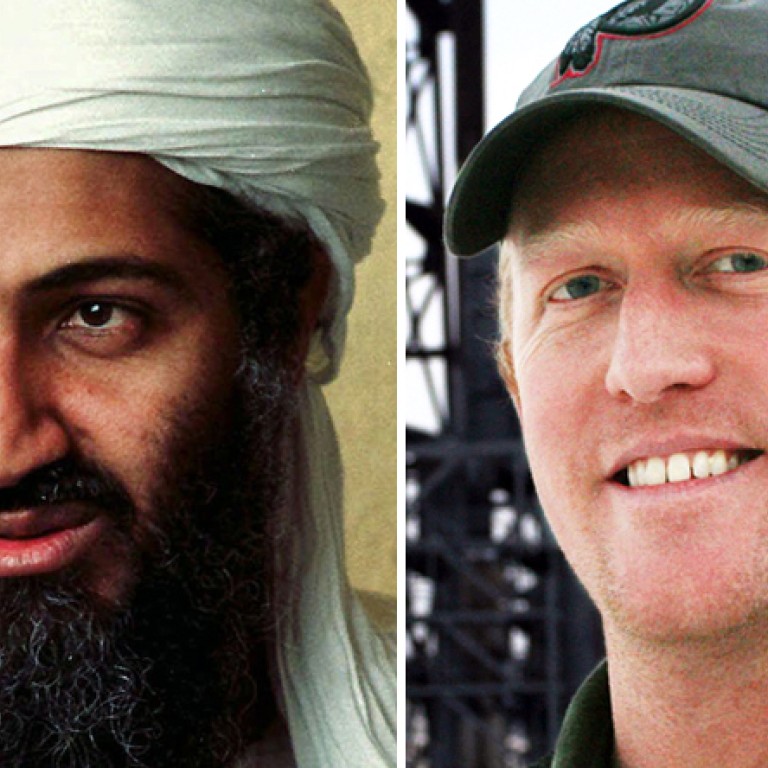 Update

|
US Navy SEALs disagree about who really shot Osama bin Laden in 2011
A US Navy SEAL's decision to reveal he killed Osama bin Laden has triggered controversy in the US military and prompted a rival claim as to who actually shot the al-Qaeda leader.
A US Navy SEAL commando's decision to reveal he killed Osama bin Laden at a Pakistan hideout in May 2011 has triggered controversy in the US military and prompted a rival claim as to who actually shot the al-Qaeda leader.
After agonising over whether to go public, Robert O'Neill, 38, had told on Thursday that it was he who fired the fatal shot that hit bin Laden in the forehead at his hideout in the garrison city of Abbottabad.
O'Neill was located in the number two position for the attack on the al-Qaeda leader's bedroom. Bin Laden briefly appeared at the door but the SEAL in front of O'Neill apparently missed his shot.
"I rolled past him into the room, just inside the doorway," O'Neill said. "There was bin Laden, standing there. He had his hands on a woman's shoulders, pushing her ahead."
O'Neill said he could clearly identify bin Laden through his night-vision scope, despite the darkness of the room – and he fired.
The onetime SEAL said it was clear that bin Laden was dead as his skull was split.
O'Neill, a highly decorated officer who served in Iraq and Afghanistan, told the that he finally decided to reveal himself after concerns that others would leak his identity, which was already known in military circles, by members of Congress and at least two news organisations.
He had planned media appearances next week, including a Fox network documentary.
The said two SEAL team members had corroborated O'Neill's identity.
WATCH: A brief profile of Ex-Seal Rob O'Neill 
But before his media debut, O'Neill was outed by Sofrep, a website operated by former SEALs, in protest at O'Neill's decision to reveal his role in the mission.
O'Neill told the he was near the head of the column of US soldiers that raided bin Laden's compound, adding that at least two other SEALs fired shots, including Matt Bissonnette, a former SEAL who wrote a 2012 book about the raid, titled . The book did not identify the person who shot bin Laden.
Bissonnette's lawyer, Robert Luskin, acknowledged on Thursday that Bissonnette for some time had been under criminal investigation by both the Naval Criminal Investigation Service and the Justice Department for possible violations of a US espionage law because he did not seek official clearance before publishing his book.
Bissonnette denies wrongdoing.
But O'Neill's claim was countered by a source close to another Seal team member.
The source, speaking on condition of anonymity, said the team member told him the fatal shot was fired by one of two other men who entered the room before O'Neill.
NBC News quoted Bissonnette on Thursday as saying: "Two different people telling two different stories for two different reasons ... Whatever [O'Neill] says, he says. I don't want to touch that."
In an October 31 letter to the Naval Special Warfare Command ranks, Force Master Chief Michael Magaraci and Rear Admiral Brian Losey stressed that a "critical tenet" of the force was to "not advertise the nature of my work nor seek recognition for my action".
The letter added, "We do not abide willful or selfish disregard for our core values in return for public notoriety or financial gain."
Rick Woolard, a former SEAL team commander who previously urged his comrades to avoid discussing recent operations, said active-duty SEALs are "pretty much very disappointed and I'd have to say angry with guys who have used their deeds and those of their companions for personal gain".
At the same time, Woolard said there was frustration among some special operations soldiers that senior government officials have left office and written memoirs revealing and profiting from actions involving troops who are sworn to secrecy.
On Thursday, O'Neill also told the that he finally decided to come forward after meeting with relatives of victims of the September 11, 2011, attacks on the World Trade Centre in New York.
O'Neill, who travels the country giving motivational speeches, said he decided on the spot to speak about bin Laden died. "The families told me it helped bring them some closure," he said.
O'Neill had already served nearly 15 years as a SEAL by the time of the raid on bin Laden's compound, and was serving in the elite SEAL Team Six unit.
In 2009, he served on a mission to rescue a ship captain from pirates off the coast of Somalia. The story was turned into a film starring Tom Hanks as the captain, Richard Phillips.
Bin Laden's al-Qaeda organisation orchestrated the the September 11, 2001, attacks at the World Trade Centre in New York and the Pentagon in Virginia just outside of Washington which killed almost 3,000 people.
Al-Qaeda has also been blamed for the 1998 bombings of two US embassies in Africa, which killed 231 people, and the 2000 attack on the USS Cole, which killed 17 US sailors in Yemen, as well as countless other plots, some successful and some foiled.
The stunning news of his bin Laden's death in 2011 - after being shot dead during an operation that lasted just 40 minutes - prompted relief and euphoria outside the White House and around the globe, with US President Barack Obama declaring: "Justice has been done."
Bin Laden's body was "buried" at sea to avoid his resting place from becoming a shrine to followers.
With additional reporting from Associated Press, Agencies