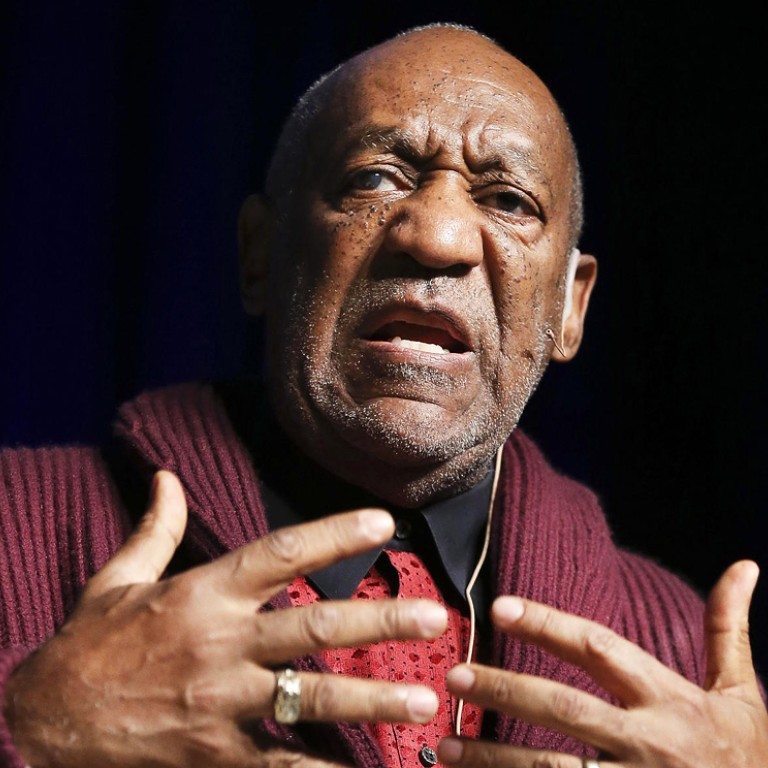 Judy Huth files suit against Bill Cosby, claiming assault when she she was 15
Alleged victim claims comedian assaulted her at Playboy Mansion when she was 15 years old as the accusations against the TV star mount
A California woman has filed a lawsuit against embattled comedian Bill Cosby, alleging he sexually assaulted her at the Playboy Mansion in 1974, when she was 15 years old.
In the lawsuit, filed on Tuesday in Los Angeles County Superior Court, Judy Huth said she met the comedian in 1974, after she and a 16-year-old friend wandered over to a movie set in a San Marino park where Cosby was working.
Cosby allegedly approached the teenagers, invited them to sit in his director's chair and asked how old they were, according to the lawsuit.
The comedian also invited the girls to his tennis club the following Saturday, according to the lawsuit. They met him there and followed him to another house, where Cosby allegedly "served them alcoholic beverages and played games of billiards" with Huth, the lawsuit alleges.
Huth alleged she was required to drink a beer every time Cosby won a game, according to the lawsuit.
After the teens were served "multiple alcoholic beverages," the lawsuit claims, Cosby had them follow him to the Playboy Mansion , telling the girls that if "any of the Playboy bunnies asked their age, they should say they were 19".
At one point, Huth used a bathroom and emerged to find Cosby sitting on a bed, the lawsuit alleges.
The comedian asked Huth to sit down on the bed beside him and allegedly attempted to "put his hand down her pants", according to the lawsuit. He then allegedly took the teen's hand in his and performed a sexual act on himself "without her consent".
Attorneys for Huth and Cosby did not immediately return calls for comment.
"This traumatic incident, at such a tender age, has caused psychological damage and mental anguish for plaintiff that has caused her significant problems throughout her life," the lawsuit said.
Under California law, the most serious of sexual assaults involving minor victims can be charged criminally only when they occurred from 1988 onward.
Cosby, 77, is perhaps best known for his role as Dr Heathcliff Huxtable in , one of the first sitcoms centred on an affluent African-American family. The comedian became a well-known father figure.
He has been accused of sexual assault by multiple women, including model Janice Dickinson. Many of the women said the assaults occurred decades ago.
The first allegations emerged when a Temple University staffer sued the comedian, saying he drugged and groped her during a 2004 visit to his Philadelphia home. During that case, 13 other women came forward with similar stories, according to published reports. But the woman's attorneys settled the case out of court in 2006.
The allegations gained new momentum in October, when a comedian made fun of Cosby's fatherly image in light of the sexual assault accusations. Other women, including Dickinson, then went public with their own allegations against Cosby.
Cosby has declined to discuss the allegations in several interviews. His attorney, Martin Singer, has criticised the media for publishing what he described as "unsubstantiated, fantastical stories".
In a statement issued last week, before Huth's lawsuit was filed, Singer said lawsuits "are filed against people in the public eye every day". "There has never been a shortage of lawyers willing to represent people with claims against rich, powerful men, so it makes no sense that not one of these new women who just came forward for the first time now ever asserted a legal claim back at the time they allege they had been sexually assaulted," he said.
In the wake of the recent wave of allegations, NBC dropped plans for a Cosby sitcom, and Netflix postponed the launch of another Cosby project.
This article appeared in the South China Morning Post print edition as: Woman sues Cosby over 1974 incident