Focus
Get more with myNEWS
A personalised news feed of stories that matter to you
Learn more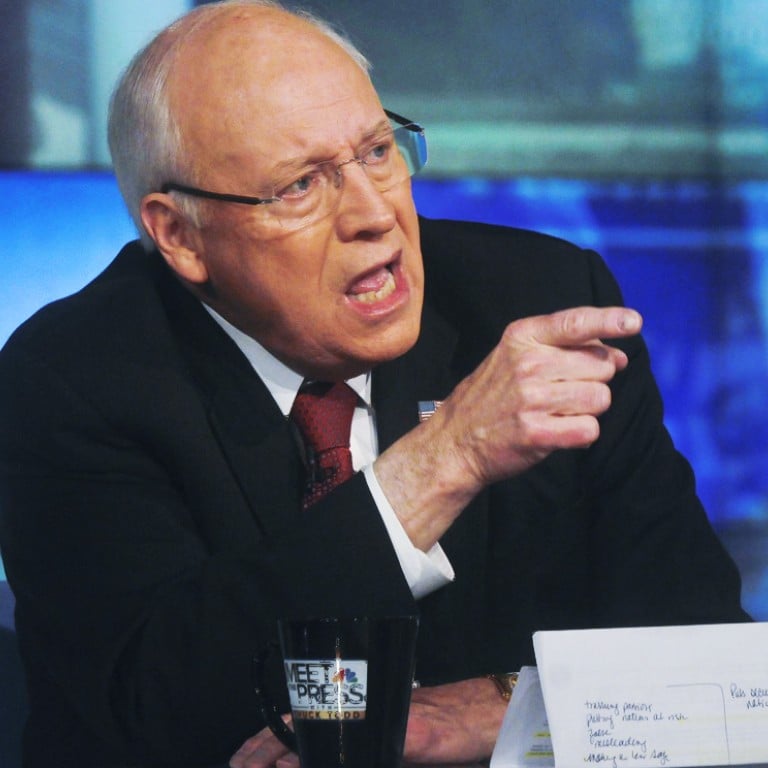 Cheney says CIA interrogators are heroes not torturers, then defends 'rectal feeding'
The United States must do all it can to stave off the terrorist threat, says former vice-president Dick Cheney – whatever the cost
It wasn't torture, but enhanced interrogation. The CIA interrogators deserve medals, not criticism. And the practice of "rectal feeding" was all for the good of the recipients.
So says former US vice-president Dick Cheney, who has vehemently defended the programme - even lauding the CIA operatives who ran it as heroes.
"I'd do it again in a minute," Cheney said of the brutal treatment of post-9/11 terrorism suspects. "It absolutely did work."
In a combative interview with NBC's , Cheney was unrepentant about the so-called "enhanced interrogation techniques" deployed under his watch.
He also swatted away evidence contained in the Senate intelligence committee report into the CIA programme that a suspect later found to be innocent froze to death having been shackled naked to a cell wall, and that detainees were rectally infused with food, refusing to accept a torture definition for either example.
"Torture to me is an American citizen on a cell phone making a last call to his four young daughters shortly before he burns to death on the upper levels of the Trade Centre in New York City on 9/11," Cheney said.
"There's a notion that there's moral equivalence between what the terrorists did and what we do, and that's absolutely not true. We were very careful to stay short of torture."
The former vice-president led a concerted pushback from Republicans and intelligence chiefs to the Democratic-sponsored report . Several prominent figures denounced it as flawed and dangerous.
Cheney was asked to respond to evidence in the report that while being held at a secret CIA facility, a prisoner named Majid Khan had a lunch of hummus, pasta, sauce and raisins pureed into a juice that was then rectally introduced into his body . The incident was one of the most gruesome elements of a 600-page summary released last week.
Asked whether Khan's treatment amounted to torture, Cheney replied: "I've told you what meets the definition of torture - it's what 19 guys armed with airline tickets and box cutters did to 3,000 Americans on 9/11."
Pressed by anchor Chuck Todd, he added: "I believe it was done for medical reasons. That was not something that was done as part of the interrogation programme. It was not torture, as it was not part of the programme."
Confronted with details of the treatment of senior al-Qaeda figure Abu Zubaydah, who was placed in a coffin-sized box for 266 hours, Cheney said: "I think that was one of the approved techniques."
When Todd referred to the death of Gul Rahman from hypothermia, Cheney rebuffed the question by saying "the problem I have is with all the folks we did release who ended up on the battlefield".
He also said he had "no problem" with the report's revelation that about a quarter of those subjected to torture were later proven innocent, adding: "I have no problem as long as we achieved our objective - to get the guys who did 9/11 and avoid another attack on the US."
Cheney even lauded the CIA operatives who ran the interrogations as heroes. "I'm perfectly comfortable that they should be praised, they should be decorated," he said.
Cheney's fiery condemnation of the report was echoed by Republican leaders and the intelligence community.
New York Republican congressman Peter King slammed it as a "self-inflicted wound … that does a terrible injustice to the men and women of the CIA".
Michael Hayden, who served as director of the CIA under both George W. Bush and Barack Obama, insisted the interrogation techniques worked.
He refused to say whether waterboarding was torture, adding: "I thank God I didn't have to make that decision."
Asked if he would have approved it, he replied: "I don't know. It depends on the totality of the circumstances at the time."
The chairman of the House intelligence committee, Mike Rogers, claimed foreign intelligence services had warned the Senate report would incite violence against US embassies.
Though no such violence has erupted since the report was published, he continued to insist "the risk is ongoing … I think we will see a consequence."
On Fox News, the former CIA official who oversaw the interrogation programme, Jose Rodriguez, said the Senate report "throws the CIA under the bus".
He said senior Democrats in Congress had been fully aware of the techniques, including waterboarding, being deployed.
"She never objected," he said, referring to Nancy Pelosi, the Democratic leader in the House of Representatives.
But other Democrats said the US public, lawmakers and other top officials were all kept in the dark .
"We spent a lot of time looking into it and were told this is a very minor thing," Senator Sheldon Whitehouse said.Others pointed to the contents of the report as a clear violation of the Geneva Convention and other international laws against torture.
John McCain, the former Republican presidential candidate who was himself the victim of torture in Vietnam, said: "You can't claim that tying someone to the floor and have them freeze to death is not torture."
Democrat Senator Ron Wyden tried to debunk the prevalent Republican line of attack that the Senate report was a partisan political ploy.
"Facts aren't partisan," he said.
This article appeared in the South China Morning Post print edition as: Defiant Cheney now justifying savagery