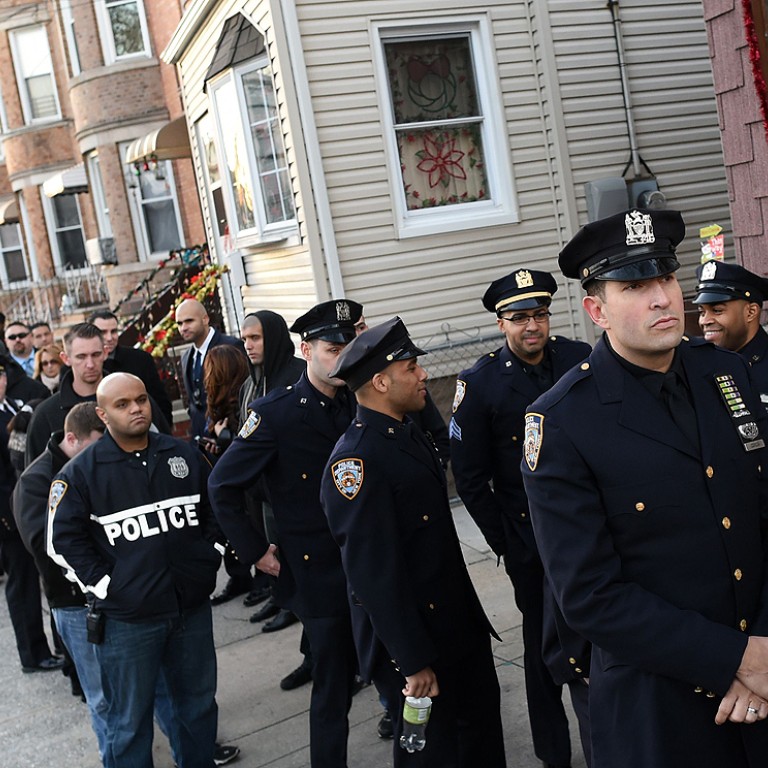 Thousands of uniformed police attend wake for slain New York officer
US police in show of support for slain officers Rafael Ramos and Wenjian Liu as they gather in the New York borough of Queens to attend Ramos' wake
Thousands of uniformed police officers from New York and around the United States gathered at the solemn, eight-hour wake of a city policeman who was killed along with his partner in a brazen daytime shooting a week ago.
Mayor Bill de Blasio, who had been criticised by the police union for his handling of protests critical of the police, briefly attended Rafael Ramos' viewing on Friday at the Christ Tabernacle Church in Queens, where Ramos was brought in a flag-draped casket and viewed in full dress uniform.
"Dad, I'm forever grateful of the sacrifices you made to provide for me and Jaden," Ramos' son, Justin, said during the wake, referring to his younger brother, as officers gathered in the street watched on giant television screens.
Ramos' funeral is scheduled for Saturday. Vice-President Joseph Biden and Mayor de Blasio said they would attend. The funeral timing for Ramos' partner, Wenjian Liu, has yet to be announced.
Throughout the day, colleagues and those who knew him described Ramos as a selfless and compassionate man.
Pastor Ralph Castillo said Ramos was a beloved member of the church.
"Whether he was helping a mom with a carriage or bringing someone to their seats, he did it with so much love and so much vigour and so much joy," Castillo said.
The 40-year-old's commanding officer, NYPD Captain Sergio Centa, said Ramos was studying to be a pastor.
"He had Bible study books in his locker, which is rare for a police officer, but that goes to show you the type of man he was," Centa said.
Ramos and Liu were shot dead without warning on December 20 while sitting in their patrol car on a Brooklyn street.
Gunman Ismaaiyl Brinsley, before he attacked Ramos and Liu, had referenced in online posts the high-profile killings by white police officers of unarmed black men, specifically Michael Brown in Ferguson, Missouri, and Eric Garner on Staten Island, New York. Brinsley, who was black, committed suicide soon after shooting the officers.
Their killings ramped up emotions in the already tense national debate over police conduct. Since the deaths, police in New York say they have arrested seven people accused of threatening officers.
Police union officials have criticised de Blasio, saying he contributed to a climate of mistrust toward police amid protests over the deaths of black men at the hands of white officers. Union officials have said the mayor's response, including his mention of how he often fears for the safety of his bi-racial son in his interactions with police, helped set the stage for the killings.
There was no reaction from officers at Ramos' viewing when de Blasio arrived shortly after 9pm and left about 15 minutes later.
Cardinal Timothy Dolan, who attended the wake earlier in the day, called for calm after the head of the police union said the mayor had blood on his hands the day Ramos and Liu were killed.
And after the killings, de Blasio called for a temporary halt to demonstrations, denouncing as "divisive" a demonstration that took place anyway on Thursday.
Governor Andrew Cuomo said on Friday the officers' deaths were senseless and said officials were reviewing the case to see what could be done, if anything, legislatively to prevent a further killing.
For Ramos' sister Sindy, there was no consolation.
"Help me understand why God took you from me so soon," she said through tears in a eulogy.