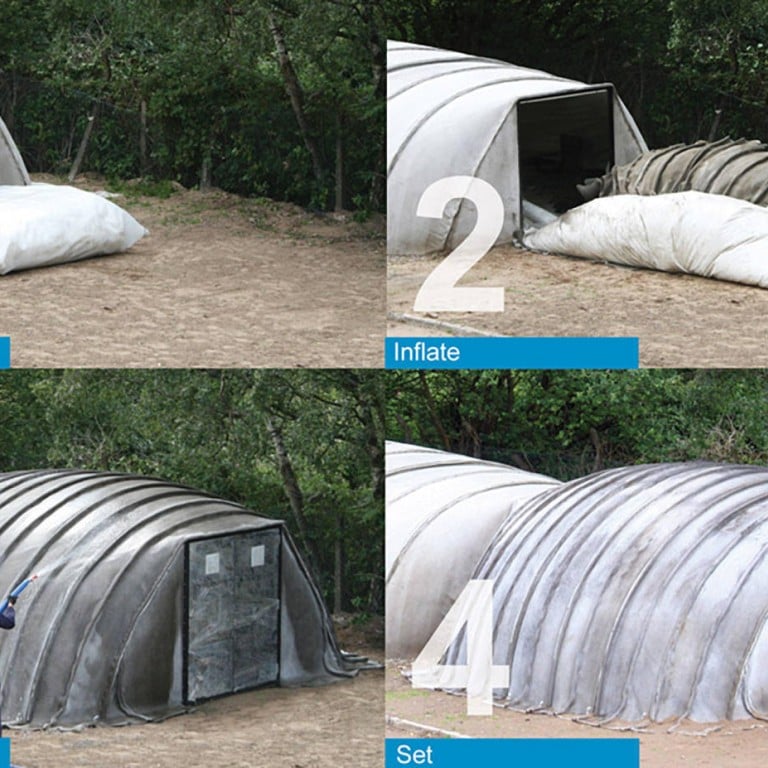 Wales-based firm develops 'concrete on a roll' to put up buildings in hurry
Material created by Wales-based firm can be sprayed with water and manipulated into shape
The sofa in the offices of Concrete Canvas might look comfortable, but you wouldn't want to spend the night on it.
Made from fabric embedded with a specially formulated concrete that hardens when exposed to water, it serves as an artistic example of the core product of the Wales-based company.
The material, effectively "concrete on a roll", is the creation of engineers Peter Brewin and Will Crawford, who came up with the idea 10 years ago when they were students at the Royal College of Art in London.
Working on a project to build inflatable concrete buildings, they had been tasked with creating a new use for cement.
While experimenting with Modroc - a plaster-impregnated bandage that is used to help mend broken bones - they came up with the concept of making inflatable shelters that could be constructed quickly for use in emergencies.
After leaving the Royal College of Art, the pair continued to work on the idea of shelters that could be dropped into disaster zones or areas of military conflict and swiftly assembled.
What developed was Concrete Canvas, a fabric that hardens when sprayed with water, creating a waterproof and fireproof concrete layer. It is sold in large rolls that can be manipulated into shape onto the ground, on slopes and existing concrete.
It was clear from the early days that the material would have applications other than in shelters, although the partners didn't know then what they might be.
The first major order came from the Ministry of Defence for use as a covering for sandbag walls in Afghanistan. Next came an order for a rail project.
Now the material is widely used in projects around the world, from lining ditches to securing underwater pipelines.
This article appeared in the South China Morning Post print edition as: Concrete canvas puts up a building in a hurry