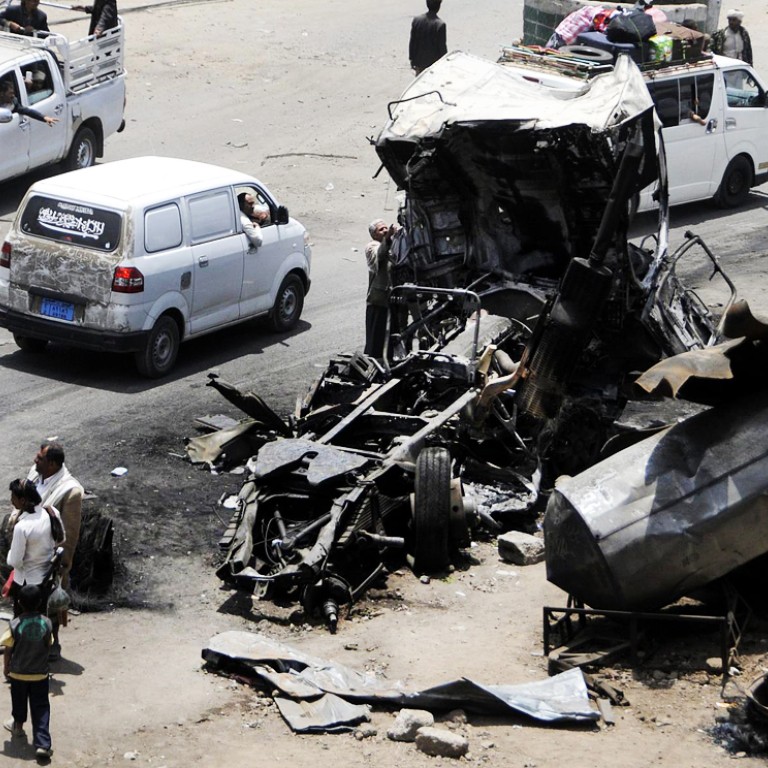 US citizens stranded in Yemen claim government has abandoned them
Saudi-led air strikes batter Houthi positions but US government has no plans to evacuate citizens
US citizens trying desperately to leave war-torn Yemen fear they have been left to their fate by their own government as fighting escalates between rebel fighters and Washington's allies.
Saudi-led air strikes against Shia Houthi rebels have prompted urgent warnings about dangers to civilians, and several countries have evacuated their civilians, including China, India, Pakistan and Somalia.
But the US has not followed suit, despite having three navy ships in nearby waters, including the frigate USS Simpson and the destroyer USS Sterett in or near the Gulf of Aden.
Until recently, Mokhtar Alkanshali was in the port city of Aden, from where he could see those ships. The 26-year-old San Franciscan was in Yemen to work on a project with coffee farmers - partially supported by the government's foreign development arm Usaid - when a Houthi offensive forced president Abd-Rabbu Mansour Hadi to flee the country.
Last week, Saudi Arabia and a coalition of mainly Sunni Arab Gulf states launched a counteroffensive against the Houthis - leaving ordinary Yemenis and other nationals caught between the two sides.
Alkanshali said he had just "escaped with my life" from armed militiamen combating the Houthis and their allies, supporters of former president Ali Abdullah Saleh.
"If they hear me speak English, I will be in immediate danger," Alkanshali said.
A Pentagon spokesman, Major Roger Cabiness, said he was unaware of any orders received by the military to aid an evacuation. The State Department, whose representatives would not speak on the record, evacuated all its staff from the country after halting embassy operations on 11 February - but indicated that US citizens still in Yemen were on their own.
"We have no current plans to evacuate private US citizens from Yemen. We continue to watch the situation closely," a State Department official said.Several Americans have travelled from the capital city of Sana'a to Aden, not far from the US navy's three ships, in the hope of rescue. One of them is Nasser Summer, a 20-year-old senior at Sarah Lawrence College who had travelled to Yemen to visit family.
Summer, who recently fled Sana'a, said the port was closed and under a blockade by US ally Saudi Arabia.
"It's very dangerous. The house is surrounded by air strikes," Summer said.
She estimated perhaps 300 Americans are, like her and her family, stranded in Yemen. The State Department said it cannot estimate how many Americans are in Yemen.
US Muslim civil rights groups, including the Council on American Islamic Relations (Cair), have called on the Obama administration to get stranded Americans out of Yemen.
Dawud Walid, executive director of Cair's Michigan branch, said calls and emails have been coming into his office from Americans afraid for their relatives. He contrasted US drone strikes against Americans in Yemen, ostensibly carried out in the name of protecting US citizens from terrorism, with the apparent indifference toward saving Americans left behind.
"It does strike as highly problematic that our country has been involved in numerous drone strikes, including the extrajudicial killing of two Americans, yet we have American citizens stranded by Saudi bombing that we are giving logistical support to," Walid said.
This article appeared in the South China Morning Post print edition as: Americans claim government has abandoned them