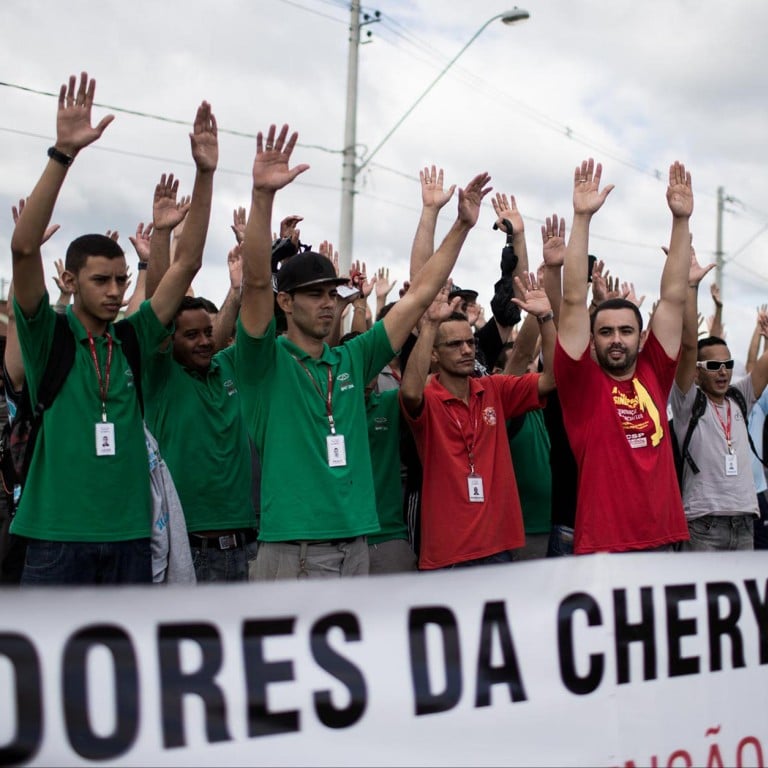 Workers protest conditions at China's Chery plant in Brazil
Production halted as workers strike over salaries, safety standards and lack of trainingat car manufacturer's new operations near Sao Paulo
When Guirà Borba, 27, was hired by Chery in November 2013 he never imagined his Chinese dream would end so soon.
"I was happy to join a company which was then building an entire new factory. I was also excited by the idea of travelling to China for training", explained the young assembly operator, referring to Chery's US$400 million car plant in Jacareí, an industrial region located outside Sao Paulo.
In December 2013 he travelled with 10 Brazilian colleagues to Ordos, Inner Mongolia, to receive two months of training. It was then the honeymoon with the Chinese state-owned car company started to collapse.
"They put us in two apartments where there was not a fridge or a stove, and we had to share bunk beds. The place was very dirty," said Borba.
"We learned from Chinese workers who did not speak Portuguese, so we had to communicate with them using mime and online translators installed in our mobile phones. This is not the best way to teach people how to build a car."
Anderson Santos, a former Chery employee in Brazil who also travelled to China for training, backed up Borba's account.
Less than two months after manufacturing started in Chery's brand new plant, protests have deeply disrupted production.
On April 6, about 400 workers initiated a general and indefinite strike that has halted production at the factory, which was inaugurated in August during a ceremony attended by the Brazilian vice-president, Michel Temer.
Employees complain about low salaries and poor safety standards at the workplace, which, they argue, break Brazil's labour legislation. They refuse to return to work unless Chery improves its labour conditions. "We are not in China, we are in Brazil, and Chery has to obey the laws here," said Antonio Ferreira de Barros, president of the union that is leading the strike.
He explained that Chery refused to join the collective agreement signed by other carmakers like General Motors.
"As a result of this, Chery pays workers a salary of 1,199 reais (HK$3,000), while General Motors, who signed the collective agreement, pays 3,500 for the same job," Ferreira said.
He also claimed the company fired 11 workers for joining the union.
Chery denied the accusations and argued that, as a result of the economic slowdown in Brazil, it was unable to "offer the same working conditions as companies already operating in Brazil for decades".
"We have proposed a 10 per cent wage increase to the union, but they just wanted to show their strength," Luis Curi, Chery's chief executive and vice-president in Brazil, said, referring to the current strike.
Car sales in Brazil tumbled 15.3 per cent in March compared to last year, while carmakers have cut nearly 18,000 jobs since November 2013, fuelling labour disputes that have impacted factories from other foreign manufacturers in Brazil such as Volkswagen and General Motors.
However, some have argued the conflict at Chery's plant, China's largest industrial investment in Brazil, is not caused by the slowdown, but by a lack of understanding of the local market conditions.
"Chinese companies are not familiar with unions in Brazil. Chinese car companies who come here alone, like Chery or Foton, will lose a lot of money, because they simply don't understand how things work here," said Orlando Merluzzi, a prominent Brazilian car consultant and former executive of Foton, another Chinese car manufacturer that operates in the country.
Chinese projects tarnished
China has heavily invested in Latin America in recent years and Chinese foreign direct investment (FDI) in the region might hit US$250 billion in the next decade, according to a recent statement by President Xi Jinping.
But some Chinese projects have been hit by labour conflicts and poor safety standards.
An example is the iron ore mine operated by Chinese steelmaker Shougang in San Juan de Marcona, a remote region in Southern Peru.
Since Shougang took over operations in 1992, labour conflicts have frequently arisen due to disputes over low wages and accidents in the mine.
"Instead of improving, conditions continue to worsen yearly. We are planning to launch a new strike in June or July," Julio Ortiz Pinto, a mining union leader, said.
In Ecuador, another flagship project - the Sinohydro's Coca Codo Sinclair hydroelectric power plant - has recently been at the centre of complaints, after 13 workers died in December due to an accident at the construction site.
This article appeared in the South China Morning Post print edition as: Dream turns to nightmareat Chinese firm's Brazil base