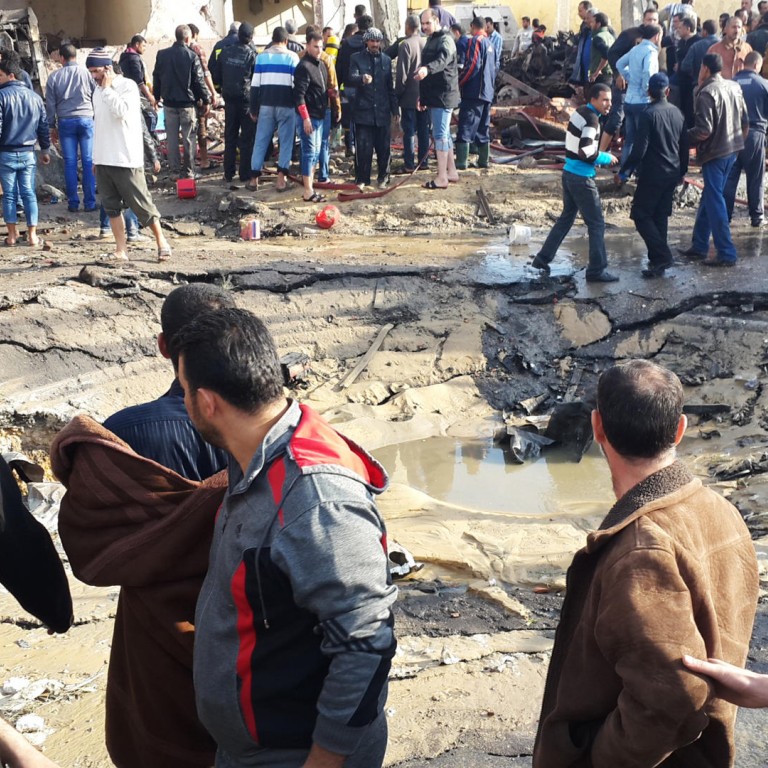 At least 14, mostly policeman, killed in separate attacks in Egypt
IS militants detonate bombs outside a police station and against a passing armoured vehicle in the latest violence to hit northern region
At least 14 people, mostly Egyptian policemen, were killed in separate operations when militants attacked a police station in the provincial capital of Egypt's northern Sinai and detonated a roadside bomb against a passing armoured vehicle, officials said.
Northern Sinai has witnessed a series of complex and successful attacks targeting Egyptian security forces, many of which have been claimed by a local affiliate of the Islamic State group. Twitter accounts affiliated with the group claimed responsibility for the Sunday attacks.
In the largest of the day's attacks, a suspected car bomber detonated his vehicle at the entrance of a large police station in el-Arish, the capital of North Sinai province, killing at least six, including five policemen, and injuring several civilians, the Interior Ministry said.
By nightfall, Health Ministry Spokesman Hossam Abdel-Ghaffar in Cairo said at least eight bodies were pulled from the rubble, while 45 people has been injured, including some who were in critical condition.
The blast left a deep crater in the residential area and damaged several homes nearby. Officials said rescue crews were still searching through the rubble for survivors and the death toll was expected to rise.
The explosion was the second attack on Sunday on troops in Sinai. Earlier in the day, six soldiers, including an officer, were killed when a roadside bomb struck their armoured vehicle travelling south of el-Arish. In a third smaller attack, militants clashed with soldiers at a mobile checkpoint in Rafah wounding one police officer and two soldiers.
Sunday was Eastern Orthodox Easter in Egypt, and police had been on high alert against attacks. The attacks took place as Egypt's defence minister carried out a limited military reshuffle, replacing the commander of the army division responsible for securing northern Sinai.
Major General Mohammed el-Shahat, who only commanded Egypt's second field army for about a year, was promoted to head of military intelligence; el-Shahat's deputy, Major General Nasser el-Assi, will replace him.
Abu Mohammed, a resident who lives near the police station, said body parts littered the area after the huge explosion, which also split an armoured car into two. He said the suicide bomber drove past sand mounds and a cement blast wall securing the station - despite coming under heavy fire from the guards.
"Those at the other end of town heard the explosion. It was humongous. It terrified us," Abu Mohammed said, using an alias for fear of reprisals from the militants. "I am not afraid of them. I only fear for those around me. We will not leave our town until we liberate it from those terrorists."
This article appeared in the South China Morning Post print edition as: 14 killed in separate bomb attacks in Sinai