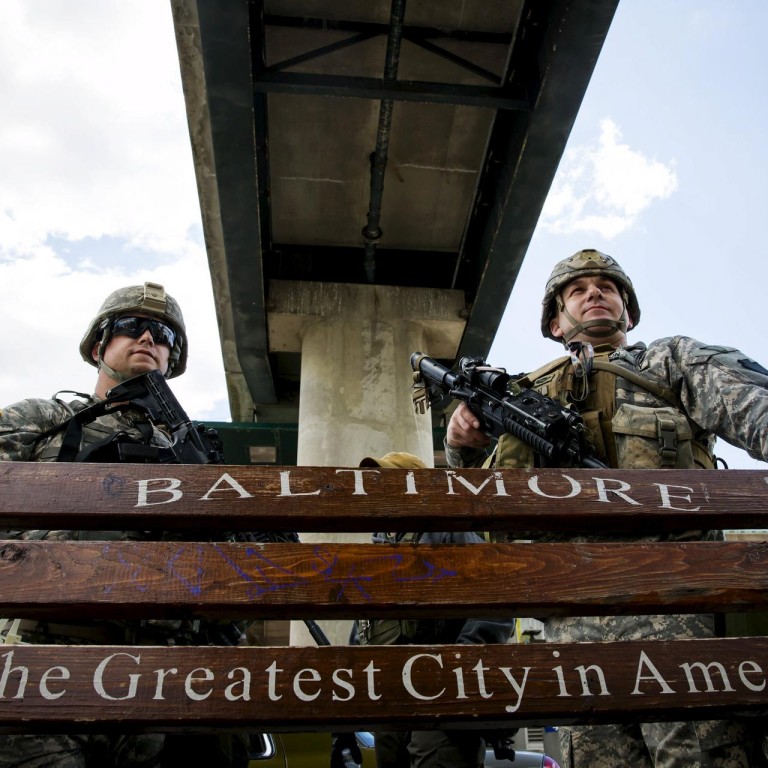 Baltimore unrest reflects years of police brutality, residents say
A history of discrimination and extra-judicial violence lie behind the riots, locals allege and official compensation figures back up their claims
Pierre Estep was 16 when, he says, a Baltimore police officer put a gun to his face and taught him a lesson about respect for the law.
"He told me he was the next thing to God," Estep recalled on Tuesday, a day after rioters ran amok on the streets in the blue-collar city with its population of 620,000 .
"He said, 'I'll mess around and take your freedom - or I might mess around and take your life'," the 56-year-old Baltimore native said.
Today, he said, things are hardly different, as public trust in Baltimore's police department sinks to new lows. "I'm not saying the police have an easy job, but the way they police now ..." Estep said, trailing off without finishing his sentence.
Baltimore had been on a knife's edge since the April 19 death of 25-year-old Freddie Gray, a week after he was pinned to the sidewalk by officers and taken into custody.
It exploded into violence on Monday, with widespread rioting and looting.
On Tuesday night a line of police behind riot shields hurled tear gas canisters at as many as 200 protesters as the officers tried to enforce a citywide curfew.
Thousands of police and National Guardsmen had poured into the city to try to prevent a repeat of Monday's street violence.
At the White House, President Barack Obama called the deaths of several black men around the country at the hands of police "a slow-rolling crisis". But he added that there was "no excuse" for the violence taking place in Baltimore, and said the rioters should be treated as criminals.
"They aren't protesting. They aren't making a statement. They're stealing," Obama said.
Six police officers have been suspended over Gray's death, pending the outcome of a police investigation that is due to present its report to the Maryland state prosecutor tomorrow.
But Gray's death was certainly not exceptional.
Thirty-one people died after police encounters in the Baltimore between 2010 and 2014, the American Civil Liberties Union said in a report in March.
An investigation by the newspaper in September revealed how the city has paid out US$5.7 million since 2011 to settle more than 100 civil suits alleging police brutality.
More often than not, the said, the victims who filed civil suits were black Americans whose charges against them were dismissed - if they were charged at all.
The biggest payout, amounting toUS$500,000, went to a couple who were arrested in 2007 on dubious charges of kidnapping their own grandson. The husband was severely beaten in custody, leaving him suffering from kidney failure.
Settling for US$30,000 was a furnace repairman who said an officer stopped him in 2009, pulled him out his vehicle, stamped on his head and bent back his right wrist, fracturing it.
"You've got some good ones [police] out there, but it seems like it's getting worse," a 68-year-old man who only gave his name as Clarence said on Tuesday.
Police Commissioner Anthony Batts, who came to Baltimore in 2012, acknowledges the challenges he faces.
"It's clear that what we have to do is change the culture within the Baltimore Police Department," Batts, who champions community-oriented policing, said on Tuesday alongside Mayor Stephanie Rawlings-Blake.
Both the 45-year-old mayor, a Baltimore native who is also secretary of the Democratic National Committee, and the commissioner are black.
But while taxpayers are left footing the bill for misconduct, police officers are rarely if ever prosecuted.
"I think that a lot of the police are racist. I think a lot of them are Ku Klux Klan members," Aretha Williams, 45, on her way to her department store job, alleged.
Many officers, she claimed, believe they "get a licence to kill by becoming a police officer."
This article appeared in the South China Morning Post print edition as: Baltimore unrest reflects police brutality: residents