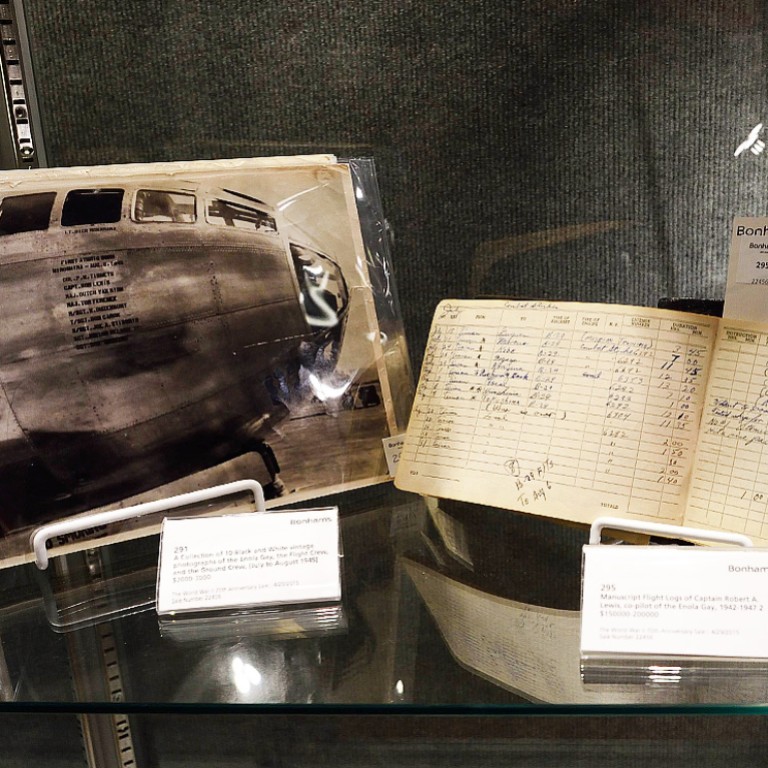 'My God what have we done?': Copy of Hiroshima pilot's log sells for US$50,000
A copy of a deeply moving pilot's log, written during the top-secret Enola Gay mission that dropped the first atomic bomb on Japan, was auctioned in New York on Wednesday for US$50,000 (HK$388,000).
Robert Lewis, American co-pilot of the B-29 bomber, made the copy in 1945 at the request of the then-science editor at The New York Times, and it includes a pencil sketch of the mushroom cloud, Bonhams auction house said.
Lewis wrote the original log on August 6, 1945 as he flew to and from Hiroshima, disguised as a letter to "Mom and Dad" because as there was to be no official account of the top-secret mission, Bonhams said.
"I am certain the entire crew felt this experience was more than anyone human had ever thought possible," Lewis wrote in the log. "It just seems impossible to comprehend. Just how many Japs did we kill?
"I honestly have the feeling of groping for words to explain this... My God what have we done," he wrote.
The original was sold at auction for US$391,000 in 2002 by Christie's.
The same World War II memorabilia auction also sold Lewis's hand-drawn plan for dropping the bomb for US$37,500, Bonhams said.
The single sheet of graph paper shows a pencil and ink drawing of the Enola Gay approaching Hiroshima and on dropping the bomb, turning 150 degrees to the right to avoid the shock waves of the explosion.
The atomic bombing of the Japanese city killed 140,000 people by December 1945. When Lewis saw the huge mushroom cloud, he uttered the famous remark: "My God, what have we done?"
Japan eventually surrendered on August 15, 1945, after the Americans dropped a second atomic bomb on the city of Nagasaki.
But two top lots at the auction failed to sell: a 1945 German surrender order and two of Lewis's log books, which were valued at US$150,000-200,000.
A spokeswoman for Bonhams said that many buyers around the world had expressed interest and that it was "quite common" for post-sale offers to emerge later.
The surrender order, valued at US$20,000 to US$30,000, was sent by Karl Doenitz, the last leader of the Third Reich to the head of the Luftwaffe, Field Marshal Robert von Greim on the evening of May 8, 1945.
It said all hostilities would cease at 1.00am on May 9.
Von Greim received the telegram at 10.40pm on May 8. He fled Germany but was arrested by US forces outside Prague and later committed suicide.