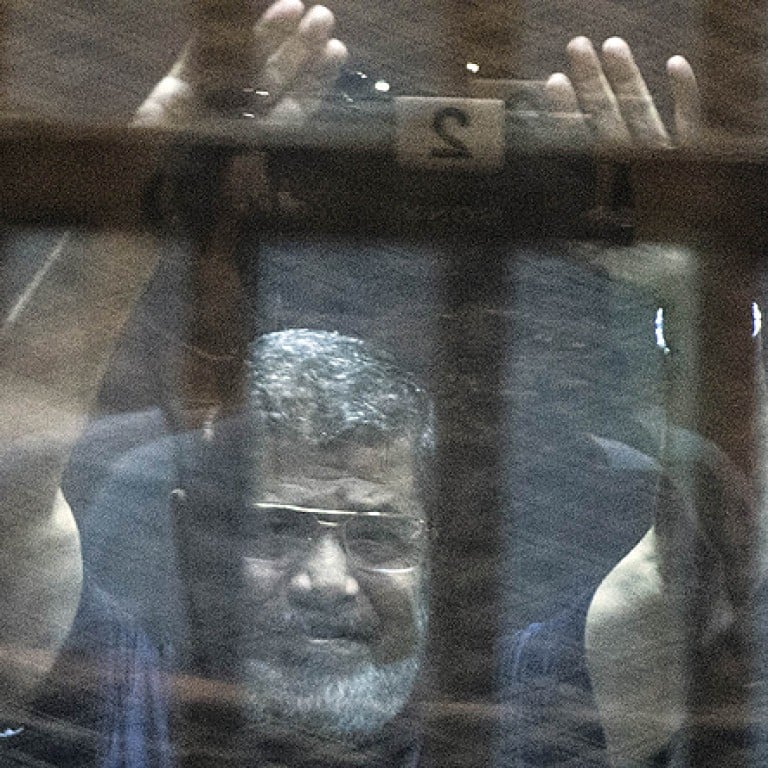 Death sentence for ousted president Mursi, Egyptian court rules
Judge refers death sentence pronounced on Mursi and others to the nation's top Muslim theologian, or mufti, who must give his opinion before any execution can be carried out
An Egyptian court on Saturday sentenced ousted president Mohammed Mursi to death over his part in a mass prison break that took place during the 2011 uprising that toppled Hosni Mubarak.
As is customary in passing capital punishment, Judge Shaaban el-Shami referred his death sentence on Mursi and others to the nation's top Muslim theologian, or mufti, for his non-binding opinion. He set June 2 for the next hearing.
Mursi, Egypt's first freely elected president, was ousted by the military in July 2013 following days of mass street protests by Egyptians demanding he be removed because of his divisive policies. Mursi's successor, Abdel-Fattah el-Sisi, was the military chief at the time and led the ouster. El-Sisi ran for president last year and won the vote in a landslide.
Also sentenced to death with Mursi in the prison break case were a total of 105 defendants, most of them were tried and convicted in absentia. They include some 70 Palestinians. Those tried in absentia in Egypt receive automatic retrials once detained.
Supporters of Mursi and his now-outlawed Muslim Brotherhood chanted "down, down with military rule" as the verdict was announced in the courtroom, a converted lecture hall in the national police academy in an eastern Cairo suburb.
Prosecutors have alleged in the case that armed members of the Palestinian Hamas group entered Egypt during the 18-day uprising through illegal tunnels running under Gaza's border with Egypt's Sinai Peninsula. Taking advantage of the uprising's turmoil, the militants fought their way into several prisons, releasing Mursi, more than 30 other Brotherhood leaders and some 20,000 inmates, prosecutors say. Several prison guards were killed and parts of the stormed prisons were damaged.
Mursi already is serving a 20-year sentence following his conviction on April 21 on charges linked to the killing of protesters outside a Cairo presidential palace in December 2012.
The former president escaped a death sentence in a separate case before el-Shami related to allegations that Mursi, several of his aides and leaders of the Brotherhood allegedly passed state secrets to foreign groups, including Hamas and Lebanon's Hezbollah, during his one year in office. A total of 16 senior Brotherhood leaders and aides were sentenced to death by el-Shami in that case. A verdict on Mursi's role in that case will be announced in the June 2 hearing.
Even if confirmed by the mufti, Saturday's death sentences are still subject to appeal.
Muslim Brotherhood official Amr Darrag later condemned the court's decision on the death penalty for Mursi and called on the international community to take action.
"This is a political verdict and represents a murder crime that is about to be committed, and it should be stopped by the international community," Darrag, co-founder of the dissolved Freedom and Justice Party, the political wing of the Muslim Brotherhood, told reporters in Istanbul.
Turkish President Tayyip Erdogan criticised Egypt over the court decision and accused the West of hypocrisy, the state-run Anatolian news agency said on Saturday.
"While the West is abolishing the death penalty, they are just watching the continuation of death sentences in Egypt. They don't do anything about it," Erdogan was quoted as saying.