Focus
Get more with myNEWS
A personalised news feed of stories that matter to you
Learn more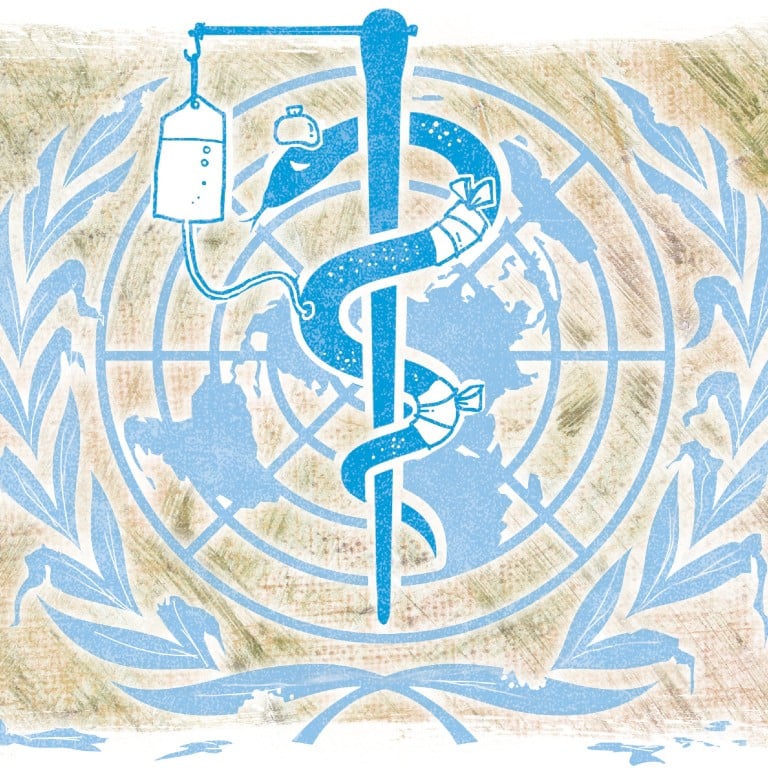 As the Mers crisis deepens, is the WHO fit for purpose?
As the Mers crisis deepens, critics say the UN health agency needs major surgery to fight disasters
For a group tasked with looking after the well-being of the global population, the World Health Organisation's latest check-up made for grim reading.
Suffering from an internal malaise that stands to get worse before it gets better, the UN agency has come under intense scrutiny in recent months after bungling the recent Ebola crisis in Africa with its slow response. But the diagnosis is not all bad.
"Now is the historic political moment for world leaders to give WHO new relevance and empower it to lead in global health," said an interim internal report released last month by a WHO panel that was mandated to assess why it failed in its handling of the Ebola crisis.
The report card found that "business as usual" and "more of the same" were no longer options, urging the organisation to introduce major reforms "to meet the challenges of increasing global interdependence and shared vulnerability" as well as "to regain the trust of the international community".
"There is a strong, if not complete, consensus that WHO does not have a robust emergency operations capacity or culture," the report said.
With the Middle East respiratory syndrome (Mers) outbreak in South Korea, critics have stepped up calls for major change within the organisation, adding to the raft of recommendations made in a report by British think tank Chatham House last May titled "What's the World Health Organisation for?" It noted the group was "too politicised" and "too bureaucratic" and in need of a major overhaul.
"We have had no response from WHO as such - nor did we expect one," Charles Clift, author of the report told the South China Morning Post. "But many member states have read the report and find it interesting."
Clift said the report's recommendations were even more timely considering the Ebola crisis. "However, member states are reluctant to embark on more radical reform as proposed in the report - so they will probably try to muddle along."
According to the WHO, 10,980 people were killed by Ebola after the outbreak erupted in a remote area of Guinea, West Africa, in December 2013.
Lawrence Gostin, a professor of global health law at Georgetown University in Washington, who sits on the WHO advisory committee on reform, said: "It is widely agreed that WHO is politicised and bureaucratic. The organisation has not been able to be the global health leader it was intended to be because it is so concerned with the politics of member states. It has also developed a culture that does not boldly innovate."
Reform within the organisation, one of the United Nation's most complex, is no easy task.
In 2012, WHO director general Dr Margaret Chan Fung Fu-chun acknowledged the body's shortcomings and an internal reform process was put in place, but many say it has stagnated and simply does not go far enough.
In January, Chan - a former Hong Kong director of health - admitted the Ebola crisis had "overwhelmed" the organisation and last month she pledged reforms to be a high priority.
"The Ebola outbreak has pushed the process of WHO reform into high gear, giving top priority to changes in WHO emergency operations," she told the World Health Assembly, the WHO's governing body, made up of health ministers from the 194 member states.
Chan said a raft of reforms would be in place by the end of the year. But the old adage that actions speak louder than words is at the forefront of the minds of critics and supporters of WHO.
Clift said it was crunch time to rebuild WHO's global standing. "Its reputation in emergencies has been severely tarnished by Ebola. How it implements its proposed response as set out by Margaret Chan at the World Health Assembly will be critical if it is to restore its credibility."
A key criticism is that the world has changed dramatically since the WHO's formation in 1948, not least the rise of Asia.
There is "uncertainty about how global institutions, reflecting the post-war status quo, can adapt to a world so different", the Chatham House report said.
Another factor is that when WHO was established almost 70 years ago, it took days, sometimes weeks to travel around the world. Now, you can traverse the globe in under 24 hours.
With its headquarters in Geneva, the WHO has more than 7,000 staff across six regional offices and 150 country offices - this is something that observers say could be streamlined.
Its budget of US$4 billion comes mainly from voluntary contributions (US$3 billion) with member states providing about US$929 million. This heavy reliance on voluntary contributions limits the activities of the WHO because this money can only be spent on certain projects as determined by the source of the funding, the Chatham House report highlighted.
Is the WHO still fit for purpose in the 21st century? "WHO is relevant, even essential, given its unparalleled relationships with ministries of health and expertise in epidemic control," Gostin said.
But the organisation was better equipped to deal with advocacy, rather than emergencies, Clift said. "It will remain relevant particularly as a large part of its work concerns standard-setting and advocacy - the world definitely needs a body like WHO to promote health globally and address critical issues such as obesity, tobacco, access to medicines and other threats to health - which are not emergencies."
With China's rise, Beijing has put pressure on a range of global organisations, not least by creating a rival to the IMF and World Bank with the Asian Infrastructure Investment Bank. But Gostin said an Asian version of the WHO was unlikely because the dynamics were different. "IMF and the World Bank were controlled tightly by the US and EU, but WHO is a one state, one vote body and China has had a large say."
Next year marks a decade since the landmark appointment of Chan as director general, the first time a Chinese person was appointed to head a UN agency. For many, the appointment reflected the political climate as much as the global health environment. Her appointment was "highly appropriate and symbolic given the rise of China and Asia", Gostin said.
"Her experience with Sars [severe acute respiratory syndrome] in Hong Kong and her focus on Asia has been very important. Not only is Asia becoming a major political and economic region, but it is also a region that has a disproportionate share of novel infections, probably due to its large population and intersection with animal populations. Now Mers has come to the region, it highlights the risk."
Hits and misses: the WHO's health campaigns
The World Health Organisation's purpose is "the attainment by all peoples of the highest possible level of health"
it took the organisation eight months to recognise the severity of the biggest Ebola outbreak the world has ever seen. In January this year, WHO director general Dr Margaret Chan Fung Fu-chun admitted it had failed to act quickly and that it had been "overwhelmed" by the crisis.
there was mass panic after the WHO declared a pandemic in 2009 but later realised it was not as deadly as feared. The move led to governments stockpiling vaccines that went unused.
a global malaria eradication programme in 1955 succeeded in eliminating malaria from Europe, North America, the Caribbean and parts of Asia and South-Central America. But there has been no major success in Africa, which accounts for 90 per cent of malaria deaths.
in 1980, the WHO declared that one of the most devastating diseases known to humanity had been eradicated following a global immunisation campaign. The last known natural case was in 1977 in Somalia.
in 2003, the WHO started an ambitious joint campaign with UNAids to deliver antiretroviral drugs to three million people in low and middle-income countries by 2005. It was considered a relative success despite not reaching the target until 2007, because it tripled the number of people receiving HIV treatment between 2003 and 2005.
in 1988, the WHO launched a global campaign to eradicate polio, which at the time paralysed more than 350,000 people every year. In 2013, polio cases had dropped by 99 per cent with 426 cases reported that year.
This article appeared in the South China Morning Post print edition as: Is the WHO sick at heart?