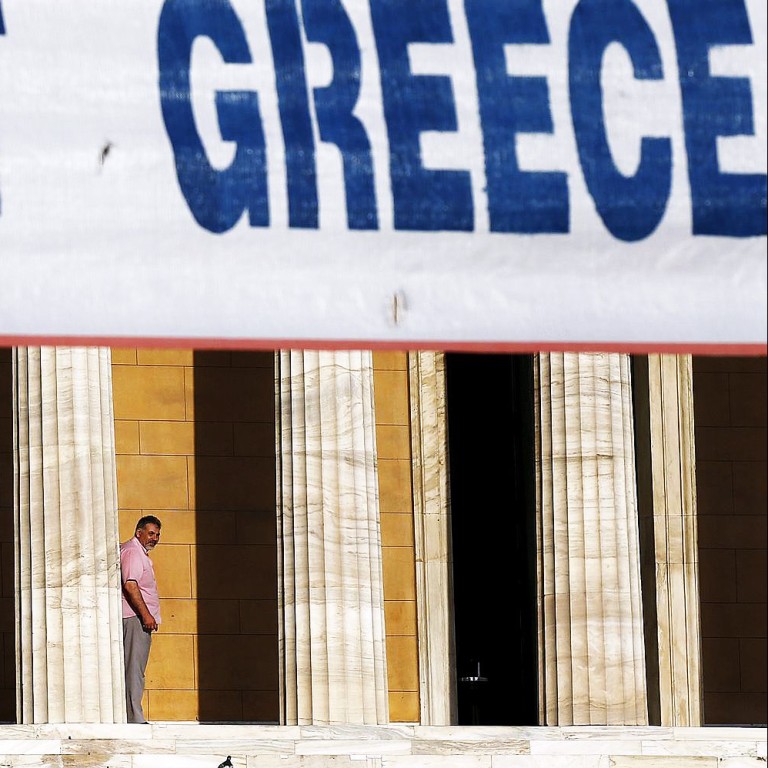 'Making us poorer won't save Greece': How pension crisis is hurting its people
Half of families rely on the income but system needs urgent reform.
Five years ago, Sissy Vovou's pension was €1,330 (HK$11,749) and landed in her bank account 14 times a year - you used to get, she wistfully recalls, a full extra month at Christmas, plus a half each at Easter and for the summer.
Now it is a monthly €1,050 - and there are only 12 months in the Greek pensioner's year. "In all," she said, "I've lost 30 per cent of my income. And I'm one of the lucky ones. I'm in the top fifth; 80 per cent of Greek pensioners are worse off than me."
Vovou, 65, who began work at 17 in the publishing industry and ended her career at the state broadcaster, ERT, is also lucky because her son, now 40, has a good job and a regular salary. She does not need to help him out.
Eleni Theodorakis, on the other hand, retired in 2008 from her job as an administrative assistant in a regional planning service, aged 55. "My pension is €942 a month - not too bad, really," she said, almost shamefacedly, fishing the statement out of her handbag.
"Fortunately my son is all right, just about, though sometimes he gets paid late. And once or twice, not at all. But my daughter's husband has been unemployed for four years now."
There are many like Theodorakis among Greece's 2.65 million pensioners. According to a study last year by an employer's association, pensions are now the main - and often only - source of income for just under 49 per cent of Greek families, compared to 36 per cent who rely mainly on salaries.
With a jobless rate of about 26 per cent - youth unemployment is at 50 per cent - and out-of-work benefits of €360 a month generally paid for no longer than a year, pensions have become "a vital part of the social security net for many, many people," said Vovou. "Retired parents are having to help their adult children everywhere. And now they're demanding we cut them even more? It's just so very wrong."
Pensions have become arguably the biggest hurdle in the tortuous, on-off negotiations between the leftwing government of the prime minister, Alexis Tsipras, and Greece's creditors: its euro zone partners, the European Central Bank and the International Monetary Fund.
Before they will release €7.2 billion in aid that Greece needs to pay public-sector salaries and pensions and repay €1.6 billion in IMF loans, those lenders want further reforms to the pensions system, including penalties to put people off taking early retirement and more cuts to even the lowest pensions.
Tsipras is so far refusing to implement the measures, aimed at shaving the equivalent of one per cent of GDP off the country's pension bill, arguing they will do nothing to help Greece emerge from a slump that has seen the country's economy shrink by 25 per cent, and may only deepen its humanitarian crisis.
There is little doubt Greece's pensions system needed reform. The EU's most expensive, at about 17.5 per cent of GDP, it was made up of more than 130 different pension funds and hid widespread abuse. A 2012 pension census turned up more than 90,000 entirely bogus claimants and 350,000 more inconsistent claims.
But few Greeks think further pension cuts will achieve anything.
The country's pensioners' unions have called for a major demonstration against further cuts on June 23. "The government must absolutely not give in," said Anastassios Georgiadis, of the retired postal workers' association.
This article appeared in the South China Morning Post print edition as: How pension crisis is hurting Greece