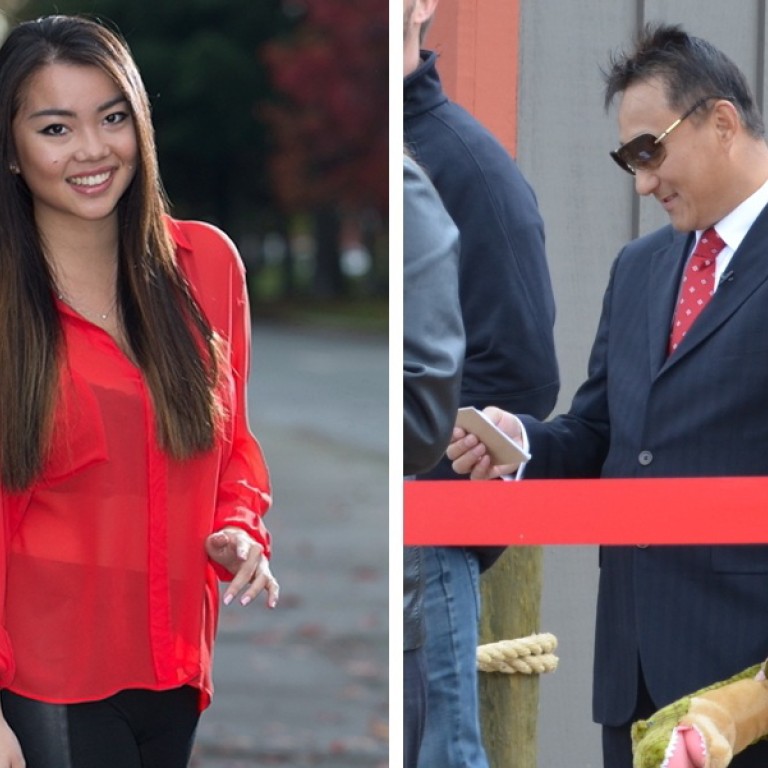 Exclusive
'Titanic' shareholders cast doubt over merger, stunned that Chinese corruption suspect's teenage daughter, Linda Ching, is financier
Two largest independent shareholders demand clarification from Nasdaq-listed Premier Exhibitions over SCMP's revelations that graft suspect Michael Ching Mo Yeung's daughter is US$1m backer of merger with Dinoking Tech
UPDATE: Michael Ching Mo Yeung has commenced legal proceedings against South China Morning Post in the Supreme Court of British Columbia.  Mr Ching alleges in his lawsuit that this article contains false and defamatory statements, and that the conduct of South China Morning Post and its reporter was malicious, reprehensible, high-handed, and blameworthy.
Shareholders in Premier Exhibitions, the US firm that owns salvage rights to the Titanic, have cast doubt over the firm's impending merger after the South China Morning Post revealed that one of the financiers of the deal is the teenage daughter of Chinese corruption suspect Michael Ching Mo Yeung.
Premier's two largest independent shareholders have demanded an explanation from the Nasdaq-listed company ahead of a crucial October 29 vote on whether to approve the merger with Canadian firm Dinoking Tech.
Gregg Schneider, the largest independent shareholder, said he was "outraged" after learning of the involvement of Vancouver university student Linda Ching, brought aboard as one of four investors by Dinoking.
Fellow shareholder Andrew Shapiro said he had forwarded the Post's report to the US Securities and Exchange Commission.
Dinoking and its boss, Vancouver-area businessman Bao Daoping, brought in Linda Ching as a US$1 million investor as part of efforts to shore up cash-strapped Premier, which has struggled to monetise its key asset, a trove of 5,500 Titanic artifacts it has had valued at more than US$218 million. If the deal proceeds, Bao takes control of the merged firm.
The
Post
this week reported that Linda Ching was the sole director of a numbered Canadian company, 1030443 BC Ltd, that transferred US$1 million to Premier on April 2, less than a month before China's pursuit of her father for alleged corruption was made public. The
Post
does not have evidence of Michael Ching's guilt or innocence, and nor does it suggest wrongdoing by his daughter, aged 18 at the time of her investment.
Shapiro, whose Lawndale Capital Management holds a little under 5 per cent of Premier, said shareholders deserved clarification about Linda Ching's financing role. "Clearly, Lawndale would give careful consideration to any alternative bid for all or part of the company," he said, adding, "we were obviously disappointed to see the news [about Linda Ching's investment]."
The other investors in the deal are a named individual whose identity the Post has been unable to confirm and two companies registered in the British Virgin Islands, where ownership can be kept secret.
Shapiro said he sent the report about Linda Ching's role in the deal to the SEC so that it could review the completeness of Premier's disclosures to shareholders ahead of next month's special meeting on the merger. He added: "I think this information coming to light clearly shows the company needs to be more transparent about the investor group."
Schneider, a private investor, said he had lost US$5million on his Premier stake as its share price plummeted in recent years. He owns 5 per cent of the company.
He said he was "outraged" by Linda Ching's financing of the deal, describing it as an "idiotic thing".
"If I wasn't down US$5million, I probably would have laughed," said Schneider.
He said Bao was "coming in like a shark" to take over the prized assets of Premier, whose board was behaving like "desperate imbeciles" by backing the merger, which would grant Bao chairmanship and four of seven board seats. The deal was signed off on by Mark Sellers, Premier's chairman and largest shareholder with a 31 per cent stake.
Dinoking's business revolves around animatronic dinosaur shows. Despite the value of its Titanic artifacts, Premier has a market capitalisation of just US$11 million, with the company legally prohibited from breaking up its collection. It could be sold off whole, however.
Neither Bao, Michael Ching, Linda Ching, Sellers, nor other Premier executives agreed to discuss the merger.
But Sellers outlined Premier's woes in an April 9 conference call with shareholders.
He described a company desperate for cash when it agreed to merge with Dinoking. Vital to the deal is the US$13.5 million in funding from the investor group that includes Linda Ching. The bulk of the cash will pay off an existing US$8million emergency loan.
"We explored many, many avenues for [financing] and talked to many potential transaction partners. We negotiated for months with multiple parties, and the deal we announced last week [to merge with Dinoking] is the best deal the company was offered.
"People aren't exactly tripping over themselves to finance us," Sellers said, according to a transcript filed with the SEC.
Sellers said he had long been searching for "a creative entrepreneur who also possesses financial discipline" to run Premier.
"I believe that we finally found that person in Daoping Bao, founder and CEO of Dinoking. As a result, I'm very excited about this transaction and for the first time in quite a while, excited about the future of this company."
Chinese authorities have pursued Vancouver businessman Michael Ching for more than a decade. He is the son of disgraced Hebei communist party chief Cheng Weigao, who was himself investigated for corruption and expelled from the party in 2003. Cheng Weigao died in 2010. Michael Ching, long denied Canadian citizenship, is now seeking refugee status.
UPDATE: On August 23, 2016, Interpol concluded that data registered in its files concerning Michael Ching Mo Yeung was not compliant with Interpol's rules and, accordingly, the data  including the Interpol "red notice" previously issued was deleted.