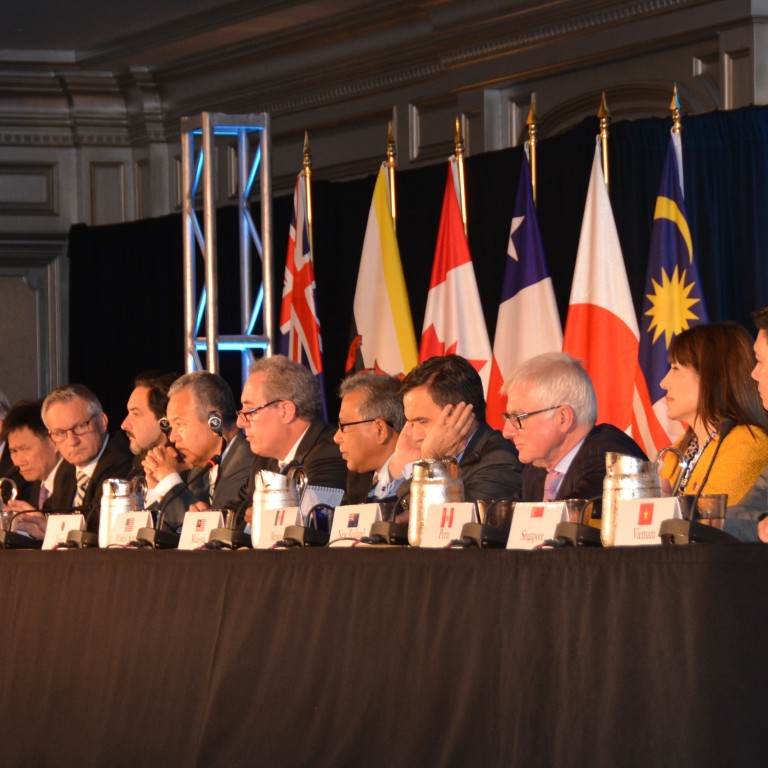 China left out of Trans-Pacific Partnership, but door left open for the future
Beijing had "put out feelers" about joining the pact in June but US President while not ruling out the possibility said it would take significant time and effort for China to make the difficult changes necessary to sign on to the TPP
The hard-won Trans-Pacific Partnership agreement is a boon for US efforts to exert influence in Asia amid increasing competition with China, which has been flexing its growing economic and military might in the region.
China, the world's second-biggest economy, is noticeably absent from the 12-nation pact.
Japanese Prime Minister Shinzo Abe welcomed the TPP agreement on Monday as "a far-sighted policy for all participating countries that share the same values and are trying to build a free and fair economic zone". He added: "This is a significant achievement not only for Japan, but also for the future of the whole Asia-Pacific region."
Japanese carmakers and auto-parts manufacturers will likely benefit from the removal of tariffs. Japanese retailers also said they saw the TPP as potentially beneficial as partner countries lift or ease barriers on "service exports" and welcome foreign companies in their markets. However, Japan's agriculture sector has been wary that U. food imports could hurt its business.
Nevertheless, in an editorial, Japan's Yomiuri newspaper said the pact could have not just economic, but long-term "security" benefits.
"If the presence of the United States and Japan in the Asia-Pacific region is enhanced through the TPP, it will be able to contain China's moves to pursue hegemonic influence in the region," it said. It took note of the fact that China recently launched an Asian Infrastructure Investment Bank with 57 founding members including Malaysia, Singapore and four other TPP countries – an initiative that the US and Japan resisted.
The paper said a broad TPP agreement would help facilitate other negotiations concerning economic partnerships that Japan is seeking.
South Korea, the Philippines, Thailand and Taiwan have also expressed interest in joining the TPP.
The TPP could accelerate the movement of low-wage factory jobs out of China and into lower-cost countries such as Vietnam and Malaysia, as manufacturers look for free-trade benefits for their textiles and other goods.
President Barack Obama has couched the TPP as a way to address China's rising influence in Asia.
"When more than 95 per cent of our potential customers live outside our borders, we can't let countries like China write the rules of the global economy," the president said Monday. "We should write those rules, opening new markets to American products while setting high standards for protecting workers and preserving our environment."
At the same time, Obama has not ruled out the idea of eventually bringing China into the TPP, saying in June that Beijing had "put out feelers" about joining the pact. US proponents of extending the TPP to China say it could help bring China's labour, environmental and intellectual-property rules into greater alignment with those of the US, Japan and other advanced economies.
But it would take significant time and effort for China to make the difficult changes necessary to sign on to the TPP. Currently, US and Chinese negotiators are trying to hammer out a Bilateral Investment Treaty, but US participants say talks have bogged down amid China's desire to keep numerous sectors of its economy off-limits to foreign investment. Any move to join the TPP would require even deeper reforms than the Bilateral Investment Treaty. Publicly, China has been circumspect about the TPP. China's vice finance minister, Zhu Guangyao, has said the TPP would be "incomplete" without it. "As China becomes more open," he said earlier this year, "it's very important for us to be integrated into the global trade system with a high standard."
In the meantime, China has been pursuing its own bilateral trade deals with countries including Australia and South Korea. China is also participating in talks on the Regional Comprehensive Economic Partnership (RCEP), which would link the 10 members of the Association of Southeast Asian Nations with Australia, China, India, Japan, New Zealand and South Korea, accounting for about 30 per cent of global gross domestic product.