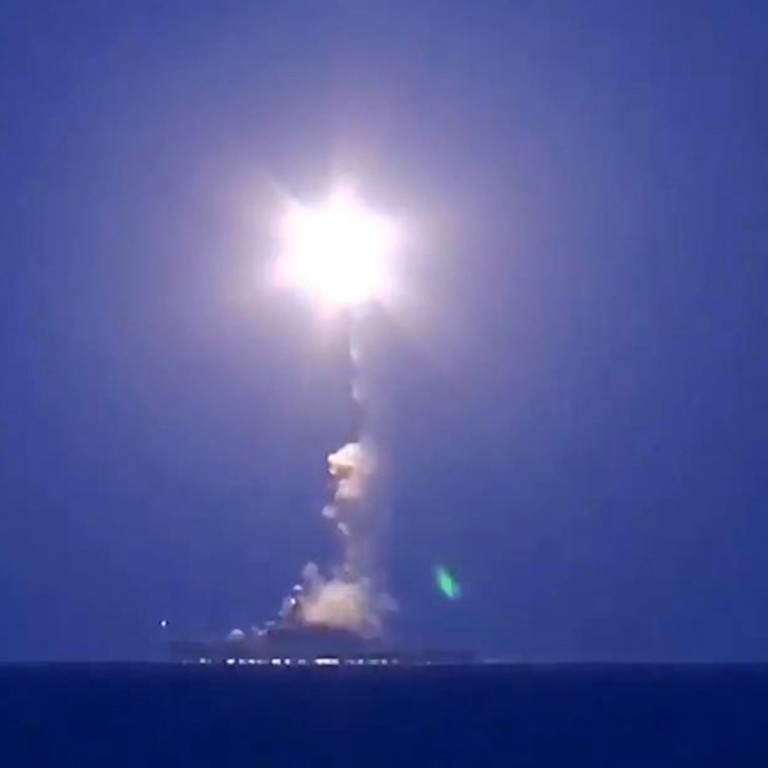 War game changer: Russia's launch of dozens of precision cruise missiles at Syria from 1500km away surprises military analysts
Russian forces supporting embattled Syrian President Bashar Assad have fired a volley of cruise missiles from ships based in the Caspian Sea into eastern Syria in an escalation of Russian involvement in the country's brutal conflict.
The strikes, 26 in total on Wednesday and spanning almost 1,500km of precision flight, were by far the longest-range attack by Russian forces in modern history.
The cruise missiles flew over the Caucasus Mountains, Iran and Iraq before veering toward Islamic State-held areas, shocking military analysts who said they were unaware that the weapons had such long-range capability.
"We knew that both the Gepard frigate and Buyan corvettes were capable of launching land-attack cruise missiles, but the apparent range of the missiles has come as a surprise to us," Jeremy Binnie, a weapons expert for Janes IHS, the London-based defence think tank, said, referring to two types of Russian ships.
The direction from which the attack occurred also was something of a surprise. While Western news media had reported Russia's dispatch of four ships to the Mediterranean west of Syria in recent days, there had been little public notice of Russian ship deployments in the Caspian, a landlocked body of water bordered on all sides by Russian allies or former Soviet republics.
Navy Captain Jeff Davis, a Pentagon spokesman, said US military officials knew that the Russian fleet in the Caspian was equipped with cruise missiles, but he said he did not know if the Russians had notified Iraq, a US ally, that they would fly through its airspace. Iraq previously has permitted Iranian planes to overfly its territory to ferry supplies to the Assad government.
In another sign of Moscow's military escalation in the war-torn Middle East country, Russian helicopters apparently were used to ferry Syrian government forces in an offensive to push back anti-government forces in the country's west.
A Syrian rebel commander said the offensive included airstrikes, helicopter-borne paratroopers, tanks and artillery, targeting three downs in Idlib province near Syria's border with Turkey and a fourth village in Hama province.
There was no confirmation of the casualty figures. Syrian government officials said that the new ground offensive was aimed at reclaiming rebel-held areas in Idlib, Hama and Homs provinces, the area of northwestern Syria where most of the Russian airstrikes have been concentrated over the past week.
The Pentagon, meanwhile, said for the first time that Moscow's still-young air campaign had caused at least one American bomber to change course in order to avoid a possible collision or conflict with a Russian aircraft.
It was unclear how much damage the Russian cruise missiles had caused. At least one was reported to have hit Tabqa, a former Syrian government military base west of Raqqa, the defacto Islamic State capital.
Targeting Tabqa may have represented a reprisal attack by Moscow. In a brutal assault 14 months ago, Islamic State militants seized the air base and then beheaded soldiers loyal to Assad.
The cruise missile attack was announced on Russian state television during a meeting between President Vladimir Putin, who was celebrating his 63rd birthday, and his top military advisers.
"Besides using aviation to destroy militants, this morning ships from the Caspian Flotilla were brought in," Russian Defence Minister Sergei Shoigu told Putin during the televised session. "Four destroyers launched 26 Kalibr sea-based cruise missiles at 11 targets."
The Kalibr supersonic cruise missile was deployed this summer for the first time after seven years of testing and development. While the new missile system had been seen as a potential threat to Western European targets, the demonstration of its more than range surprised some experts on Russian military hardware.
Some American officials said that besides delivering powerful explosives, the Russian missiles carried a political message.
"Russia launched cruise missiles as part of Putin's propaganda campaign to show Russia as a modern military force able to strike targets from long distances," said a US intelligence official.
The missile launches showed Putin's domestic audience that Russia is back on the international stage, the intelligence official said, while demonstrating to the United States and its allies that it is prepared "to use a broad range of capabilities to prop up" the Assad regime.