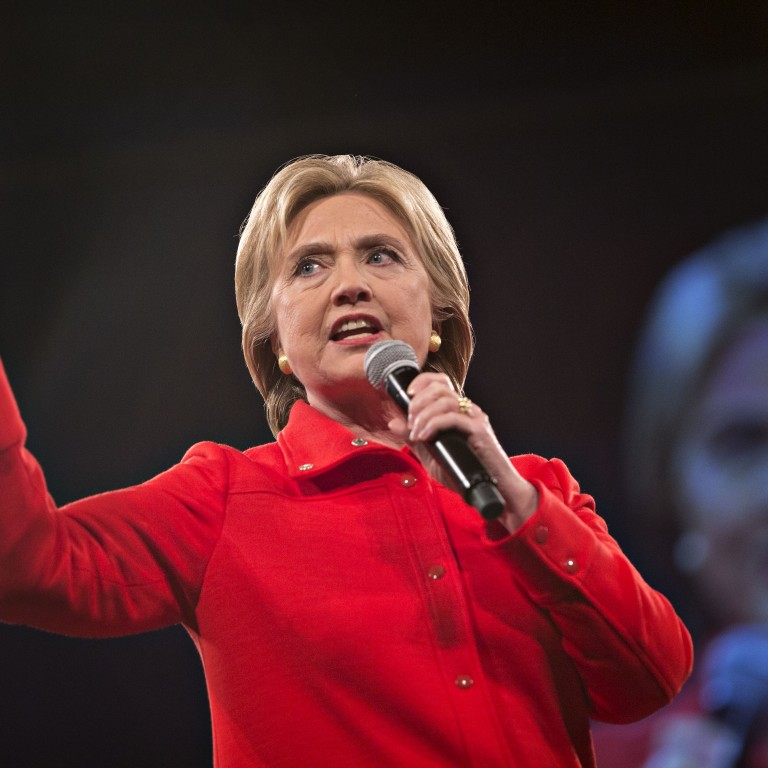 Star power: Hillary Clinton getting lion's share of Hollywood donations
Showbiz industry gives millions to presidential hopefuls of both parties but Democratic front runner rakes in the most.
It has all the makings of a box-office blockbuster: marquee stars (Reese Witherspoon, Ben Affleck), an in-demand director (J.J. Abrams) and backing from a studio mogul (Jeffrey Katzenberg).
But this combined star power isn't coming soon to a cinema near you - it's dominating US presidential hopeful Hillary Rodham Clinton's donor list.
Compared with the Clinton campaign megaplex, her competition feels more like a smaller boutique theatre: less lavishly star-studded but with some recognisable names.
Senator Bernie Sanders, for example, has the backing of singer Jackson Browne and director Adam McKay. Jeb Bush's supporters include producer Jerry Bruckheimer and sports broadcaster Jim Nantz.
Entertainment donors in California have poured US$5.5 million into the 2016 presidential race. Of that, Clinton has collected 9 of every 10 dollars - a total of US$5 million as of September 30.
A analysis encompasses a broad range of industry players, including agents, make-up artists, C-list celebrities and screenwriters.
Many candidates can claim a handful of high-profile backers: Bush, for example, has received US$5,400 from Columbia Broadcasting System sports commentator Nantz and US$2,700 from producer Bruckheimer. Sanders collected US$2,700 from McKay, director of the movies, and Browne gave US$1,350.
Sanders' campaign website has a dedicated "artists for Bernie" page, listing the support of McKay and actor Danny DeVito, who donated US$2,700. Others on the list, such as comedian Sarah Silverman, actor Will Ferrell and Red Hot Chili Peppers frontman Anthony Kiedis, have given their endorsement but don't show up on the donor roll.
Still, it's Clinton's roster that boasts the most star power. She has collected maximum personal donations for the Democratic primary from recording artists Kanye West and Usher, small-screen stars Jesse Tyler Ferguson and Bryan Cranston, and Oscar winners Tom Hanks and Barbra Streisand.
And she is also strong among industry movers and shakers, getting US$2,700 apiece from Dana Walden, head of Fox Television Group; Patrick Wachsberger, co-chairman of Lions Gate's Motion Picture Group; and HBO's president of programming, Michael Lombardo.
Clinton, leading in fundraising among Democrats with nearly US$98 million, is out-raising rivals Sanders and Martin O'Malley both overall and in the entertainment industry.
Sanders, with about US$42 million overall, has raised only US$134,000 from Hollywood, and O'Malley nets just US$3.6 million total and US$37,000 from the industry.
On the Republican side, Bush leads the pack with about US$165,000 from the industry. Coming in second is Chris Christie, who raised nearly US$90,000.
Clinton's haul was boosted by six- and seven-figure donations directly to Priorities USA, an independent group supporting her that can accept unlimited donations. Hollywood power brokers including Katzenberg, Steven Spielberg and Haim Saban have given US$1 million apiece to the group; Abrams, director of the upcoming revival, kicked in US$500,000.
Some media givers hedged their bets, giving to multiple candidates. NBC Universal vice-chairman Ron Meyer gave US$2,700 to both Clinton and Christie. Media mogul David Geffen has given to Clinton and Sanders.
This article appeared in the South China Morning Post print edition as: a-list stars dig deep to bankroll clinton bid