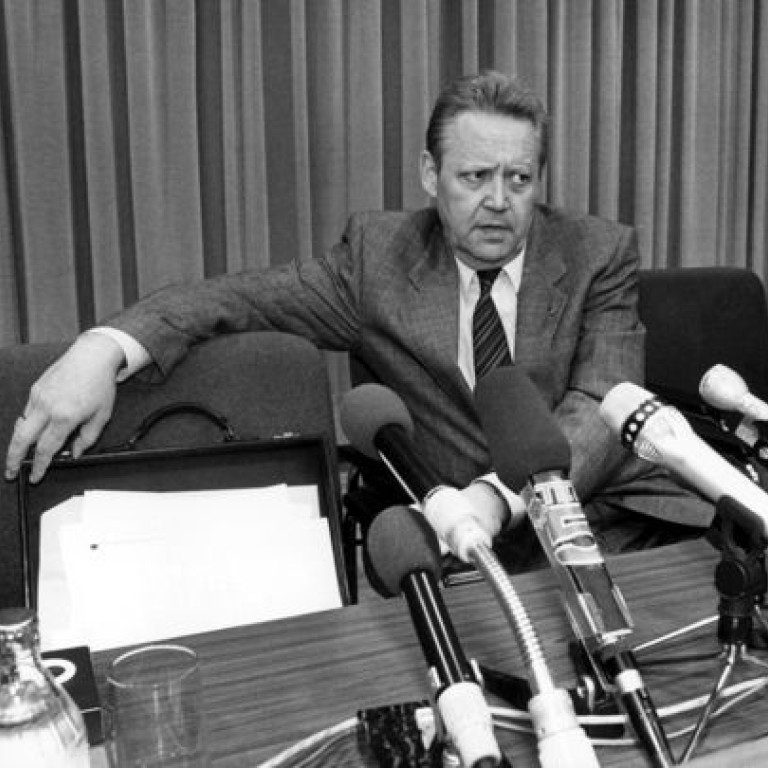 East German bureaucrat whose blunder brought down the Berlin Wall dies at 86
With a slip of the tongue, Guenter Schabowski declared in 1989 that East Germans were immediately free to cross the border
Former East German bureaucrat Guenter Schabowski, who died Sunday aged 86, went down in history for a slip of the tongue in 1989 that inadvertently brought down the Berlin Wall.
The former spokesman of the Politburo central committee of East Germany's ruling communist party died in the reunified capital, his widow Irina told news agency DPA.
After months of mass protests against regime and East Germans fleeing in their droves via Czechoslovakia and Hungary, the Politburo asked the government in 1989 to prepare a law loosening restrictions on travel outside the country.
It was at the end of an evening press conference on November 9 when Schabowski pulled a sheet of paper from his pocket and read out a decree stating that visas would be freely granted to those wanting to travel outside or leave the Stalinist state.
"As of when?" asked an Italian journalist.
Schabowski hesitated and then improvised: "As far as I know... as of now."
The press conference was carried live by television networks and within minutes news bulletins were proclaiming that "The Wall has fallen".
Thousands of East Berliners started streaming towards checkpoints leading to West Berlin, where baffled East German border guards, unsure what to do, kept phoning for instructions.
Eventually as the crowds grew ever larger, one barrier went up and bewildered East Berliners, who had been unable to cross freely for 28 years, staggered into the West.
Less than one year later, on October 3, 1990, East and West Germany would reunite as one country, ending four decades of Cold War division.
"I wouldn't say I was a hero who opened the border - truth be told, I acted to try to save the GDR," he told reporters in 2009, referring to the German Democratic Republic, as communist East Germany was officially known.
"On November 9, I was still a committed communist."
Schabowski was expelled from the party early in 1990 for bringing down the Wall, and then sentenced to prison in 1997 for his earlier complicity in the shoot-to-kill policy enforced by border guards against those trying to flee to the West. He was pardoned in 2000.
Since then he became one of the very few senior East German officials to condemn the regime.
President Joachim Gauck, who was a dissident pastor in East Germany, said Schabowski had gone from the circle of his "oppressors" to become a man who reflected on his mistakes.
"He was the only member of the SED party leadership who was willing and able to radically reverse course and acknowledge his own guilt," Gauck said in a statement.
Born on January 4, 1929 in the northern town of Anklam to a plumber and a cleaner, Schabowski studied journalism and started out as a newspaper intern.
He then joined East Germany's trade union federation paper, Tribune, where he worked for nearly two decades, rising to become its deputy chief editor.
Schabowski had joined East Germany's ruling Marxist-Leninists, the Socialist Unity Party (SED), in 1952 and by the 1980s had climbed to its upper echelons.
By 1984 he was a full member of the Politburo and was later seen as a possible successor as party chief to ageing East German leader Erich Honecker.
In the run-up to the Wall finally toppling, Schabowski was the only Politburo member to go onto the street to meet demonstrators.
During his subsequent trial over deaths at the Wall, he acknowledged moral guilt and asked for victims' forgiveness.
He was accused later by some communist party faithful of being a "traitor".
Schabowski, who was married to a Russian-born former TV journalist with whom he had two sons, told the Tagesspiegel daily in 2009 that any attempt to build a socialist society was doomed to failure.
"Man is not able to turn off his egotism and therefore it's always a mistake to try socialism."