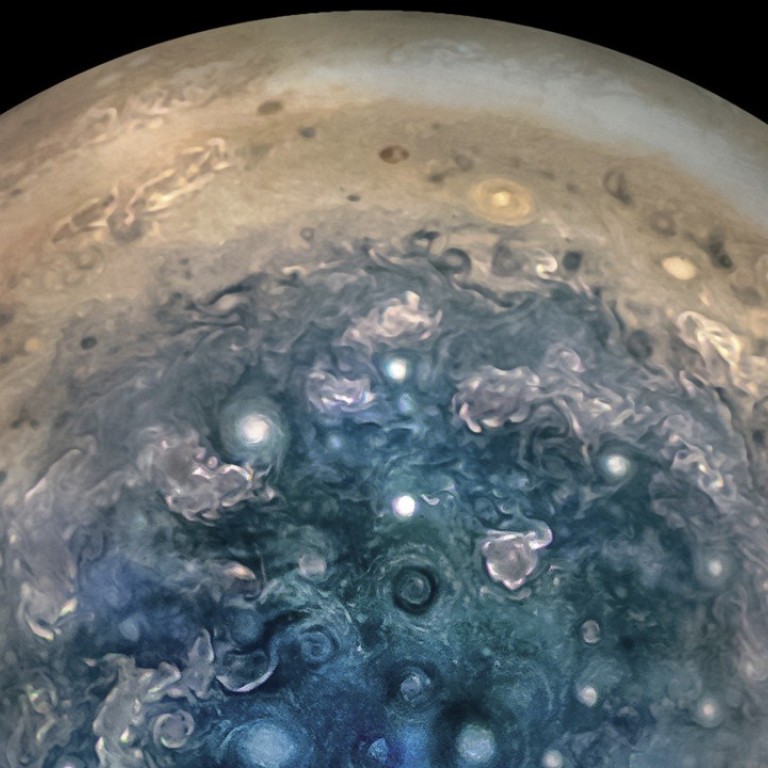 Nasa spaceship Juno discovers Jupiter is a 'gigantic, turbulent world' far different than previously thought
An unmanned Nasa spaceship circling Jupiter has spotted massive cyclones at the gas giant's poles, revealing stunning new details about our solar system's largest planet, researchers said Thursday.
A Nasa statement described the planet as "a complex, gigantic, turbulent world" that is far different than scientists previously thought.
Two papers in the journal Science and 44 papers in Geophysical Research Letters describe a trove of discoveries made since Juno began orbiting Jupiter last year.
"We knew, going in, that Jupiter would throw us some curves," said Scott Bolton, Juno principal investigator from the Southwest Research Institute in San Antonio. "There is so much going on here that we didn't expect that we have had to take a step back and begin to rethink of this as a whole new Jupiter."
A look at Jupiter's poles has shown they are covered with dozens of densely clustered storms, possibly dropping hail or snow.
Juno's closest fly-by, Nasa:
"Images of Jupiter's previously-unseen poles show a chaotic scene of bright oval features," said one of the studies in the journal Science.
These ovals, it turns out, are huge swirling storms, some of which measure up to 870 miles (1,400 kilometres) across.
Researchers found "signs of ammonia welling up from the deep atmosphere and forming giant weather systems." Now, more study is needed to better understand the nature of Jupiter's storms, and why the planet acts this way.
The solar-powered Juno spacecraft launched in 2011, and made its first tour around Jupiter on August 27, 2016. Juno moves in an elliptical orbit, skimming within 3,100 miles (5,000 kilometres) of Jupiter's cloud tops and passing over the poles.
Juno's mission is scheduled to end in February 2018, when the probe will self-destruct by diving into the planet's atmosphere.
The US$1.1 billion project aims to peer beneath the clouds around Jupiter for the first time to learn more about the planet's atmosphere and how much water the planet contains.
"On our next fly-by on July 11, we will fly directly over one of the most iconic features in the entire solar system -- one that every school kid knows -- Jupiter's Great Red Spot," said Bolton.
"If anybody is going to get to the bottom of what is going on below those mammoth swirling crimson cloud tops, it's Juno and her cloud-piercing science instruments."
Juno has also taken measurements of Jupiter's gravitational field, to see if it has a solid core, as some models have predicted, or no core at all. Instead, researchers found that the core is "fuzzy," -- neither a small compact core nor a non-existent core.
Bolton said the core may be partially dissolved, and is certainly much larger than anybody had anticipated. Even before Juno launched, researchers knew Jupiter had the most intense magnetic field in the solar system.
But now, astronomers see that it is "substantially stronger than models predicted, at 7.766 Gauss, or roughly ten times Earth's magnetic field," said the study.
According to Jack Connerney, Juno deputy principal investigator and the lead for the mission's magnetic field investigation at Nasa, the "magnetic field looks lumpy.
"It is stronger in some places and weaker in others," he said. "Every fly-by we execute gets us closer to determining where and how Jupiter's dynamo works."
This article appeared in the South China Morning Post print edition as: Juno captures stunning images of 'turbulent' Jupiter