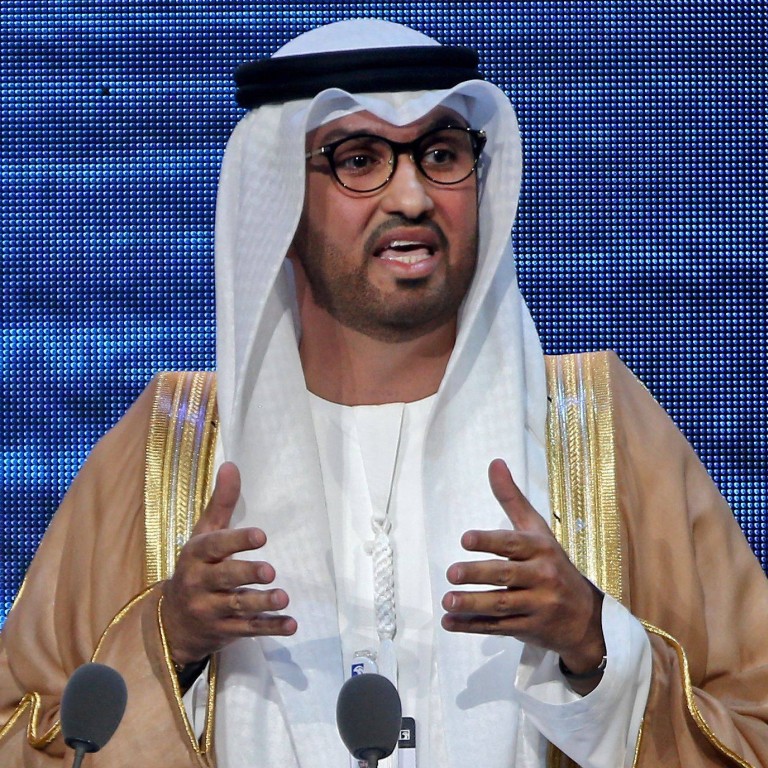 'Outrageous conflict of interest': UAE faces backlash as it names oil chief to head COP28 climate talks
Sultan Ahmed al-Jaber, the head of the UAE's national oil company was named president of this year's COP28 climate talks, prompting fierce criticism
Activists were quick to criticise his appointment, with one climate advocate calling it an 'outrageous conflict of interest'
The head of the United Arab Emirates' national oil company was named on Thursday as president of this year's COP28 climate talks, prompting fierce criticism from environmental activists.
Sultan al-Jaber, chief executive of the
UAE
's Abu Dhabi National Oil Company (ADNOC), will be the first CEO to take the role at the
UN
summit, said a statement carried by the official WAM news agency.
"I sincerely believe that climate action today is an immense economic opportunity for investment in sustainable growth," he was quoted as saying, promising a "pragmatic" approach.
Jaber, the UAE's minister of industry, is also the Gulf state's special envoy for climate change and has taken part in more than 10 COP meetings.
He is CEO of Masdar, the UAE's renewable energy company, and has "played a key role in shaping the country's clean energy path", the statement said.
But climate activists were quick to criticise his appointment. Harjeet Singh, head of global political strategy at Climate Action Network International, said it "poses an outrageous conflict of interest".
Teresa Anderson, global lead on climate justice at ActionAid, an NGO, said: "This appointment goes beyond putting the fox in charge of the henhouse."
And Rachel Kyte, dean of the Fletcher School of international affairs at Tufts University in the US, warned: "The incoming COP president has a dilemma.
"The UAE is competing to be the most efficient and lowest-cost source of fossil fuels as global production must diminish through the energy transition," she said.
"It will be challenging as COP president to unite countries around more aggressive action while at the same time suggesting that other producers stop producing because UAE has you covered.
"We don't have the planetary space for mixed messages," she added.
COP27
, held in
Egypt
in November, concluded with the adoption of a hotly contested text on aid to poor countries affected by climate change, but failed to set new ambitions for lowering greenhouse gas emissions.
The UAE, one of the world's biggest crude producers, will host the next edition in Dubai in November and December. It had the largest contingent of oil and gas lobbyists at last year's talks.
The Gulf monarchy argues that oil remains indispensable to the global economy and is pushing the merits of carbon capture – removing carbon dioxide, the main greenhouse gas, as fuel is burned or from the air.
"Limiting global warming to 1.5C will require significant reductions in emissions, a pragmatic, practical and realistic approach to the energy transition and more help for emerging economies," the UAE's statement said, referring to the goal set at previous COP summits.
The UAE is one of the countries at the sharp end of climate change as it lies in one of the world's hottest regions, with summer temperatures nudging 50 degrees Celsius (122 degrees Fahrenheit).
According to a study published in 2021, parts of the Gulf could become too hot for human habitation by the end of this century.
The UAE has announced ambitious environmental initiatives, including plans for 20 gigawatts of installed solar capacity by 2030 and a fully operational nuclear power station by 2024.
But the Gulf state also forecasts that the oil and gas industry would need to invest more than US$600 billion every year until 2030 to keep up with expected demand.
Former UN climate chief Yvo de Boer offered support for the UAE and Jaber, saying his work in "green growth strategy" and renewable energy give him the "understanding, experience and responsibility" to make COP28 a success.
With its high use of air-conditioning and desalinated water, and ubiquitous SUVs plying 10-lane highways, the UAE was the world's fourth biggest polluter per capita in 2019, according to the
World Bank
.
It is aiming to develop enough renewable energy to cover half of its needs by 2050, when it is targeting domestic carbon neutrality – which excludes emissions from its exported oil.