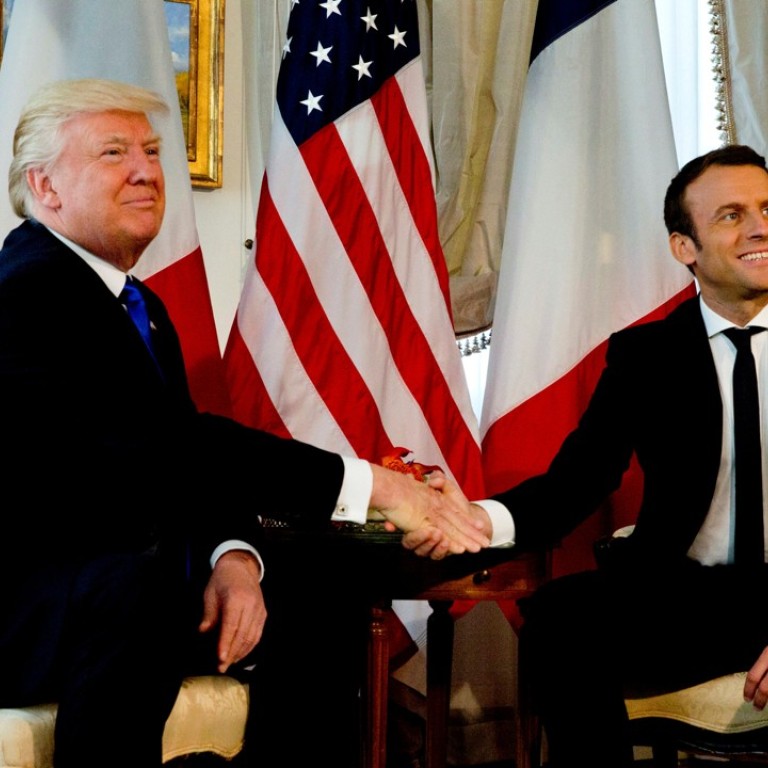 Video

|
'You tiny little man': watch Trump's bizarre body-language battles in Brussels
US President gets into two handshake battles with French President Emmanuel Macron, and shoves aside Montenegro's PM to get to front of photo-op
Diplomacy can be a white-knuckle ride at times, and that is never truer than when Donald Trump is involved.
In a series of strange incidents in Brussels, Trump engaged in a hand-crunching standoff with French President Emmanuel Macron, shoved aside the Prime Minister of Montenegro in his enthusiasm to put himself front and centre for a photo opportunity, and then resumed his arm-wrenching duel with Macron.
By that stage, the situation was drawing open laughter from the likes of German Chancellor Angela Merkel and Nato chief Jens Stoltenberg.
The body-language battles began when French President Macron refused to be shaken when he found himself in a handshake battle with Trump Thursday.
Former reality TV star Trump is known to make visitors flinch with a strong handshake that he often combines with a wrench of the arm to leave his victim off balance. Victims have included th likes of Japanese Prime Minister Shinzo Abe, whose eye-rolling reaction to Trump's excruciating 19-second death grip went viral in February.
But Macron, France's 39-year-old political wunderkind, appeared to be ready for him when they met for lunch at the US embassy in Brussels ahead of a NATO summit.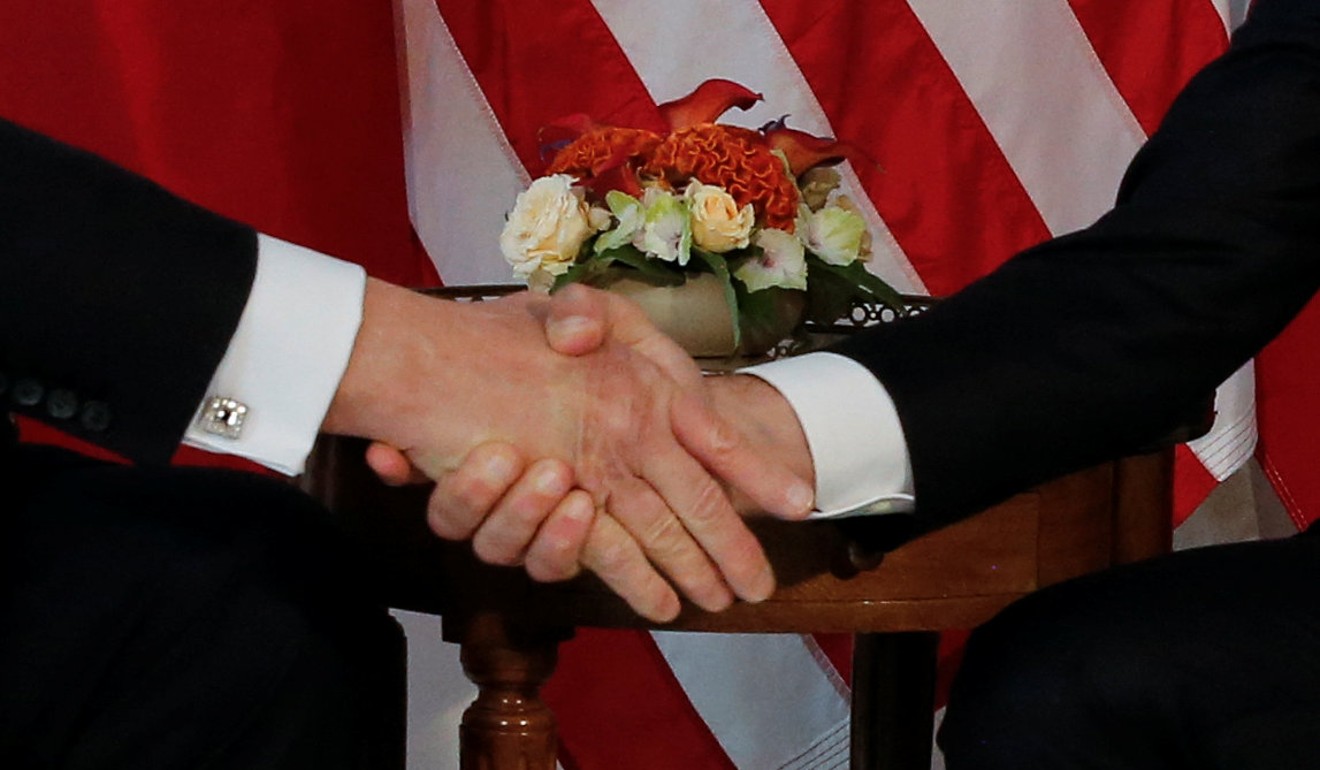 As the world cameras watched, Macron held on tight to Trump's notorious power grip as the two men sat next to each other, the Frenchman's mouth clenched and eyes firmly fixed at the tycoon's squinted stare. Macron eventually appeared to get the better of Trump, even squishing the US President's fingers straight as he appeared to refuse to let Trump withdraw his hand.
Their knuckles appeared to turn white with their jaws clenching and faces tightening.
The moment - finally, and to the relief of all - broke off, and the men left the scene to enjoy a quick meal of veal fillet with Belgian chocolate mousse for dessert.
But the two presidents were not finished.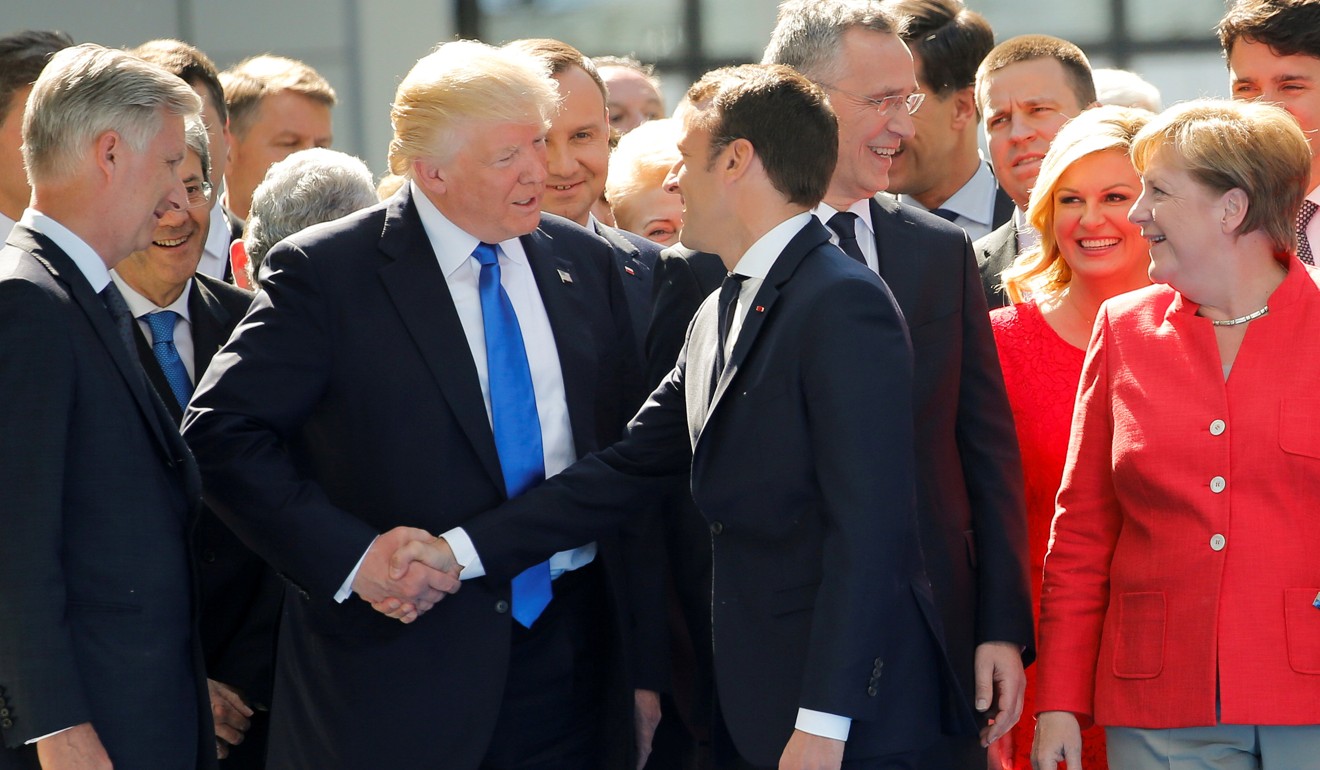 Later at Nato headquarters Macron was the last to turn up for the opening of the alliance's new headquarters and found himself again shaking hands.
Cue laughs from leaders including German Chancellor Angela Merkel and NATO chief Jens Stoltenberg as Macron found his arm wrenched about by a smiling Trump.
Thursday's family portrait at NATO was also notable for Trump pushing aside the prime minister of Montenegro, Dusko Markovic, in order to get in the front row.
Among Trump's critics was British author J.K. Rowling - the creator of Harry Potter.
"You tiny, tiny, tiny little man," she tweeted, providing a GIF of the strange incident.
Trump then stood near Markovic and spoke to Lithuanian President Dalia Grybauskaite.
Video of the incident spread on social networks in multiple languages.
"It seems Donald Trump did not want that anyone overshadows his presence at the summit," said the Montenegro newspaper Vijesti.
Other Balkan websites ran headlines such as "America First" and "Where do you think you are going?"
Markovic himself, however, shrugged off the slight.
"It didn't really register. I just saw reactions about it on social networks. It is simply a harmless situation," he told reporters after the summit.
Instead of being insulted, he took the opportunity to thank Trump for supporting Montenegro's membership in NATO. The small former Yugoslav republic is slated to become NATO's 29th member next month.
And in any case, Markovic said, "it is natural that the president of the United States is in the front row."
Montenegro will formally become NATO's 29th member on June 5, the alliance announced on Thursday, amid bitter Russian opposition to the move.
Additional reporting by AP
This article appeared in the South China Morning Post print edition as: Bizarre body language battles