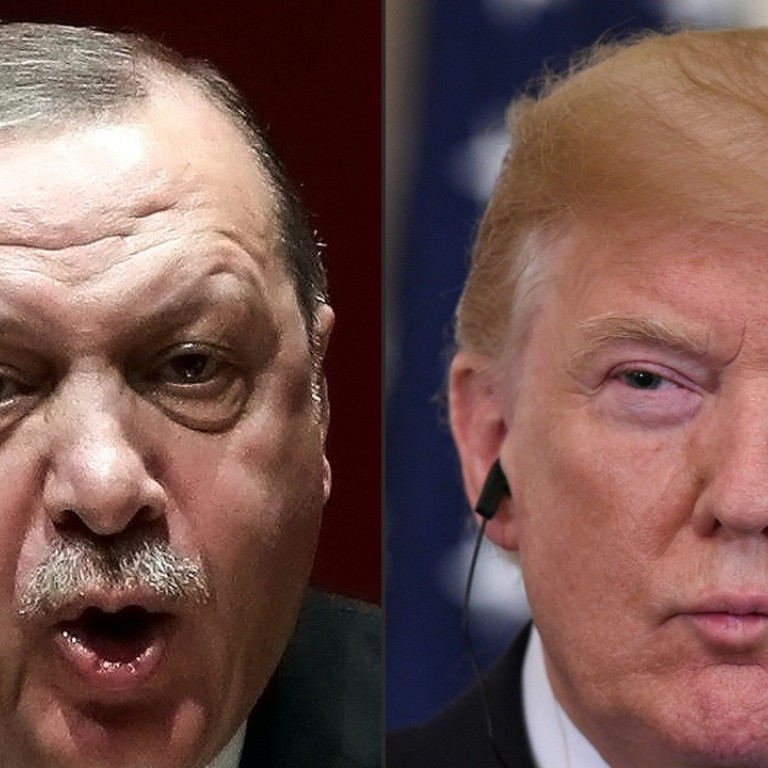 Turkey increases tariffs on some US imports in retaliation for 'economic attacks'
The decision to impose new tariffs came a day after Erdogan said Turkey would boycott US electronic goods, singling out iPhones.
Turkey said on Wednesday it would increase tariffs on imports of certain US products, including rice, cars, alcohol and coal – escalating a feud with the United States that has helped trigger a currency crisis.
The Turkish government said tariffs on American cars will be doubled to 120 per cent while those on alcoholic drinks will be hiked by the same rate to 140 per cent. Overall, the duties will amount to US$533 million, a relatively small sum that is unlikely to hurt US companies much and appears meant instead to make a political point.
Vice-President Fuat Oktay said on Twitter that the tariffs on certain products were increased "within he framework of the principle of reciprocity in retaliation for the deliberate economic attacks by the United States".
The tariffs came a day after President Recep Tayyip Erdogan said Turkey would boycott US electronic goods, singling out iPhones. He suggested Turks would buy local or Korean phones instead, though it was unclear how the boycott would be enforced or encouraged.
Apple has 22 per cent of the smartphone market in Turkey, where 11.4 million units were sold last year, according to Ramazan Yavuz, research manager at IDC consultancy company.
Although preference for Apple products is strong, their already high prices are curbing demand, Yavuz said adding that the boycott "is expected to reduce Apple's performance in the country in the upcoming quarters".
The Turkish lira has dropped to record lows in recent weeks, having fallen some 42 per cent so far this year. It recovered a bit, by 4 per cent to around 6.12 lira per dollar Wednesday, after the government took steps to shore up the currency by reducing the daily limit in bank foreign currency swap transactions.
Also helping was Turkey's decision to release two Greek soldiers from prison on Tuesday, increasing prospects for improved relations with the European Union.
Presidential spokesman Ibrahim Kalin claimed on Wednesday that a series of measures aimed at shoring up the Turkish currency were taking effect and that he expected the lira to strengthen further.
"We predict that measures that our institutions will continue to take will result in an even stronger normalisation of the Turkish economy," Kalin said.
But fundamental concerns about the economy persist, experts said.
Investors are worried that about Erdogan's control over the central bank and his pressure to keep it from raising interest rates. Higher rates would slow economic growth, which he wants to egg on, but are urgently needed to support the currency and tame inflation, experts say.
The currency drop is particularly painful for Turkey because it has accumulated a high debt in foreign currencies.
Attention will turn on Thursday to an address by the finance minister to foreign investors for clues on any change in economic policy.
Erdogan has reacted to the financial instability by blaming foreign powers, in particularly the US, a long-time Nato ally, which he says is waging an "economic war" as part of a plot to harm Turkey.
Washington has imposed financial sanctions on two Turkish ministers and doubled steel and aluminium tariffs on Turkey, as US President Donald Trump tries to secure the release of Andrew Brunson, a 50-year-old American pastor being tried in Turkey on espionage and terrorism-related charges.
On Wednesday, a court rejected an appeal for Brunson's release from detention and for a travel ban against him to be lifted, the state-run Anadolu Agency reported. A higher court was however, was scheduled to review the appeal, the agency said.
Although he was released to home detention, Brunson faces a prison sentence of up to 35 years if he is convicted on both counts at the end of his ongoing trial.
The evangelical pastor, who is originally from Black Mountain, North Carolina, has lived in Turkey for 23 years and led the Izmir Resurrection Church.
This article appeared in the South China Morning Post print edition as: tariffs on U.S. imports to rise as feud widens