Britain
Get more with myNEWS
A personalised news feed of stories that matter to you
Learn more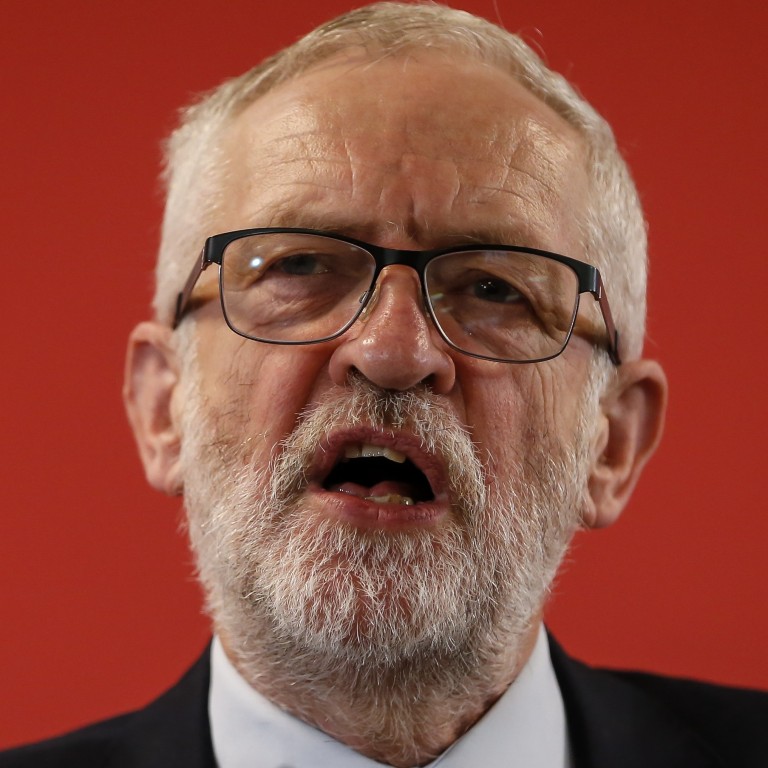 In the UK, how would a Jeremy Corbyn government engage China and the Hong Kong protests?
The Labour leader and prime ministerial candidate is under pressure to take a clearer line on human rights issues involving Beijing
But any criticism is expected to remain muted to maximise the possibility of securing a long-term free trade deal with China
The calls for a more assertive stance of support came at a meeting held by the Labour-affiliated Fabian Society,
Britain
's oldest think tank, in London this week.
The meeting was addressed by Hong Kong pro-democracy activist
Joshua Wong
, who spoke via video link after a court in the city banned him from travelling to London. It was also attended by Simon Cheng, the former employee of the British consulate in Hong Kong
who alleges he was tortured in China
.
"We are very conscious of the importance of international support for democracy in Hong Kong and it's very important that the Labour Party don't just see China as a trading opportunity," the Labour peer Charles Falconer, Baron Falconer of Thoroton and a former lord chancellor, who chaired the meeting, told the South China Morning Post.
"There is a strand of opinion that says Hong Kong is a rebellion of the rich. You should not buy the [Communist Party] line that that is what it is. The degree of repression is huge," he said.
Falconer was referring to some on the left of the Labour Party who suspect the "black hand" of the
United States
and British government of stirring up the protests.
Corbyn has said little about his foreign policy plans should he win the December 12 general election, and even less on China, leading to accusations from some quarters that he is too soft on authoritarian governments.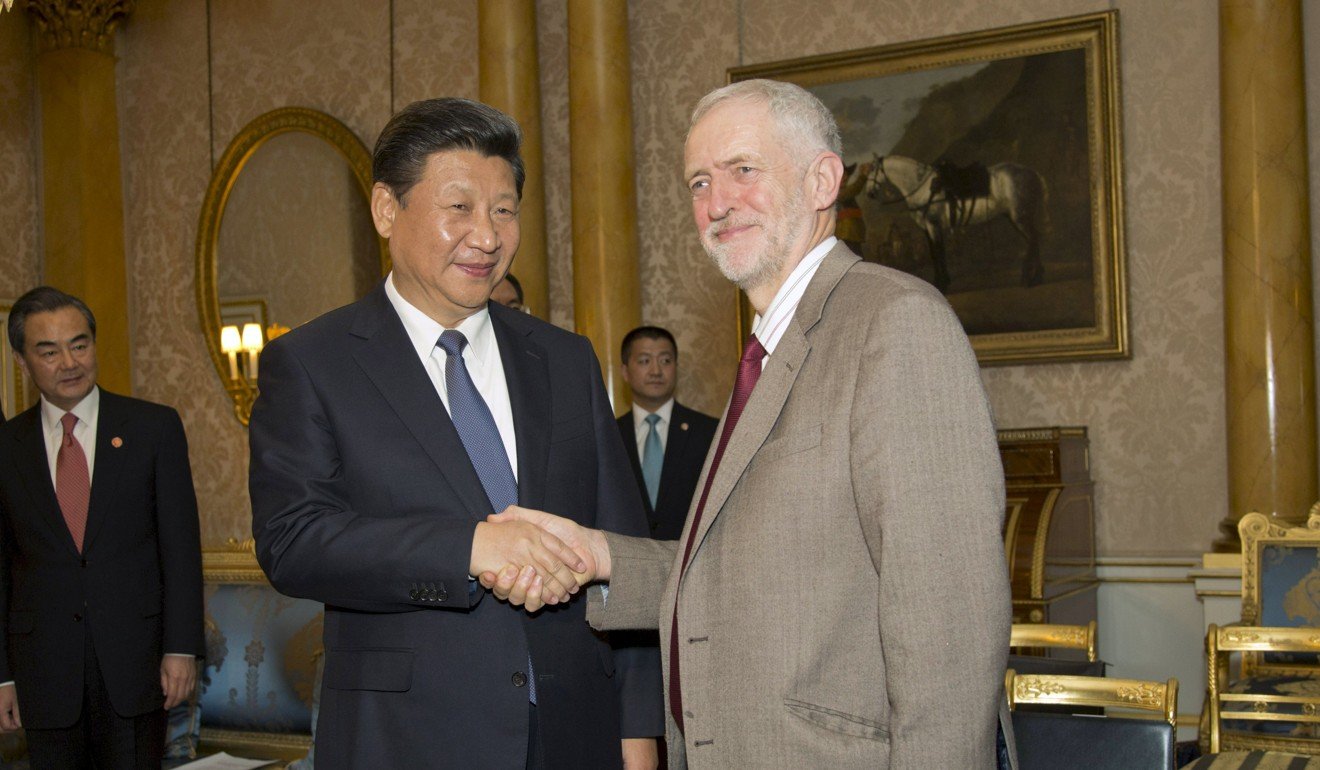 Earlier this year Corbyn came under fire for snubbing US President
Donald Trump
when he came to Britain, after the Labour leader had attended a private meeting with
Xi Jinping
when the Chinese president visited in 2015.
Chinese for Labour activist Stephen Ng told the Fabian Society meeting that for too long Sino-Anglo business interests had taken priority over democracy and
human rights
issues.
"Imperialism is all the same, whether Chinese or British," he said.
At a panel on the foreign policy of the different political parties held last month at British foreign policy think tank Chatham House, shadow foreign secretary Emily Thornberry said she
agreed with the last British governor of Hong Kong
, Chris Patten, that the British government "has been utterly craven in its attitude to China and Hong Kong".
"We rightly worry about democracy in Hong Kong and religious persecution on the mainland but China has shown the capacity for change before, on issues like climate change and many others," she said. "We must now influence it to take the lead on the issue of human rights."
China has repeatedly criticised foreign interference
in the domestic issue of Hong Kong, which has been gripped by six months of social unrest. Mass demonstrations against a now-withdrawn extradition bill have since morphed into a wider anti-government movement.
Beijing has also rejected Western criticism of the large facilities it has built in
Xinjiang
, where nearly 1 million Uygurs have reportedly been detained. It calls the facilities "vocational training centres" and says they help tackle extremism.
"China has featured briefly in Labour's election campaign with a section in its manifesto noting that the 'Uygurs in China have been met with total inaction and apathy by the current UK government' – leading to an implicit suggestion that a Corbyn government would be more assertive," said Chris Ogden, associate professor in Asian security at the University of St Andrews' School of International Relations.
"That stated, any new government in the
post-Brexit
climate will be looking to secure new global trade deals, with China being a much-prized trading partner. As such, we can expect a Corbyn government – just like a Johnson one – to mute its criticism of China so as to not antagonise Beijing and to maximise the possibility of securing a long-term free trade deal."
Labour MP Catherine West, a strong supporter of the Hong Kong protesters, said the party had pledged £400 million (US$525 million) to promote human rights around the world through its foreign office that "would allow ministers to underline human rights concerns in bilateral meetings".
Other observers said there were signals that a Corbyn government would "kowtow to Beijing".
"Here is a man who wants to be prime minister and he has nothing to say about China as a world force, UK-China relations, Chinese technology and other sensitive investments in the UK, Chinese repression of minorities, human rights, trade unions and so on," said the economist George Magnus, a research associate at Oxford University's China Centre, and a critic of both Corbyn and China.
Britain received £3.84 billion in Chinese investment in 2018 – more than any other country in
Europe
and North America – despite a 76 per cent drop from the previous year due to the absence of mega deals, according to a report by the law firm Baker McKenzie.
Just last month, Jingye Group announced it was buying British Steel. The rescue deal for the collapsed steelmaker involves the Chinese conglomerate paying about £50 million and saving 4,000 jobs, mostly at its main plant in Scunthorpe in the north of England.
Corbyn has also said little about the controversial role of Chinese tech firm
Huawei
in developing Britain's 5G network.
Prime Minister Boris Johnson
earlier this week said Britain would follow the example of Australia and the US and block Huawei in vital infrastructure if it threatened the West's
"Five Eyes" security alliance
.