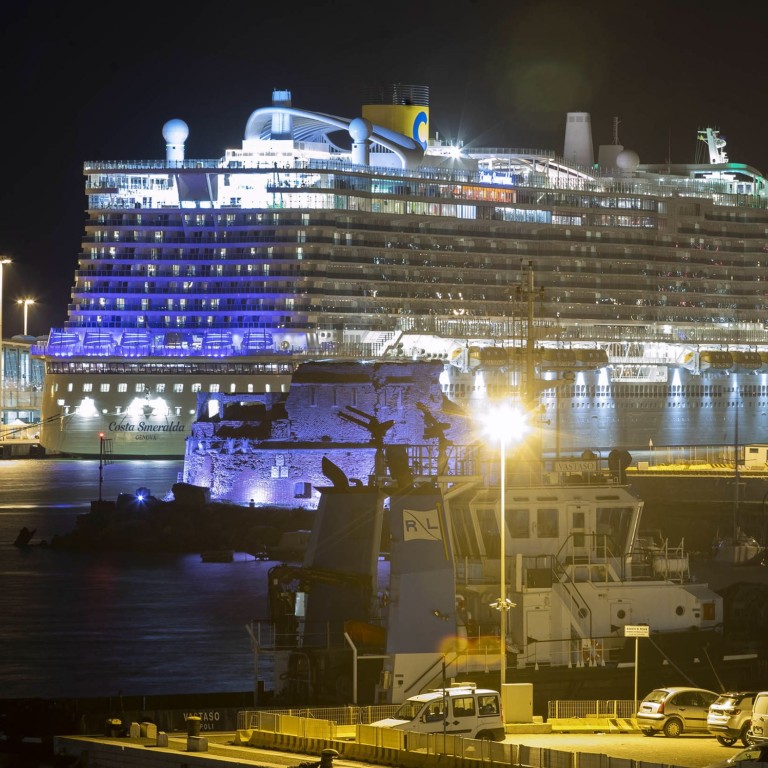 Coronavirus scare: cruise ship passengers in Italy free to go after Chinese tourists cleared
Sick Macau woman and travel companion both test negative for coronavirus, ending lockdown of vessel with 7,000 people on board
Country's first two cases confirmed elsewhere, however, prompting Italy to suspend all flights to China
Thousands of stranded tourists were free to disembark from a cruise ship at an Italian port after authorities said two Chinese passengers feared to have the coronavirus tested negative on Thursday.
Italy's institute for infectious diseases examined samples taken from a Chinese woman ill with a fever, as well as her travelling companion, and both were negative for coronavirus, the health ministry said.
It was not immediately clear whether passengers, who had been stranded for 12 hours, would disembark from the Costa Smeralda cruise ship on Thursday or Friday.
Some 1,000 new passengers were due to board the ship in Civitavecchia and 1,400 were due to permanently disembark.
The news came as the UN health agency
declared an international emergency
over the deadly coronavirus from China, and shortly before Italian Prime Minister Giuseppe Conte announced that two cases had been confirmed in Italy, the first in the country.
Costa Cruises said a 54-year old woman from Macau "was placed in solitary confinement in the on-board hospital last night with her travel companion".
Some 750 other Chinese passengers were on board and all appear to be in good health.
Costa Cruises was offering to pay for food and hotels for some 1,140 people who had been due to go ashore at the Civitavecchia port near Rome, and the ship was to set sail again Friday, Italian media said.
"People are irritable and exasperated," one passenger who was on board with his wife told ANSA news agency.
"They've given us rooms to use as a base while we wait, but there's no privacy," he said.
The Smeralda, the company's flagship and the fifth-largest cruise ship in the world, had sailed in from Palma de Mallorca as part of a one-week trip in the western Mediterranean.
The couple flew in to Milan from Hong Kong on January 25, before getting on board at Savona in northern Italy, according to media reports.
The ship also stopped at Marseilles and Barcelona, as well as Parma de Mallorca, according to an itinerary on its website. It had been due to sail for La Spezia in north Italy late Thursday, but would skip that stop and head straight for Savona, the media said.
Meanwhile, the Italian government said it was suspending all flights between Italy and China after doctors confirmed two Chinese tourists had tested positive for the coronavirus.
The pair, reportedly husband and wife, are in good condition and are in an isolation unit of Rome's Spallanzani institute, a centre specialising in infectious diseases and viruses,
Health Minister Roberto Speranza has issued a "decree closing air traffic to and from China". Prime Minister Conte told a news conference without giving a list of the affected airlines.
"We think we are the first EU country to take this precautionary measure," Conte added.
Prominent figures in Chinese communities in Italy warned on Thursday of episodes of "latent racism" against their compatriots by Italians as tensions increased over the deadly virus following the news of the cruise ship lockdown.
Italian newspapers have reported cases of bullying or discrimination against Chinese people following the outbreak of the disease.
"It's extremely unpleasant, absurd, and infuriating," Francesco Wu, a member of the Italian Business Association Confcommercio, often called on to speak for the 30,000-strong Chinese community in Milan, told La Stampa daily.
Racist episodes reportedly included Chinese tourists being spat at in Venice, a family in Turin being accused of carrying the disease, and mothers in Milan using social media to call for Italian children to be kept away from Chinese classmates.
"It's totally unjustified and it hurts even more because it involves children. It's a mix of ignorance and latent racism," Wu said.
Chinese journalist Hu Lanbo, who has lived in Italy for 30 years and who runs the China in Italy monthly, published an open letter "to Italian friends".
"Believing that one can catch the new coronavirus at the mere sight of a Chinese person really makes no sense," she said.
Additional reporting by Reuters