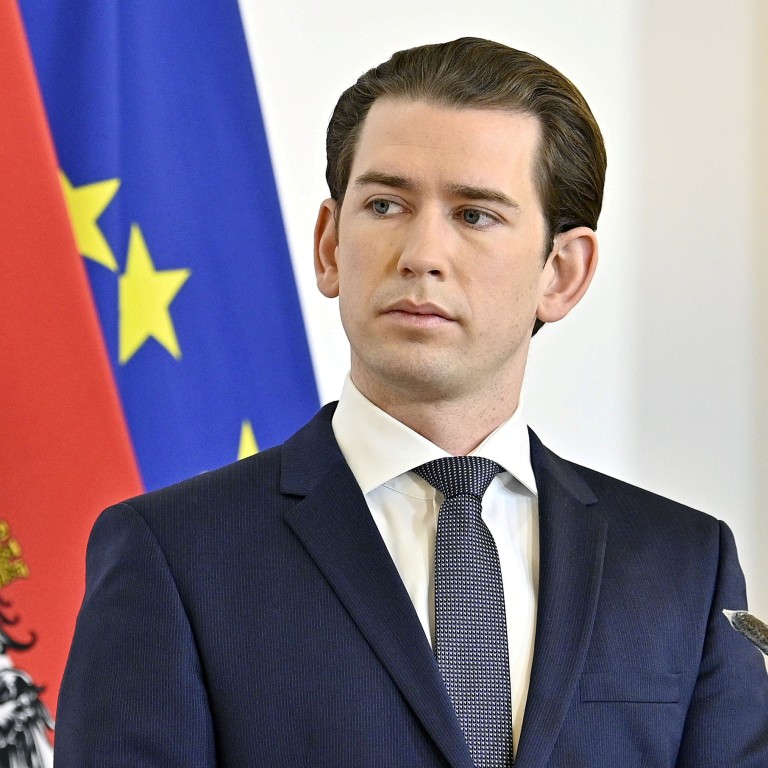 Coronavirus: Austria, in a shift, requires mask-wearing in supermarkets to cut pandemic's spread
Move, the first by a European nation, could be seen as vindication for Asian officials who have stressed the importance of the practice
'Masks are alien to our culture. This will require a big adjustment,' Austrian chancellor Sebastian Kurz says
Austrian officials announced on Monday that they were making the wearing of masks in supermarket mandatory in a bid to curb the coronavirus outbreak there, the first time a European government has taken such a step.
"As of the moment these masks are handed out in front of supermarkets [and] it will be compulsory to wear them in supermarkets," Austrian chancellor Sebastian Kurz said, adding that the aim in the medium-term was for people to wear them in public more generally as well.
Underlining the departure from European practices, Kurz said: "I am fully aware that masks are alien to our culture. This will require a big adjustment."
For health experts in East Asia who for months have encouraged the public to wear face masks amid the Covid-19 pandemic, Austria's announcement could be seen as belated vindication in what has become something of an East/West divide in the debate over whether the measure helps reduce the spread of coronavirus.
While infection rates for places like Hong Kong and Japan– where masks are being worn, despite the lack of more drastic measures like lockdowns – remain low, their European counterparts are considering whether face masks should be made mandatory to help flatten the curve.
The masks to be distributed in Austria are below medical grade and aimed at preventing the wearer from spreading it to others by coughing or sneezing, Kurz said, adding: "Currently the infections are far too high."
According to the database compiled by Johns Hopkins University, Austria has 9,377 confirmed cases, only the ninth most among European nations, and 108 deaths.
Hours after Kurz's announcement, though, Germany – with 57,298 confirmed cases and 455 deaths – signalled it might move in the same direction.
Health ministry spokesman Hanno Kautz said that wearing masks in public may have a role to play when Germany starts unwinding the lockdown measures that are now in place.
Such masks, he said, could help protect others from contracting the illness from the wearer.
Last week, the president of the German Medical Association, Klaus Reinhardt, made a similar recommendation, telling Germans: "My advice: Get simple protective masks or make your own and wear them in public spaces."
The level of European readiness to embrace face masks as a public measure contradicts earlier rejection of such a practice widely accepted and promoted by East Asian epidemiologists and officials.
Leading infectious diseases experts in Hong Kong, for example, have been asking the public to wear face masks since January, when the virus broke out in Hubei province in mainland China. Ex-pats in Hong Kong have been criticised for not wearing masks like much of the rest of the population have been doing.
Comparative trajectories have indicated that East Asian countries with high percentages of public mask-wearing – including Hong Kong and South Korea – have had flatter curves of infection than the US and most European countries, where mask-wearing is not part of the public mindset.
There has been no dedicated research determining the correlation between mask-wearing and infection rate among countries.
In Britain, Dr Shunmay Yeung, of the London School of Hygiene and Tropical Medicine, has publicly advocated against the need for face masks, contending that the virus is not floating in the air and is transmitted primarily through physical touch.
"One of the problems if lots of people who don't need face masks are using face masks or stockpiling them, it means that there aren't enough face masks available where they're really needed," she says in one video, uploaded in mid-March and often replayed on the BBC. "The vast majority of people are not susceptible to getting a severe infection."
By Monday, however, the capacity of Britain's health care system was facing enormous pressure, with confirmed cases and fatalities on the rise. Before the government announced a lockdown last week, Asians in Britain reported facing hostile treatment when they wore face masks.
In an interview with Science, a peer-reviewed academic journal of the American Association for the Advancement of Science, a top Chinese health official called it a major oversight that Americans and Europeans have not been wearing face masks.
"The big mistake in the US and Europe, in my opinion, is that people aren't wearing masks," George Gao Fu, director general of the Chinese Center for Disease Control and Prevention (CDC), said.
"This virus is transmitted by droplets and close contact. Droplets play a very important role – you've got to wear a mask, because when you speak, there are always droplets coming out of your mouth."
This article appeared in the South China Morning Post print edition as: Austria makes masks mandatory in supermarkets