Matt Hancock kissing video leak sparks fears of bugged UK government offices
Security reviews launched after leak of footage of minister kissing aide in office
UK government says it does not believe there were any 'covert concerns'
British politicians and security experts have raised concerns of potential foreign spying in the offices and corridors of Westminster following leaked video footage of a minister embracing his aide.
Matt Hancock
resigned as health secretary
last weekend after he was caught kissing aide Gina Coladangelo at work, in breach of the government's coronavirus social distancing rules.
The government has said it does not believe there were any "covert concerns" after leaked video footage and images of the pair, filmed by a ceiling-mounted camera in Hancock's office, were published by The Sun.
Security cameras in the building are made by the Chinese surveillance giant Hikvision, and Hancock seemed unaware of the existence of the camera that filmed him and Coladangelo.
Who leaked the video and why the camera was pointed at a door where the married Hancock and his aide kissed, instead of a balcony as it should have been, was being investigated by the Department of Health and Social Care, not police.
The Mail on Sunday reported that a whistle-blower in the Department of Health had obtained the footage, while The Sunday Times said the camera had been hidden inside a smoke detector.
"Having a Hikvison camera inside a minister's office is not making sure we are as secure as possible," said Charles Parton, senior associate fellow at the Royal United Services Institute think thank.
"I very much doubt China has anything to do with it, but I do think it's unwise to have a Chinese camera in a government office. Don't use Hikvision in places where there are sensitive comings and goings because those cameras can - and do - transmit data back to China," said Parton, who was a diplomat for 37 years, with postings in mainland China and Hong Kong.
Hikvision previously said it took cybersecurity seriously and that it followed all laws and regulations in markets it operated.
The company has been linked to alleged human rights abuses in
Xinjiang
and was placed on a trade blacklist by the US over national security concerns. In April, the European Parliament voted to remove the company's thermal cameras from parliament premises.
There is an estimated 1.3 million Hikvision cameras in the UK. They are used by local health authorities, at least half of London's councils, and are in airports and government departments.
The leak of the Hancock video has caused disquiet on both sides of the House of Commons.
"This is not about Matt Hancock's hypocrisy being exposed, it's about the potentially huge risks posed by such a lax approach from government to security in its own buildings," said Labour's shadow security minister Conor McGinn.
"The government must urgently review all of its key buildings, have the intelligence agencies sweep them for bugs and unauthorised CCTV, and address the speculation about a private company with links to China having access to Whitehall's inner sanctums."
The China Research Group of Conservative Party MPs called for a "central review of surveillance tech to assess security risks".
House of Commons' Speaker Lindsay Hoyle told parliament he had also ordered an investigation.
Department of Health offices at 39 Victoria Street, where Hancock was filmed, are owned by the Singapore-based company Ho Bee Land Ltd, which bought the building in 2015 and leased it to the government. Ho Bee Land has commercial and residential businesses in the UK, Singapore, China and Australia.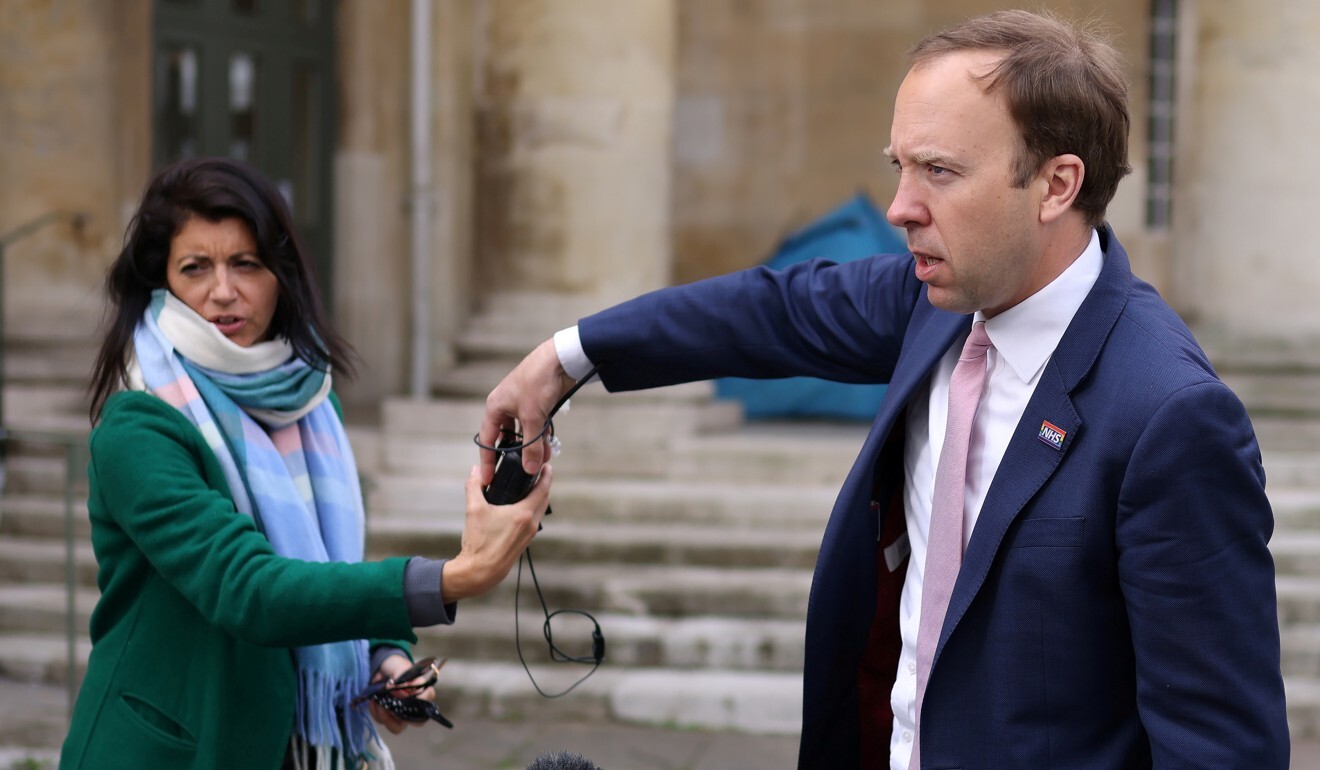 The camera in question has reportedly been in place since at least 2017, although it is not known whether it has ever been disabled then re-enabled.
Security for the building is provided by Emcor, a US security company that also provides security for the US Department of Health.
South China Morning Post was unable to reach Emcor's spokespeople in the UK for comment.
The Hancock scandal comes after Prime Minister Boris Johnson's former chief adviser Dominic Cummings claimed that the former health secretary and other government ministers, including Johnson, often used private email accounts and personal phones for government business.
The concern was that this could potentially put communications at risk of being intercepted by other parties.
Several leaks have roiled the UK government in recent years. Gavin Williamson was sacked as defence minister in 2019 by then-prime Minister Theresa May for revealing secret discussions about Huawei's role in Britain's
5G
network. It is a charge Williams, now education secretary, has always denied.
Additional reporting by Bloomberg
This article appeared in the South China Morning Post print edition as: footage of hancock kiss raises spy fears