Nato
Get more with myNEWS
A personalised news feed of stories that matter to you
Learn more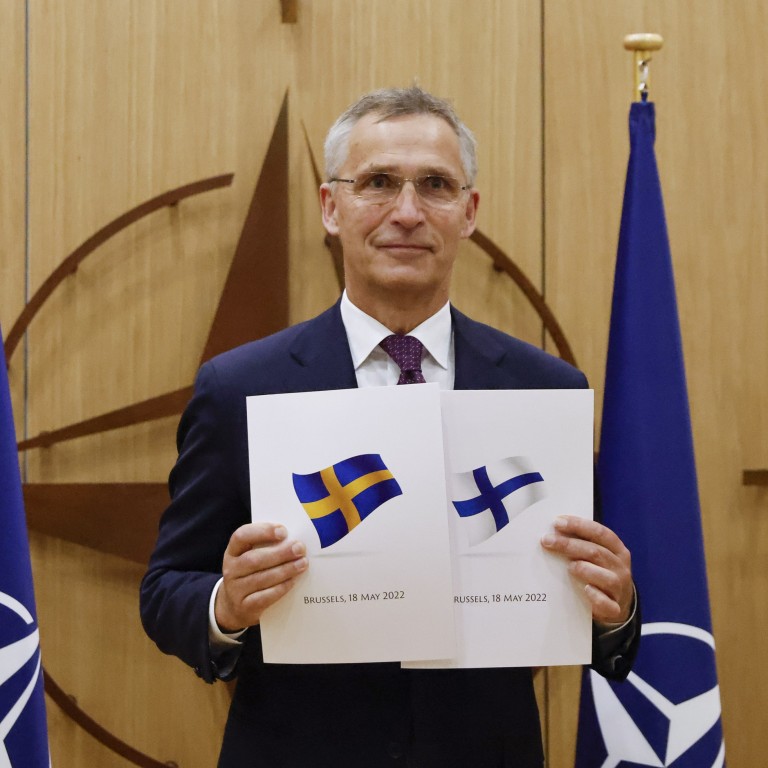 Finland and Sweden submit applications to join Nato
Bid to join Nato was driven by security concerns over Russia's war in Ukraine
Turkey has expressed reservations about Finland and Sweden joining alliance
Finland and Sweden formally applied to join the Nato alliance on Wednesday at allied headquarters, a decision spurred by Russia's invasion of Ukraine, and setting in motion an accession process that is expected to take only a few weeks.
Sweden and Finland were both neutral throughout the Cold War, and their decision to join Nato is one of the most significant changes in Europe's security architecture for decades, reflecting a sweeping shift in public opinion in the Nordic region since Russia's February 24 invasion.
"This is a historic moment, which we must seize," Nato Secretary General Jens Stoltenberg said at a short ceremony in which the Swedish and Finnish ambassadors to the alliance handed over their application letters, each in a white folder embossed with their national flag.
"I warmly welcome requests by Finland and Sweden to join Nato. You are our closest partners, and your membership in Nato will increase our shared security," Stoltenberg said. The alliance considers that the accession of Finland and Sweden would hugely strengthen it in the Baltic Sea.
Both countries are close partners of Nato, but have attempted to balance security concerns with close neighbour Russia. Finland shares a 1,300km-long border with Russia, while Sweden is traditionally neutral.
Russia has repeatedly warned its Nordic neighbors that their joining the alliance would have negative repercussions.
But Moscow has since played down the membership bid, with Russian Foreign Minister Sergey Lavrov stating on Tuesday "there is probably not much difference" as Finland and Sweden have taken part previously in Nato military exercises.
Finland spent more than a century as part of the Russian empire until it gained independence in 1917. It was then invaded by the Soviet Union in 1939.
According to public opinion polls, more than three-quarters of Finns want to join the alliance, almost three times as many as before the war in Ukraine began on February 24.
Swedish public support has also risen dramatically, but remains at around 50 per cent.
Stoltenberg said the alliance would assess the membership bid as quickly as possible, but the security interests of all allies "have to be taken into account". He was referring to recent objections from Turkey.
Turkish President Recep Tayyip Erdogan said on Monday he could not agree to the accession of two countries that sanctioned his country and repeated allegations that both nations support "terrorist organisations", a reference to the banned Kurdistan Workers' Party (PKK) and the Kurdish militia People's Defence Units (YPG) in Syria.
Diplomats previously expected the swift accession of Sweden and Finland to Nato, but Turkey's resistance now overshadows the bid, with expectations that Ankara will attach conditions to admission.
Finnish and Swedish diplomats plan to travel to Ankara this week to talk to representatives of the Turkish Foreign Ministry.
According to diplomats, apart from declarations by the Finns and Swedes on the fight against terrorism, arms deals could also play a role.
The hope now is that talks scheduled by Turkish Foreign Minister Mevlut Cavusoglu in New York on Thursday could aid the dispute. Cavusoglu wants to meet with his US counterpart Antony Blinken, among others.
Should Turkey drop its objections, the accession of Sweden and Finland would be smooth. Accession protocols could be signed in June, clearing the way for the ratification procedures.
That means the Nordic countries could be Nato members by the end of the year. Their application must be approved by all 30 Nato states.
Reuters and dpa