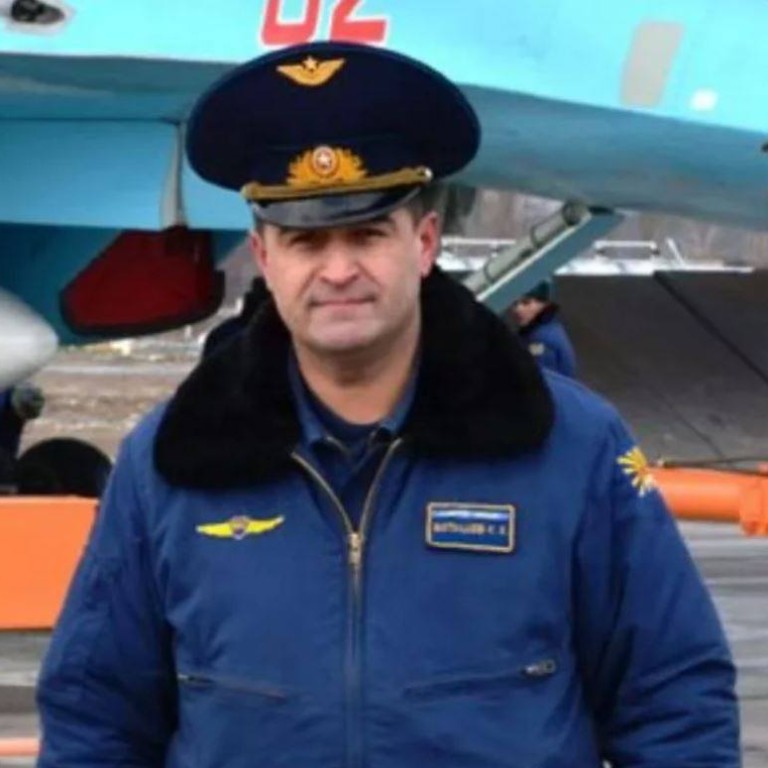 Funeral held for 'hero' Russian Su-25 fighter pilot shot down in Ukraine
Pilot Kanamat Botashev's Su-25 attack plane was shot down over the eastern Donbas region
The 63-year-old retired Russian Air Force major-general had volunteered to return to service
A funeral was held for a retired Russian Air Force major-general whose plane was shot down while flying a combat mission in his country's invasion of Ukraine.
The Russian state news agency Tass said Kanamat Botashev, a 63-year-old major-general who volunteered to return to service, had been shot down last month while flying over the eastern Donbas region.
Since invading Ukraine on February 24, Russia has suffered the loss of several generals and other senior officers.
In reporting on a memorial service held Thursday in Cherkessk – the capital of the Karachay-Cherkess Republic, Russia – Tass said Botashev was flying in response to a request for help from an assault group blocked by enemy forces.
He "decided to carry out an attack at an ultra-low altitude, and struck at the Armed Forces of Ukraine, and that subsequently helped the group to get out of the encirclement," Tass reported on Thursday.
It said that when leaving the attack, the plane was shot down by an anti-aircraft missile and Botashev was killed. He was awarded the posthumous title of "Hero of Russian Federation".
On May 22, the General Staff of the Armed Forces of Ukraine said a Russian Su-25 attack plane was shot down over the Luhansk region and that the pilot did not have time to eject.
News reports at the time tied that incident to Botashev's death, which the Russian government had not confirmed until Thursday.
It's unknown how or why Botashev retuned to service. His military career was cut short in 2012 after he was accused of crashing a Su-27 fighter near Petrozavodsk.
Some Western media reports suggested Botashev was flying for the Wagner Group, a Russian military contractor.
According to the BBC, at least 31 Russian military pilots have been killed in Ukraine and Botashev was the highest-ranking pilot to have died.
It's been estimated that Russia has lost as many as 15,000 troops in the war, if not more, and a staggering number of Russian generals have been among those killed.
Moscow, which has gone to extreme lengths to keep the Russian public in the dark on how poorly the war has gone so far, hasn't released an updated official death toll since late March.
At the time, the Russian government claimed that 1,351 soldiers had been killed.
This week, Andrey Kartapolov, the head of Russia's rubber-stamp parliament's defence committee and former Russian military officer who previously served as the deputy defence minister, said that "we have practically ceased to lose people," according to Moskovskij Komsomolets, a Moscow-based paper.
"Currently, of course, there are wounded, but there are no such number of dead," Kartapolov added, stating this is why the government had not provided an updated death toll in awhile.
Associated Press and Business Insider