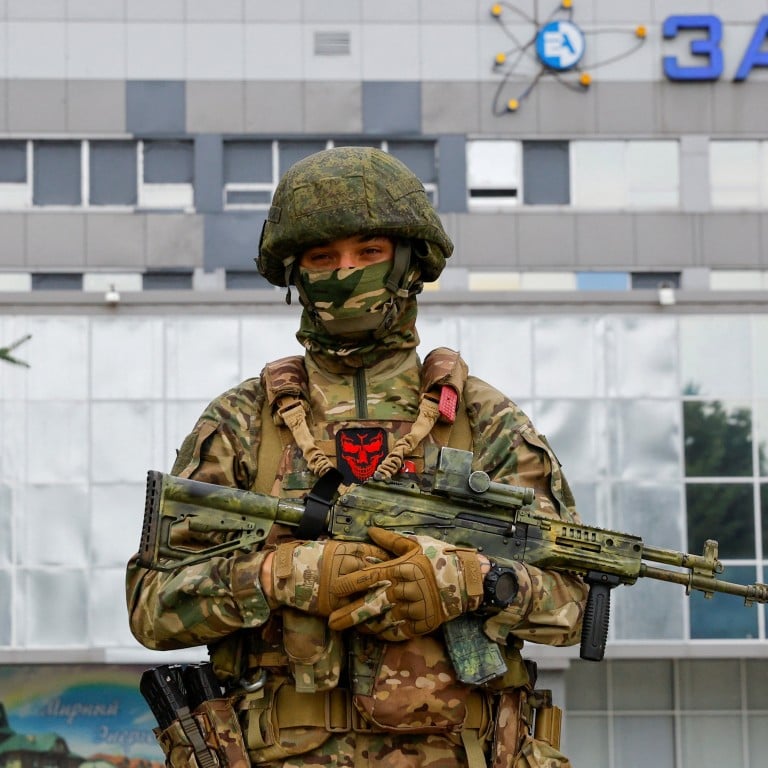 Ukraine war: IAEA calls for security zone around Russian-occupied Zaporizhzhia nuclear plant
Russia's occupation of the Zaporozhzhia facility has sparked fears of a nuclear disaster as both sides trade blame for shelling the site
Shelling continued around the plant on Tuesday, a day after it was again knocked off Ukraine's electrical grid
The International Atomic Energy Agency (IAEA) called on Tuesday for a security and safety zone around Europe's biggest nuclear power station, describing extensive damage inspectors had found at the plant on the front line in the Ukraine war.
A long-awaited report did not ascribe blame for damage at the Zaporozhzhia nuclear power plant, which Russia and Ukraine accuse each other of shelling. The plant is controlled by Russian forces but operated by Ukrainian technicians.
Inspectors said they had found Russian troops and equipment at the plant, including military vehicles parked in turbine halls. They also said conditions for Ukrainian staff operating the plant should be improved to reduce the likelihood of errors.
"Ukrainian staff operating the plant under Russian military occupation are under constant high stress and pressure, especially with the limited staff available," the IAEA report said. "This is not sustainable and could lead to increased human error with implications for nuclear safety."
IAEA inspectors led by the agency's chief, Rafael Grossi, braved shelling to cross the front line and reach the plant on Friday. Two experts have stayed on to maintain a long-term presence at the site.
Shelling continued around Europe's largest nuclear plant on Tuesday, a day after it was again knocked off Ukraine's electrical grid and put in the precarious position of relying on its own power to run its safety systems.
Ukrainian President Volodymyr Zelensky on Monday warned of a near "radiation catastrophe" and said the shelling showed Russia "does not care what the IAEA will say".
Ukraine was the scene of the world's worst nuclear disaster in 1986, when a reactor at the northern Chernobyl plant exploded and spewed radiation into the atmosphere.
Zelensky's renewed warnings about the Zaporizhzhia facility came as Ukraine made its boldest claim yet of success on the battlefield in its week-old counteroffensive against Russian forces in the south.
"We will renew our territory. We cannot freeze this conflict now. We need to step-by-step de-occupy our territory," Zelensky said in an interview with ABC News. "It's only a matter of time."
Ukraine's southern command said on Tuesday that four Russian ammunition depots had been destroyed in three districts of Kherson region in the previous 24 hours.
Bridges over the Dnipro river had been shelled, it added.
"The Ukrainian counteroffensive is making verifiable progress," US-based research group the Institute for the Study of War said, noting gains in Kherson and the eastern Donetsk region.
Russia's defence ministry said it continued to inflict heavy losses on the Ukrainian army.
Amid increased Ukrainian strikes on the occupied Kherson region, Russian-installed authorities there said earlier on Monday that for security reasons they were putting on hold their plans for a local referendum on whether the region should formally become part of Russia.
But by the afternoon, officials had a change of heart and said the ballot would go ahead as planned, though no date has been set.
In Washington, US President Joe Biden said Russia should not be designated a state sponsor of terrorism, a label Ukraine has pushed for but which Moscow has warned would rupture US-Russian ties.
Some US lawmakers have also pressed for the designation.
Additional reporting by Associated Press and Agence France-Presse