Britain
Get more with myNEWS
A personalised news feed of stories that matter to you
Learn more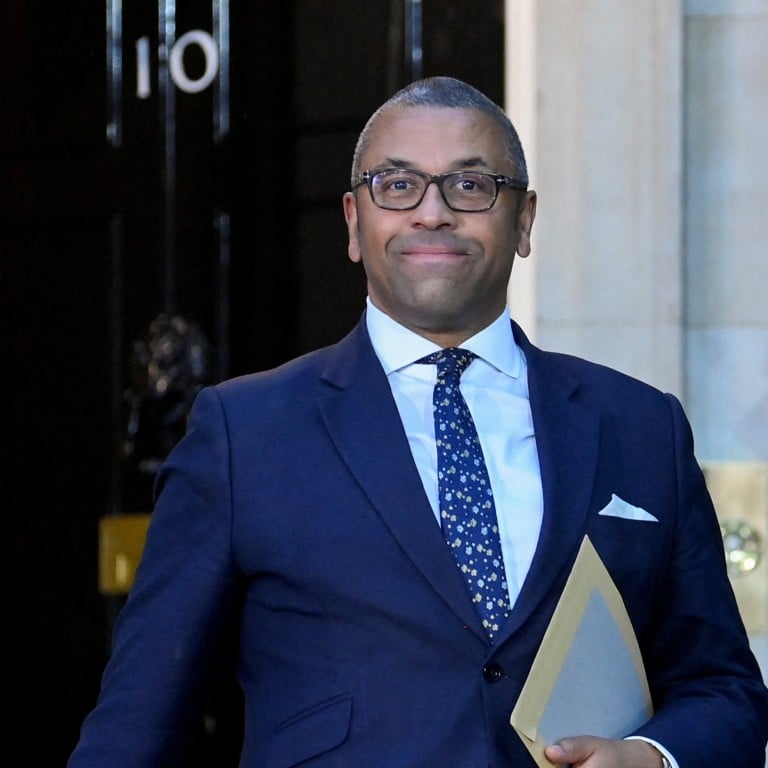 Who is James Cleverly, UK's new foreign secretary?
Britain's new prime minister Liz Truss has named James Cleverly as her foreign minister
It's seen as a reward for Cleverly supporting Truss during this summer's Tory leadership battle
James Cleverly, Britain's first foreign secretary of colour, is a low profile pick to succeed new prime minister Liz Truss in the global-facing role but is a loyal lieutenant with some diplomatic experience.
A mixed-race army reservist with the actual rank of lieutenant colonel, Cleverly spent two years as a junior foreign minister following a stint before that in the department handling Brexit.
As foreign secretary, Truss established herself as a critic of China as well as Russia, and Cleverly has indicated that her government will take a tough line with both Moscow and Beijing.
"We absolutely have to stand firm in our support to President (Volodymyr) Zelensky and the people of Ukraine, we absolutely have to do that. And I have no doubt we will continue to be as firm friends now as we have been under Boris Johnson," Cleverly told Reuters on Monday shortly after Truss was announced as the new Conservative leader.
"But of course, that's not the only issue. It's the most pressing, the most immediate, but it's not the only issue. We have to deal with that but we also have to deal with longer term issues as well. And … we will do both."
Chinese Foreign Ministry spokesperson Mao Ning said on Tuesday that she hopes relations with Britain will remain "on the right track".
Little known in the UK outside Westminster, Cleverly was first elected to parliament in 2015 after serving in London's devolved assembly from 2007 and becoming an ally of then-mayor Boris Johnson.
Originally from southeast London and representing a seat in Essex, northeast of the capital, Cleverly, 53, backed leaving the European Union in the 2016 referendum.
His elevation to be Britain's top diplomat is seen as a plum reward for loyally supporting Truss in this summer's divisive Conservative leadership battle with ex-finance minister Rishi Sunak.
Cleverly takes the post at a fraught time, with his ability to foster political relationships – especially in key European capitals – set to be sorely tested.
Europe's relatively unified response to Russia's war in Ukraine is likely to be further strained by spiralling energy prices, while post-Brexit tensions over various issues – in particular related to Northern Ireland – could be severely stoked.
Meanwhile, media reports say some in US President Joe Biden's administration take a dim view of Truss after she failed to impress during her year-long tenure as foreign secretary.
Before entering politics, Cleverly, who has a business degree from what is now the University of West London, forged a career in magazine and online publishing, running websites helping entrepreneurs and small businesses grow.
He has served in Britain's reservist Territorial Army since 1991.
Once elected an MP in the middle of the last decade, he became deputy chair of the Conservative Party in early 2018, and co-chair 18 months later.
His first ministerial role materialised in the Department for Exiting the European Union, as Britain grappled in 2019 with how best to leave the bloc.
Cleverly briefly ran to replace ex-prime minister Theresa May following her resignation that year, urging the Tories to "make a leap of faith, skip a generation and vote for a relatively new MP".
But he withdrew from the race, which was eventually won by Johnson, a week later, noting he was unlikely to get the support of enough Conservative lawmakers to make the final two-person run-off.
In 2020, he became a junior minister at the foreign office, holding several briefs including responsibility for Europe for the first half of this year.
The flurry of resignations that eventually brought down Johnson in early July saw him switched to education secretary for the past two months.
Cleverly is married with two sons.
Additional reporting by Reuters