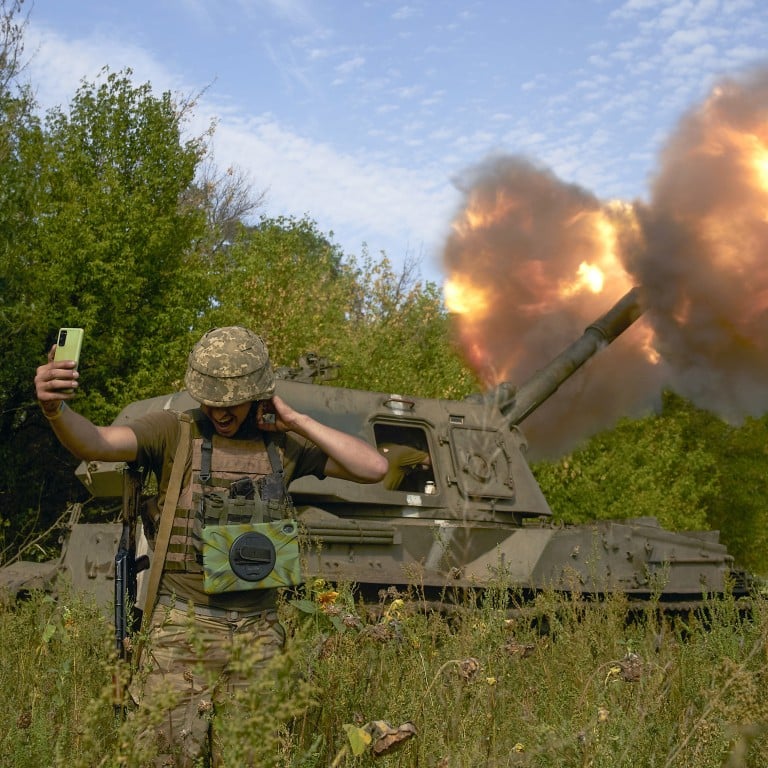 Two Ukraine counteroffensives against Russian forces now under way: Zelensky adviser
Counteroffensives in east and south intended to tie up Russian reserves, prevent reinforcing
Moscow has denied reports of Ukrainian progress and said its troops had routed Ukrainian forces
The Ukrainian army has begun two counteroffensives against Russian positions in eastern and southern Ukraine, according to a senior adviser to Ukrainian President Volodymyr Zelensky.
Adviser Oleksiy Arestovych gave no further detail on the location where the counteroffensives in question were taking place, saying that such information was for the general staff to reveal.
The dual counteroffensive was intended to tie up Russian reserves and prevent the Russian military from reinforcing one section of the front at the expense of the other, Arestovych said, adding that Ukrainian troops were really putting their Russian counterparts under pressure.
While Arestovych's comments could not immediately be verified, correspondents for Russian state TV reported that the town of Balakliya in eastern Ukraine's Kharkiv region had come under attack on Tuesday, recapturing terrain, including the village of Verbivka, in the area.
Gaining control of Balakliya could facilitate a Ukrainian attempt to encircle or partially encircle Izyum, a city with a major railway hub used by Moscow to supply its forces, according to Kyiv-based military analyst Oleh Zhdanov.
Giving its regular situation report on Wednesday morning, Ukraine's military said its ground forces had attacked seven Russian command points and 13 "objects of concentration of Russia's manpower", without saying where.
While a Ukrainian counteroffensive in the Kherson region in the south of the country has been under way since last week, very little information has been provided by the Ukrainian military on its progress, though US and British intelligence have also indicated that there has been a Ukrainian advance in the area.
Russia says it has repelled the Kherson assault, but Ukraine has reported steady success, including releasing pictures on Sunday of troops hoisting a flag over a rooftop in a newly captured town.
Western military experts say Ukraine's aim in the south appears to be to trap thousands of Russian troops on the west bank of the wide Dnipro River and cut them off by destroying their rear supply lines.
Serhiy Leshchenko, another presidential adviser, had tweeted earlier that there would be "great news" coming from the president on the operation in Kharkiv, referring to the northeastern province around Ukraine's second biggest city.
Zelensky met with his top military brass on Tuesday to discuss the situation. He did not comment in detail on the counteroffensives in his evening video address, but thanked all Ukrainian servicemen and women for their service.
He also said five Russian cruise missiles were shot down on Tuesday, most of them in the south.
The announcement of a simultaneous Ukrainian advance near Kharkiv was an indication that Russian forces were now having difficulties reinforcing along the huge length of the front, said Mark Hertling, a retired former US commander of ground forces in Europe.
"This confirms RU inability to manoeuvre forces between theatre locations & within their force's defensive 'stance' to counter Ukrainian offensive actions," Hertling tweeted. "RU is nursing wounds, bearing loss of combat capabilities (people & equipment), have bad leaders."
There have also been increasing attacks by Ukrainians in Russian-occupied areas against Moscow-installed authorities.
On Tuesday, the Russian-installed commandant of Berdiansk, a port in the south, was badly injured when his car was blown up outside the city administration building, pro-Russian local officials said, blaming Kyiv for the attack on Artyom Bardin.
The New York Times quoted US officials saying Russia, running low on supplies, was resorting to buying artillery shells from North Korea. Moscow did not comment on the report.
dpa and Reuters