Britain
Get more with myNEWS
A personalised news feed of stories that matter to you
Learn more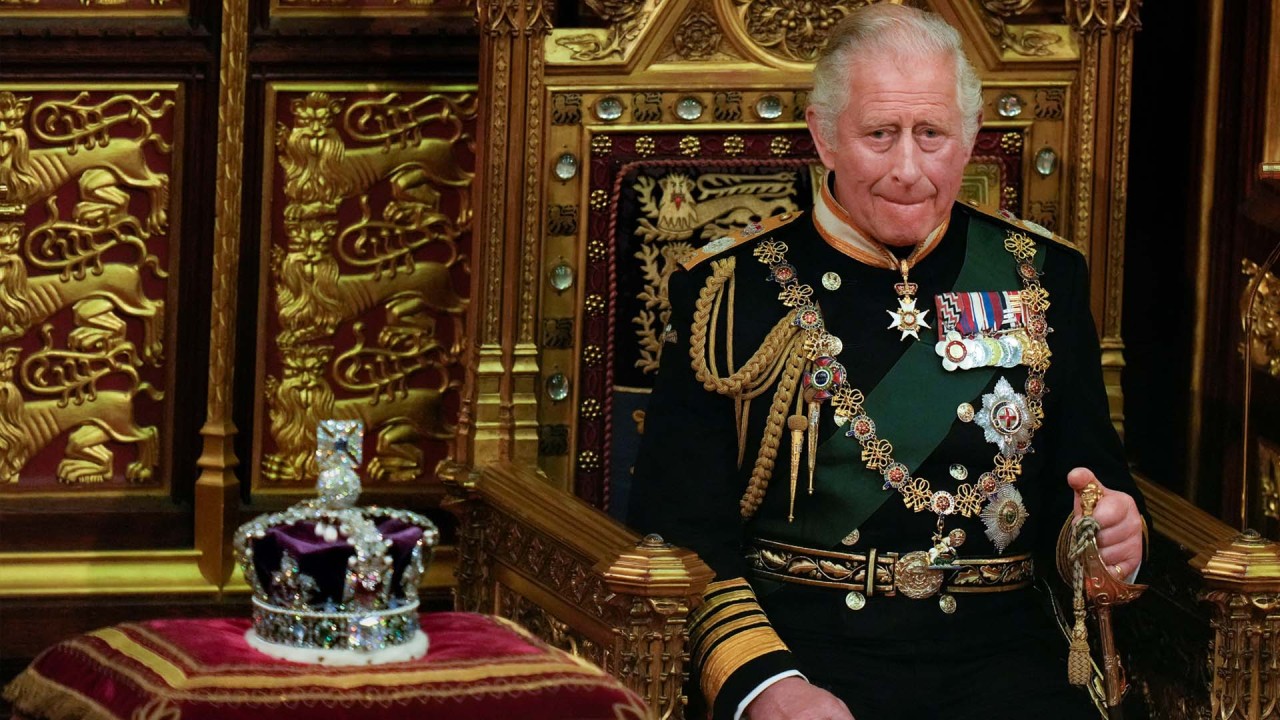 02:04
'Operation London Bridge': How King Charles will take the throne after Queen Elizabeth
'Operation London Bridge': How King Charles will take the throne after Queen Elizabeth
King Charles begins reign as Britons mourn Queen Elizabeth
King Charles' reign as Britain's monarch will be formally proclaimed on Saturday
His mother Queen Elizabeth died on Thursday at her Scotland home aged 96
Britain's
King Charles
prepared to address the nation in a televised speech on Friday night as ordinary Britons mourned the death of
Queen Elizabeth
, his mother and the country's longest-serving monarch.
The royal family opened an online book of condolences on its
website
as thousands of people visited Buckingham Palace, Windsor Castle and other royal residences to lay bouquets of flowers in honour of the queen, who died Thursday at the age of 96.
Buckingham Palace said the royal period of mourning would last until seven days after a state funeral in her honour.
"The date of the funeral will be confirmed in due course," the palace said in a statement.
State funerals are traditionally reserved for monarchs, but the last one in Britain occurred after former prime minister Winston Churchill's death in 1965. Churchill was the first of 15 prime ministers to serve during Queen Elizabeth's 70-year reign as Britain's head of state.
On Friday, Chinese President Xi Jinping and Hong Kong Chief Executive John Lee Ka-chiu were among world leaders who
expressed their condolences
.
"Xi Jinping, representing the Chinese government and the Chinese people, as well as in his own name, expresses deep condolences," a statement said, adding: "Her passing is a great loss to the British people."
Xi attended a state dinner at Buckingham Palace and met with the queen in London in 2015.
Queen Elizabeth visited Hong Kong twice during her reign, in 1975 and in 1986. She also travelled to mainland China during the 1986 trip.
Celebrities and other prominent figures also offered tributes to the queen on Friday.
"I am proud to be an Elizabethan," Helen Mirren, who played Queen Elizabeth in the 2006 film The Queen, said in an Instagram post. "We mourn a woman, who, with or without the crown, was the epitome of nobility."
Simon Pegg, who is known for his roles in Shaun of the Dead and the Mission Impossible series of films, said: "However, you feel about this woman's job, she did it tirelessly for 70 years and that is undeniably impressive".
That followed other tributes around the world, with the Eiffel Tower extinguishing its lights on Thursday night and the Empire State Building being illuminated in royal colours. The New York Stock Exchange also observed a minute of silence during Thursday's trading session.
The queen's body was expected to return to London from Scotland on Sunday or Monday. She would lie in state for three days at the houses of Parliament before her state funeral, which is expected to occur about 10 days after her death.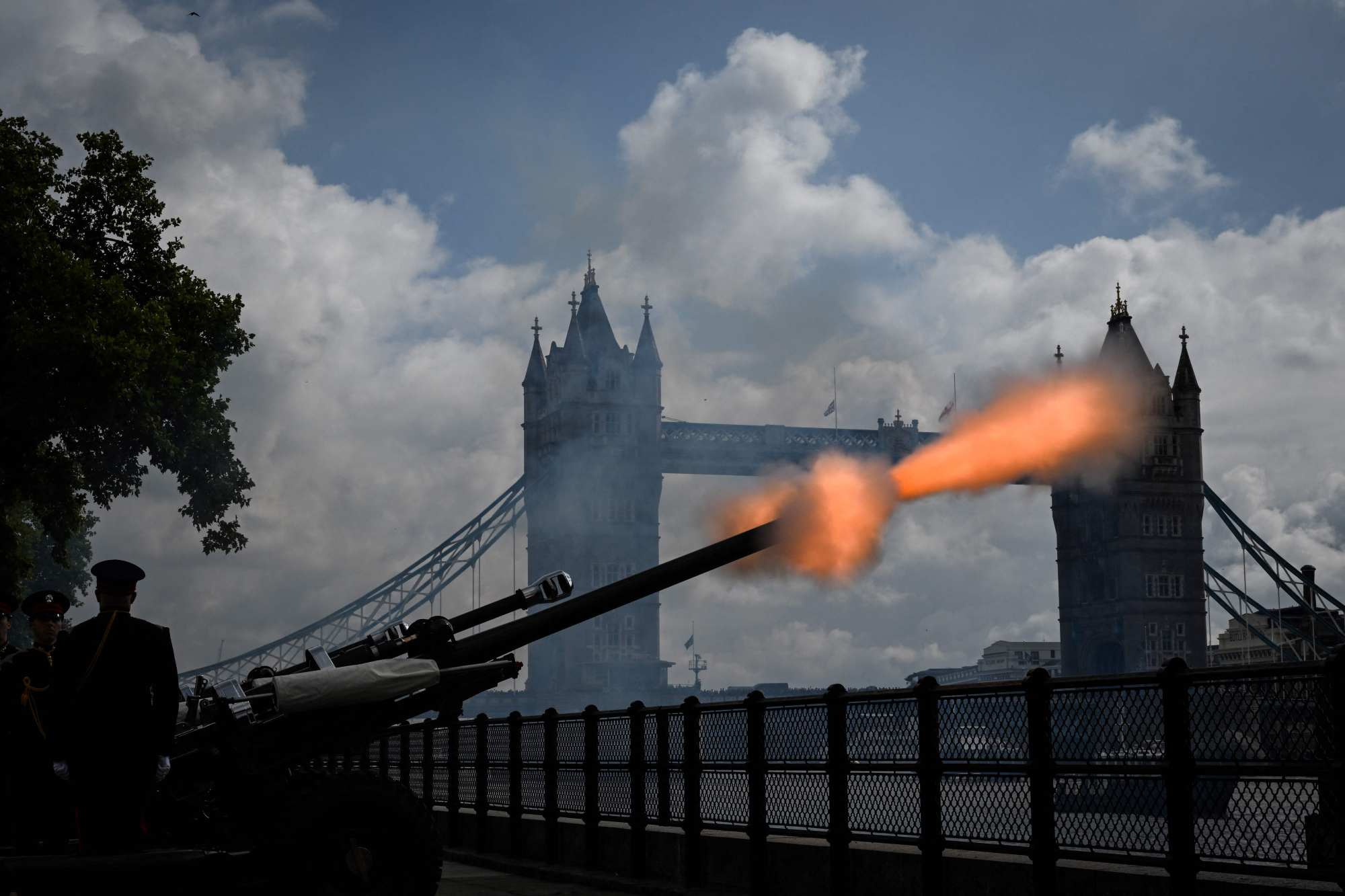 On Friday, a national minute of silence was held at midday in Britain, followed by bells ringing out in her honour at churches across the country, including Westminster Abbey and St Paul's Cathedral in London.
In the afternoon, 96 shots were fired – one for each year of her life – at ceremonial gun salutes at Hyde Park, the Tower of London and other parts of Britain.
A number of shops closed on Friday in memory of the queen, including luxury department stores Selfridge's and Liberty London. Rail and postal unions also postponed planned strikes on Friday.
Members of Parliament, the vast majority clad in black, offered tributes in the House of Commons, where official business has been suspended for 10 days. The tributes were expected to go until 10pm BST on Friday.
Prime Minister Liz Truss, who was asked to form a government by the queen on Tuesday, paid tribute to the late monarch.
"During her first televised Christmas message in 1952, she said: 'Today we need a special kind of courage, so we can show the world that we are not afraid of the future'. We need that courage now," Truss said. "In an instant yesterday, our lives changed forever. Today, we show the world that we do not fear what lies ahead."
Many lawmakers touched on her ability to connect with the public, such as when she participated in a sketch with Daniel Craig, portraying James Bond, that saw her appear to parachute into the Olympic Stadium during the 2012 Olympics in London.
They also fondly recalled another sketch with Paddington Bear that aired during her Platinum Jubilee celebration this year where she produced a marmalade sandwich from her purse.
"Today, our country, our people, this House are united in mourning. Queen Elizabeth II was this country's greatest monarch," Labour Party Leader Keir Starmer said in a packed House of Commons. "For the vast majority of us, it feels impossible to imagine a Britain without her."
Boris Johnson, Truss's predecessor as prime minister, called the queen a "keystone" in the vast architecture of the British state.
"I think millions of us are trying to understand why we are feeling this deep and personal and almost familial sense of loss. Perhaps it is because she has always been there, a changeless human reference point in British life, the person - all the surveys say - appears most often in our dreams," Johnson said. "We have been lulled into some way of thinking she might be eternal. I think our shock is keener today because we are coming to understand in her death the full magnitude of what she did for us all."
Lawmakers also recounted moments of levity with the queen or her beloved Corgis.
Theresa May, another former prime minister, told of a time she dropped some cheese on the floor at Balmoral Castle, and put it back on a plate on a serving table under the watchful gaze of Queen Elizabeth.
"I looked at her, she looked at me and she just smiled," May said. "And, the cheese remained on the table."
King Charles, the oldest person to ascend to the throne at age 73, was expected to hold his first audience with Truss on Friday afternoon ahead of his televised address to the nation.
He shook hands with members of the public outside Buckingham Palace, as well-wishers greeted him and his wife Camilla, Queen Consort. Some sang "God save the King" and one shouted "Love you Charles!"
On Saturday, the Accession Council – a small group of the Privy Council – will meet to formally proclaim King Charles as the monarch.
A number of sporting events were cancelled in Britain on Friday and the Premier League and English Football League said they would cancel their matches this weekend "as a mark of respect". The government said earlier on Friday that there was "no obligation" for such events to be cancelled.
British football clubs Arsenal and Manchester United paid tribute to the queen with a minute of silence during their Europa League matches on Thursday, following the announcement of her death.