Britain
Get more with myNEWS
A personalised news feed of stories that matter to you
Learn more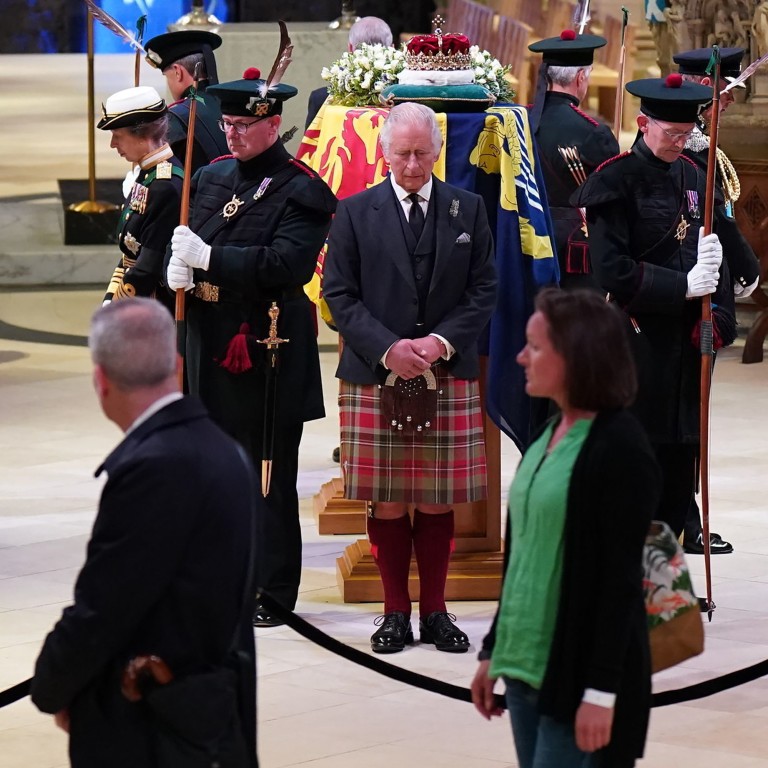 Thousands view Queen Elizabeth's coffin in Edinburgh before return to London
Queen Elizabeth's coffin is set to return to London on Tuesday evening; to lie in state for four days beginning on Wednesday
HSBC delays interim dividend payment by a day for queen's funeral
Thousands of mourners streamed past
Queen Elizabeth's
coffin in Edinburgh on Tuesday in what could be a dress rehearsal for an influx of visitors to the nation's capital beginning on Wednesday as she is expected to lie in state for four days ahead of her funeral next week.
Officials estimated as many as 4,000 people an hour journeyed to St Giles' Cathedral in Edinburgh to view the queen's coffin, which was draped in the Royal Standard of Scotland, with the Crown of Scotland placed on top.
Some visitors queued as long as six hours to view the coffin of Britain's longest-serving monarch, who died on Thursday at the age of 96. One woman told the BBC that she had travelled from London, hoping for an easier wait to honour Queen Elizabeth and her 70-year reign.
Visitors briefly paused to bow their heads, curtsy or salute Queen Elizabeth as they filed through the cathedral, which was built in the 14th century and had served as a meeting place for Scottish Parliament in the past.
The queen's coffin, accompanied by Princess Anne, is expected to be flown back to London on Tuesday afternoon, where it will stay at Buckingham Palace overnight.
On Wednesday, the queen's coffin will be taken by gun carriage in a ceremonial procession down the Mall from Buckingham Palace to Westminster Hall on the parliamentary estate. Members of the Household Division practised the procession in the early morning hours on Tuesday.
She will lie in state on a raised platform in the 11th century building from 5pm BST on Wednesday until 6:30am BST on September 19, the day of her funeral.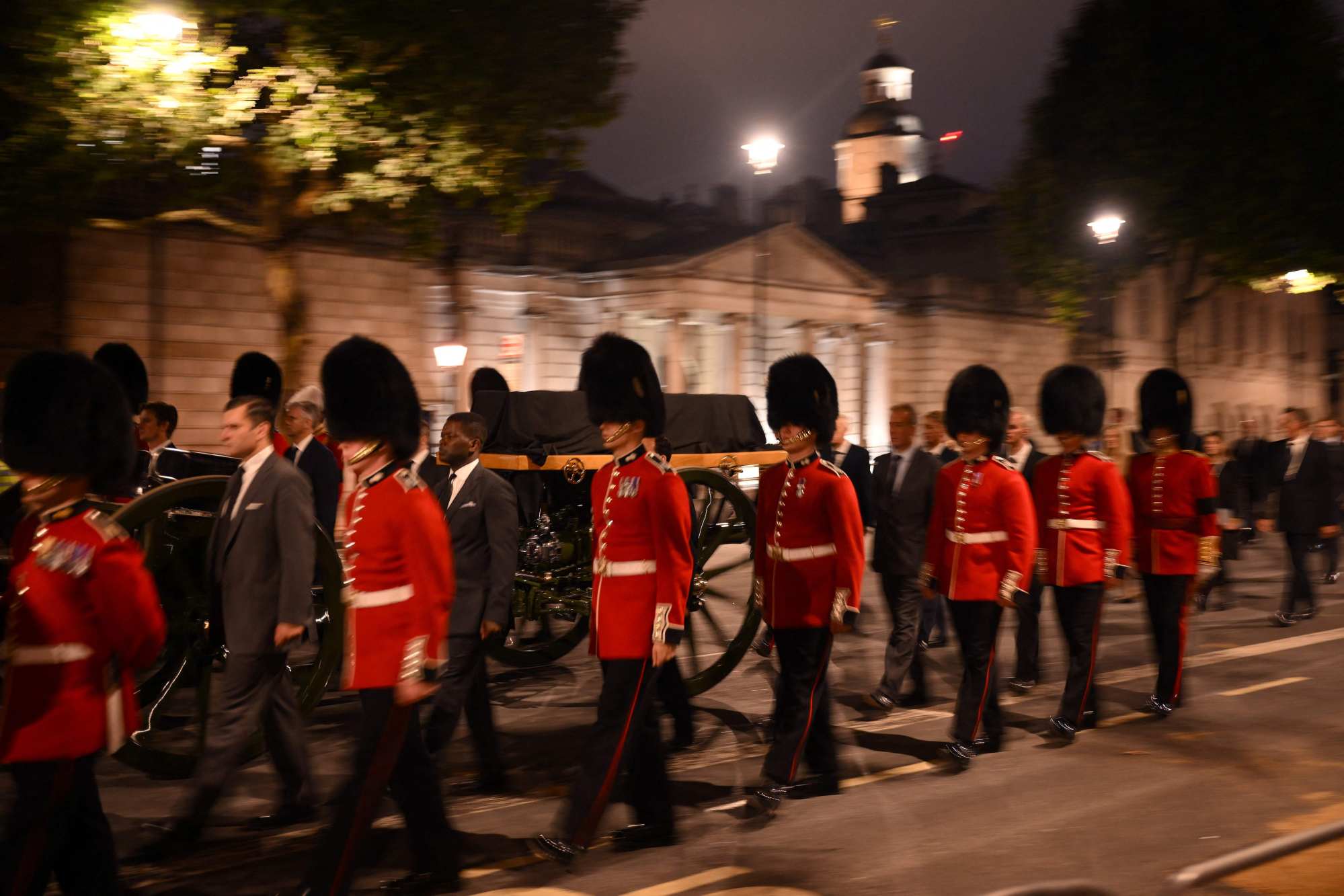 Hundreds of thousands of Britons are expected to travel to London this week to view the queen's coffin, with officials preparing for a queue that could potentially stretch three miles from Westminster Hall to Tower Bridge. The first mourners were already gathering nearby on Tuesday morning.
Officials have warned that visitors may need to queue as long as 30 hours to view the coffin and would need to pass through "airport-style" security. Restroom facilities are being set up along the route and accommodation is being made for visitors to leave the queue to purchase food.
Transport for London, the operator of the London Underground, and rail officials have warned the city's transit system could face "unprecedented" demand in the coming days.
About 200,000 people visited Westminster Hall following the death of Queen Elizabeth's mother in 2002. The Times of London estimated nearly four times that amount could file past the queen's coffin in the next few days.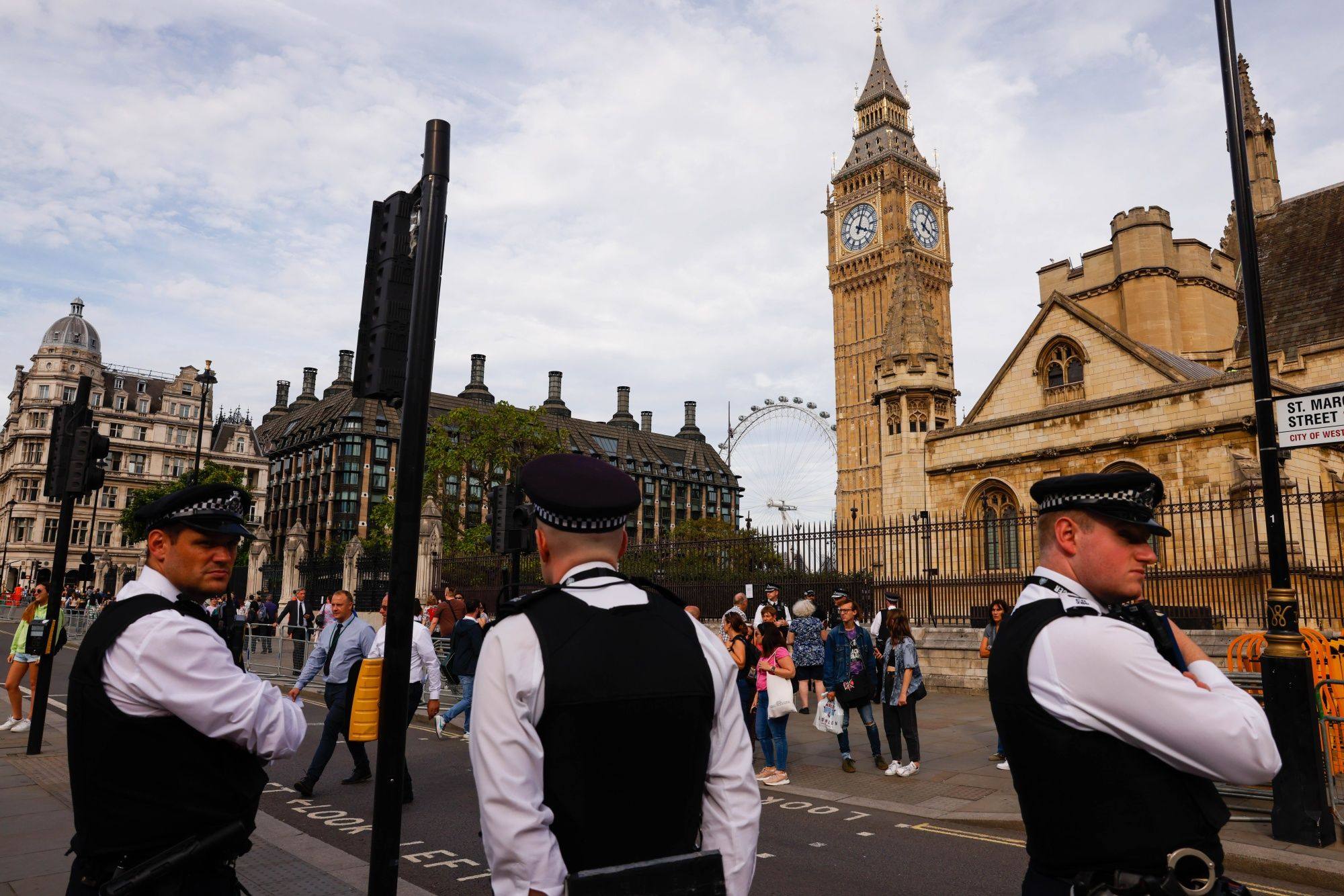 US President
Joe Biden
and other world leaders are expected to attend the state funeral at Westminster Abbey on September 19, the first since Winston Churchill's death in 1965.
As a result, London is increasing security, with an estimated 10,000 police on duty in the city and rooftop snipers as part of a "ring of steel" to protect dignitaries.
The English Premier League postponed three of 10 football matches set for this weekend "due to events surrounding the Queen's funeral", in part to avoid demands on police forces. Arsenal's Europa League match, which had been set to be played on Thursday night in London, was also postponed.
President Biden and a handful of world leaders will be allowed to use their state cars to travel to the funeral, but others will be bused into central London for the funeral.
French President Emmanuel Macron, European Commission President Ursula von der Leyen and Japan's Emperor Naruhito are among the world leaders who have said they will attend, as well as royals from Belgium, Denmark, the Netherlands, Norway, Sweden and Spain.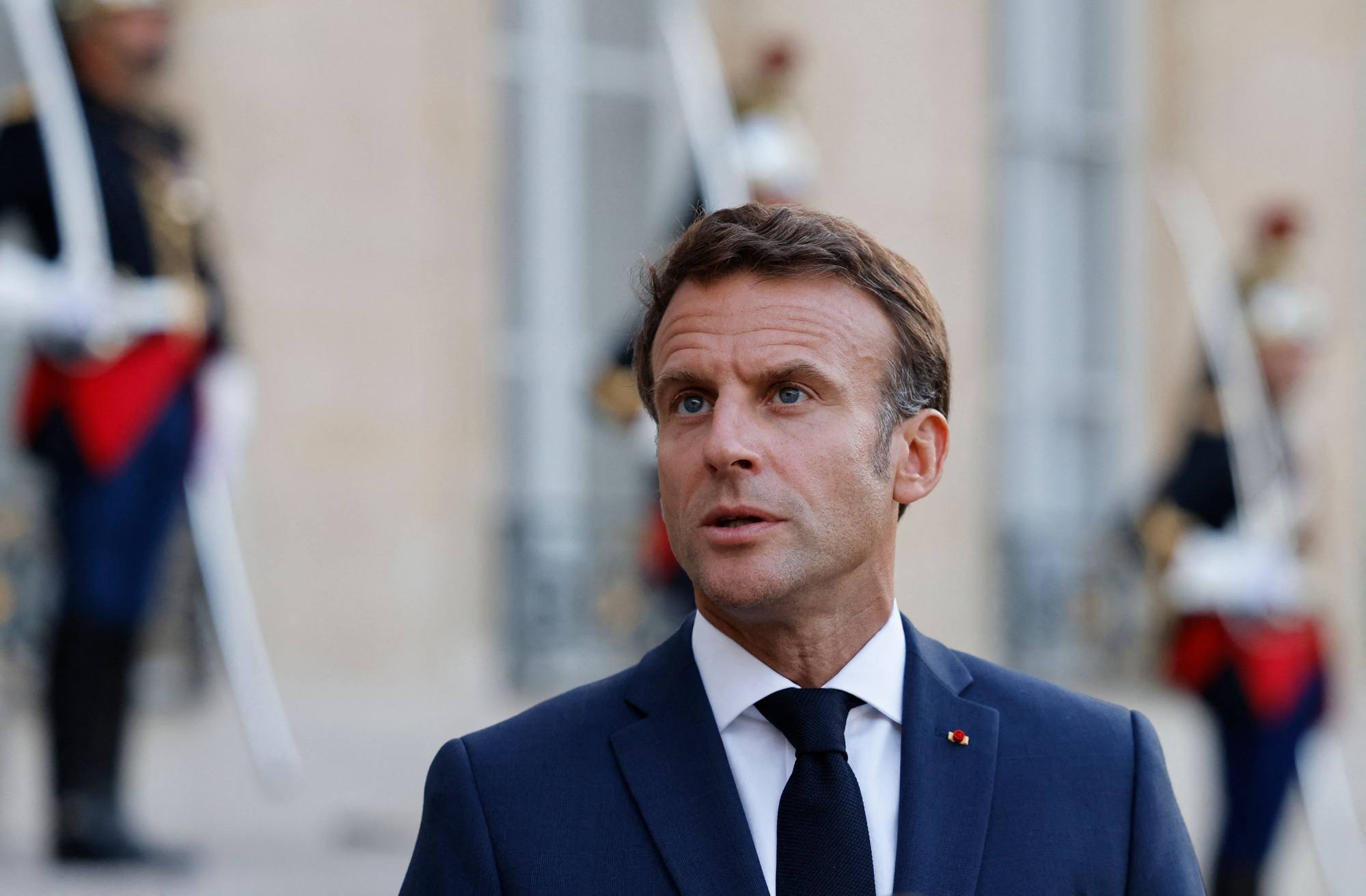 Citing government sources, British papers reported on Tuesday that Russia, Belarus and Myanmar would not receive invitations to the funeral.
On Tuesday,
HSBC
, the largest of Hong Kong's currency-issuing banks, warned that the payment of its interim dividend would be delayed by a day until September 20 because of the queen's funeral. A public holiday has been set in Britain for the day of the funeral.
Separately, King Charles and his wife Camilla, the Queen Consort, travelled to Belfast on Tuesday for the first time as monarch as part of a mourning tour of Britain.
The king received a rapturous welcome at Hillsborough Castle, the royal residence in Northern Ireland.
Cheers and applause greeted the royal couple as they arrived at Hillsborough, with some in the crowd shouting "God save the king!" The royal couple stopped to chat with some of the well-wishers.
The royal standard was raised on the castle's flagpole as the monarch came in, and a 21-gun salute rang out on the castle grounds.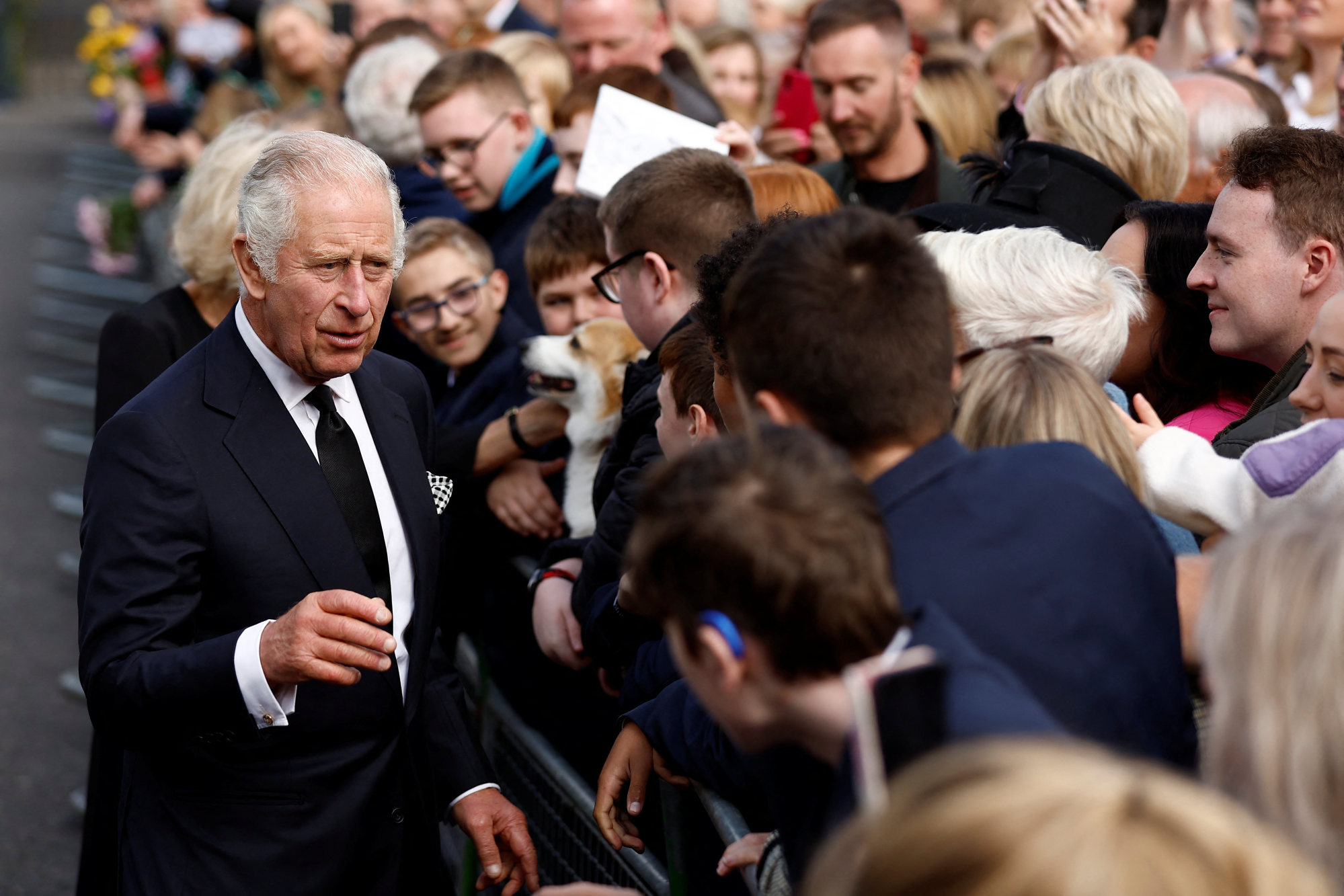 Charles made 39 visits to Northern Ireland as Prince of Wales and his mother visited more than 20 times during her reign. However, a king had not done so since his grandfather King George VI last visited in 1945.
King Charles met with political leaders and will attend a service of reflection at St Anne's Cathedral in Belfast on Tuesday afternoon before returning to London. He will visit Wales as part of the mourning tour later this week.
"In the years since she began her long life of public service, my mother saw Northern Ireland pass through momentous and historic changes," King Charles said. "Through all those years, she never ceased to pray for the best of times for this place and its people, whose stories she knew, whose sorrows our family had felt and for whom she had a great affection and regard."
"My mother felt deeply, I know, the significance of the role she herself played in bringing together those who history had separated and extending a hand to make possible the healing of long-held hurts," he added.
The king's great uncle Lord Mountbatten was assassinated by the Irish Republican Army in 1979 during "The Troubles" and the queen curtailed her visits to Northern Ireland during the 1980s.
In 2012, Queen Elizabeth famously shook hands with Martin McGuinness, the former IRA leader and then-Northern Ireland deputy first minister, on a visit to Belfast, becoming a historic symbol of reconciliation.
Additional reporting by Associated Press