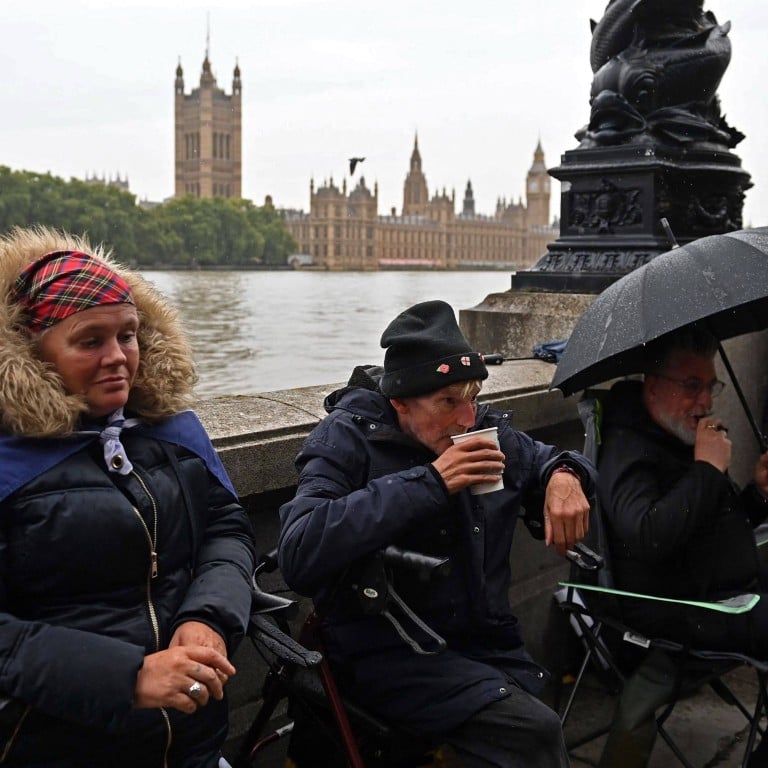 Queen Elizabeth's coffin in London to lie in state. These are the first people in the line
Hundreds of thousands of people are expected to pay their respects as Queen Elizabeth lies in state at Westminster Hall
Police preparing for a 'massive challenge' with queues set to stretch for miles along the River Thames
Across the River Thames, over a bridge, around a corner, down some steps, in London's on-and-off rain, Vanessa Nathakumaran is waiting to see the queen.
She's hoping to be the very first.
Nathakumaran, from Harrow, in northwest London, appeared on a stretch of walkway south of Lambeth Bridge – directly across from Westminster Hall, where Queen Elizabeth's body will be lying in state from Wednesday night ahead of her funeral – on Monday.
She is among a small group of members of the public who lined up here to see the queen's casket more than 48 hours before it's due to be rested on a raised platform, known as a catafalque, inside Westminster Hall in the Houses of Parliament.
"My plan was actually to come here on Wednesday morning but I was passing by and I saw all the blocked roads and security guards and I just decided to stay put," Nathakumaran, 56, said Tuesday as she politely guarded her No. 1 spot in the line.
Around midmorning on Tuesday, there were four people behind her.
British authorities are preparing for millions of people to travel to central London to pay their respects to the late monarch, who died last week. Her casket will be placed in Westminster Hall until the morning of September 19, the day of her funeral.
The public will be let in from 5pm, with mourners already warned they will face an endurance test in round-the-clock queues that could snake back up to 8km.
"You will need to stand for many hours, possibly overnight, with very little opportunity to sit down as the queue will be continuously moving," the Department for Digital, Culture, Media & Sport said in a statement, warning the public it could be an uncomfortable wait.
The beginning of the line is sandwiched between a small coffee shop that overlooks the River Thames and several portable toilets, nearly a from Westminster Hall.
The Houses of Parliament, over the river, provide a backdrop.
Security staff keeping an eye on the area said that when the queen's lying in state begins Wednesday, those in line would be shepherded to Westminster Hall.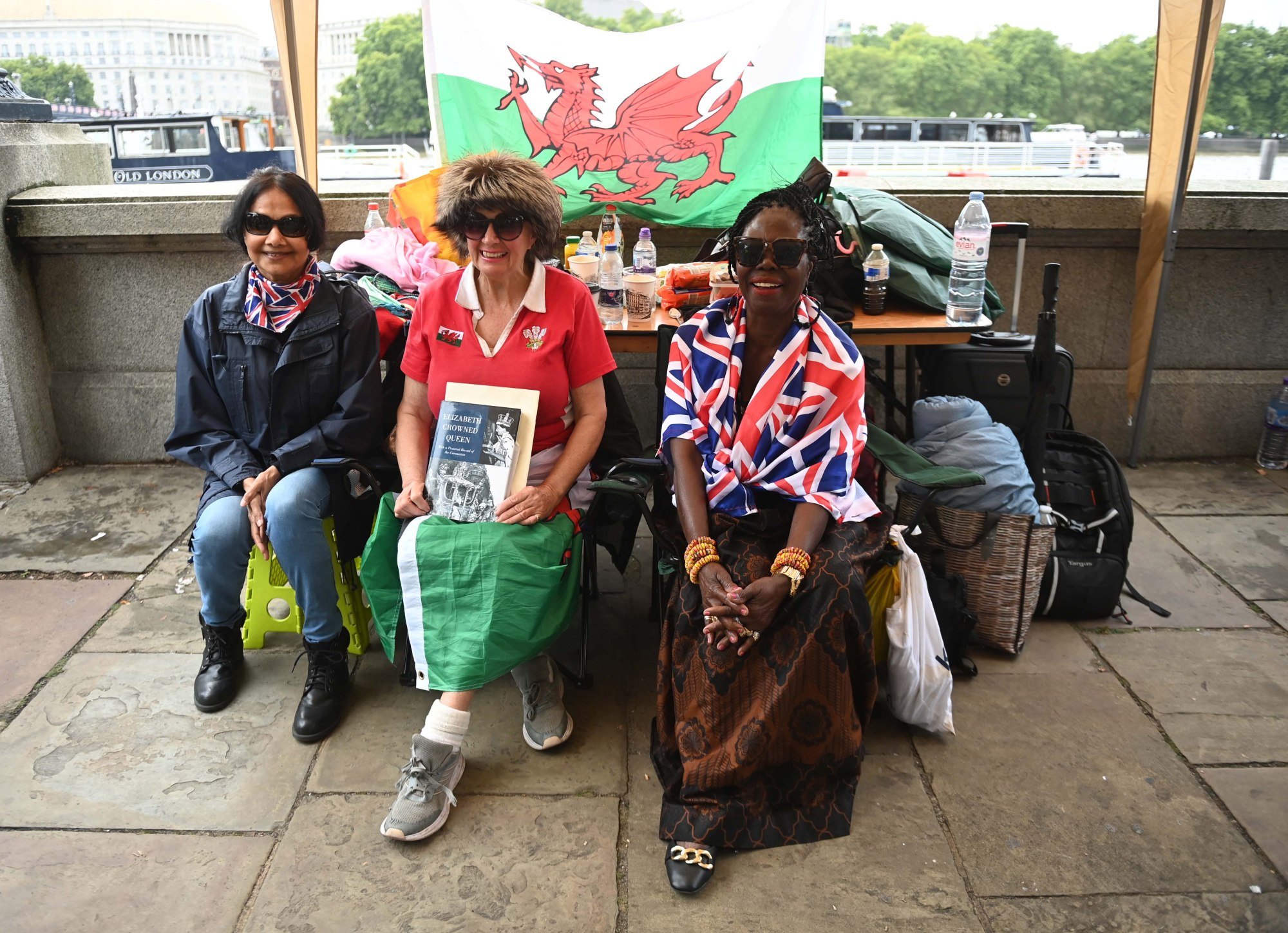 Nathakumaran, who works for a financial services company, said that she brought extra clothes and warm blankets, and energy bars if she gets hungry.
"My kids said: 'mother, are you sure you're going to make it through the whole time?' I said, 'yes, I am determined. I won't lose my spot'."
Nathakumaran, who was raised in Sri Lanka but emigrated to the UK in the 1980s to study, said she has been "admiring" the queen since she was 10. Nathakumaran said her enthusiasm for the queen grew after Nathakumaran learned her great uncle was knighted by King George VI.
Behind Nathakumaran in the line at noon on Tuesday was Grace Gothard, a woman from Wales who wanted to be identified only as "Anne", Delroy Morrison, originally from Jamaica, and another person who did not want to engage with media.
Three of the first five people in line were from former British colonies: Sri Lanka, Ghana and Jamaica, which proclaimed independence from the British Empire in 1948, 1957 and 1962, respectively. The British Empire once spanned the globe. Many in Britain's former empire had a mixed reaction to the queen's death.
Newly appointed London police boss Mark Rowley has described the upcoming days as a "massive challenge" but insisted the force had been preparing for "many, many years".
Thousands of police officers have been mobilised as some 500 leaders, including US President Joe Biden, are set to descend on the capital ahead of what is being dubbed "the funeral of the century" next Monday.
Tight airport-style security has been put in place for those hoping to see the queen's coffin as it lies in state.
A system of wrist bracelets is in place for those wanting to use the dozens of portable toilets installed along the Thames and keep their place in line.
The streets will not be the only thing crowded: hotels around the city centre are already booked up despite steep price hikes.
London's transport authorities have warned commuters of inevitable disruptions and pubs are bracing for busy times.
"We know for sure it's going to be super busy," said Mantas Butkus, who works in a pub near Westminster.
He said that extra staff had been drummed up for the days to come.
"It's the first time we have to deal with something like that, so we can't really know what to expect," he said.
Additional reporting by Agence France-Presse